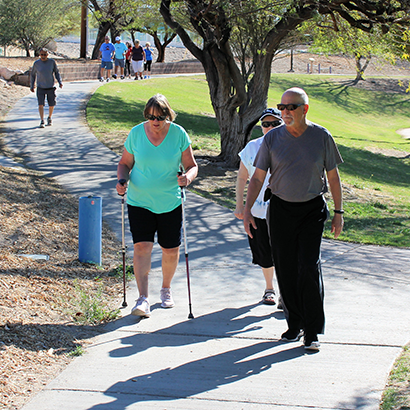 Residents and visitors in Lake Havasu City, AZ, realize the importance of staying active. Through a new program called 'Walk With Ease' being offered by the Lake Havasu City Parks and Recreation Department, adults are improving their health by walking and socializing.
In February 2018, the Lake Havasu City Parks and Recreation Department was awarded an instructor training grant from the National Recreation and Park Association's Healthy Aging in Parks Initiative to encourage area residents to participate in an evidence-based physical activity program recommended by the Centers for Disease Control and Prevention (CDC). The Walk With Ease program, developed by the Arthritis Foundation, has been a huge success in helping get our older adults actively involved in a program that teaches them how to engage in low-impact walking within a group or on their own.
From the beginning, our walk leaders saw improvements in the participant's levels of stamina as well as ability to walk and enjoy our beautiful park settings. A couple wintering from South Dakota had modest goals of making it from one park bench to the next before stopping to rest, but by the end of the six-week program, walking the shoreline and park areas became a favorite activity with very few rest stops. What a celebrated achievement this was for them!
Many of the participants, including Ron, were not in favor of stretching because, "it hurts," they said. But week after week, they got into the groove and by the end of our first 6-week session, Ron could be seen leading the group in stretches before and after the walks. Walk With Ease provided far more than just an exercise program for the participants! It encouraged friendships, social activity, and comradery.
According to a very satisfied participant, "I enjoyed this class very much. I appreciated all the tips on stretching and the benefits of walking upright and correctly. I hope there is still more to come for us and plan to walk more this summer."
Because of the program's success, Lake Havasu City plans on continuing this program throughout the year. It has been such a joy to see so many of our older adults excited about getting physically active.
Swan Cooke is the Aquatic Supervisor for Lake Havasu City Parks and Recreation and can be reached at cookes@lhcaz.gov.