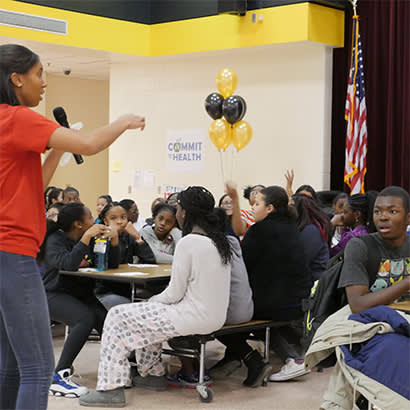 In the fall of 2017, NRPA members were invited to submit a proposal outlining a community health day, focused on healthy holiday celebrations using Commit to Health resources like the Foods of the Month healthy eating curriculum and physical activity ideas. With support from the Walmart Foundation, three winning agencies were each awarded $500 to implement their event. The goal of the contest was to encourage park and recreation facilities to design an event focused on community engagement and healthy holiday celebrations to improve the health and welfare of their communities.
The "Excel Beyond the Bell Healthy Holiday Celebration" focused on healthy eating, physical activity, and community engagement. The event, held Tuesday Jan. 9 at Roberto Clemente Middle School in Montgomery County, Maryland, served over 100 students and 35 adult guests, including parents, school personnel and recreation professionals.
At the start of event, all students and guests were given a brief summary on the Commit to Health program, and how to incorporate healthy eating and physical activity into their daily lives. Following that discussion, participants were split into two groups. The groups each had a chance to participate in some physical activities in the gym and healthy snacks in the cafeteria.
In the cafeteria, there was a buffet of healthy food choices for everyone. Stations included:
Make your own salad and trail mix: salad greens, low fat dressing, and croutons.
Healthy snack station: a variety of fruits, vegetables, whole grain graham crackers, low fat cheese bites, and fruit snacks.
Gourmet snack station: tomatoes and goat cheese, low fat vegetable spread and pretzel chips, and tropical parfait (low fat vanilla yogurt, blueberries and granola).
Beverage station: water, low fat chocolate milk, and the very popular strawberry berry banana smoothie.
Participants also did a "Pledge to Eating Healthy" by tracing their hand and writing their name as a promise to eat healthy.
In the gym, participants could choose to participate in two physical activities:
In the Myplate Relay, students raced in different ways (hop on one foot, crab walk, jumping jacks, etc.) to place a healthy-food card in the right section of the MyPlate.
In the Hoops for the Holiday Challenge, students played knock out, basketball and tic tac toe.
Participating in these activities earned students prizes like granola bars, water bottles, and footballs.
To wrap up time in the gym, everyone participated in a dance off. Students danced along with dance instructors to the popular songs "Cupid Shuffle" and "Wobble."
Check out a video of the event!