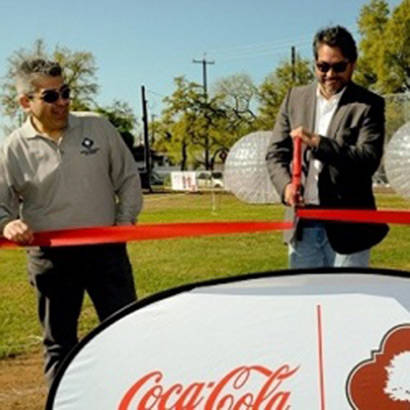 Labor Street Park looks much different today than it did twenty years ago. Formerly part of a public housing complex, the park now sits on the border of San Antonio's beautiful downtown amidst a neighborhood where almost everyone knows your name. In fact, part of the reason my family moved to this area was because of its sense of community.

When we first moved here, Labor Street Park was in need of attention. From the cracked basketball court to the nonfunctional lights, our park could thrive again with a little TLC.

Thanks to a generous donation from The Coca-Cola Company, through the National Recreation and Park Association, the park is now the centerpiece of our neighborhood with people of all ages coming together day and night to enjoy a variety of activities. The leveled and reseeded field is now the home to the Downtown Kickball League; the updated basketball court is a gathering place for the neighborhood kids; the new fitness equipment gives teens and adults a place for some cardio, and the newly installed benches and picnic tables are now occupied by retirees taking in the sights and sounds of a vibrant community.

To me, community is built on relationships. The kind of relationships that can only be established when neighbors are given the opportunity to interact. With the new improvements and an additional grant for programming, including kickball, RoTenGo and fitness classes, we'll have even more reason to come out and enjoy time with our neighbors.

Thank you to the City of San Antonio and Coca-Cola for investing in our neighborhood. It was exciting to see the smiles on my neighbor's faces as the park was officially opened by Councilmember Roberto Treviño and Xavier Urrutia, Director, San Antonio Parks and Recreation Department.

We live in a city with so much sunshine. Now we have a place to gather and enjoy it together!