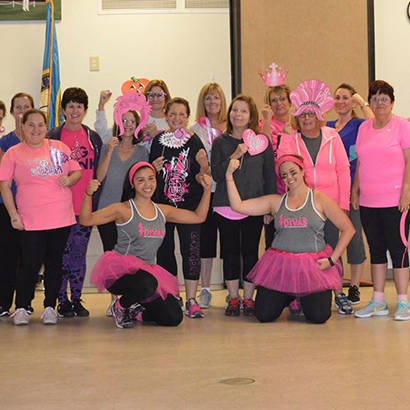 The Lynbrook Recreation Center in Lynbrook, NY, is the place to be for active older adults. In our parks, we strive to offer opportunities for all ages and abilities to be active and healthy. We provide a variety of physical activity programs for our participants, who are residents and nonresidents of our Lynbrook community. Specifically, for our older adults, we offer Zumba Gold classes, Gently Flow Yoga, and Walk the Park.
Zumba Gold class offerings began at the Lynbrook Rec Center in 2016, and it has since grown exponentially. The Zumba Gold class is dedicated to keeping adults active despite age, as it modifies movements to accommodate any restrictions our participants may have. The class masks its benefits in a fun cardiovascular workout at a low intensity, and each class is designed and tailored to the participants, allowing for them to have a sitting workout option, meaning that they can do the class from a chair and still have a workout that meets their needs.
The benefits of Zumba Gold include muscle conditioning, improvements in flexibility and cardiovascular health, as well as a boost of confidence from our instructors. We are dedicated to allowing our participants to feel comfortable while exercising safely, as well as creating a positive environment so that they are motivated in their workout. One of our participants, Barbara, had this to say, "I can go at my own pace. If others jump and you don't want to, you don't have to! Zumba gives me more energy! I've lost 44 pounds!" Our participants are left feeling empowered to continually return and become stronger each class. Another participant, Mary, stated that she "feels healthier and stronger." We now have attendees arrive from a facility that cares for adults with special needs, and we hold these classes twice a week.
Many older active adults also enjoy the Gently Flow Yoga classes we have, as it is not a high intensity program. Instead, it focuses on meditation, flexibility, and relieving stress. This is a beginner class where all yoga participants feel welcomed and where the environment is peaceful. The benefits of our yoga classes are to stay in tune with the body and nurture it. Our instructors know the students who come to our classes and modify the program based on the participants. It is a program that keeps our adults active and at their own pace.
We also encourage our older adult population to meet at the start of our park trail at a designated time and walk the trail together (approximately 1 mile) as part of our Walk the Park program. Those who attend have the chance to bond with one another outside and enjoy nature. Our park is full of activities to keep older adults active, and they enjoy the variety of our programs.
Andrea Campbell is a Recreation Supervisor at the Lynbrook Recreation Center.