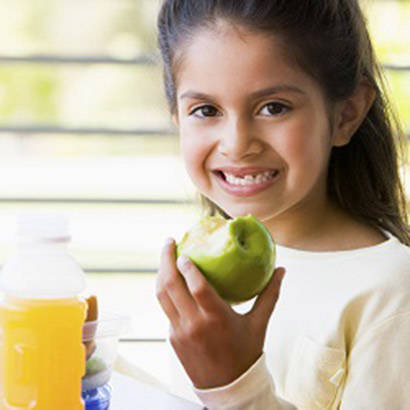 This past summer, youth enrolled in Lawrence Parks and Recreation Department (LPRD) programming were introduced to an innovative, new nutrition education program. As a Serving Kansas Communities grantee, LPRD received support to their free summer lunch program and training to provide a childhood obesity prevention curriculum for its camps. LPRD hired a local graduate student to integrate the OrganWise Guys curriculum into local summer camp programs and teach kids about health and nutrition. Essential to the success of the program was that the parks department found a way to make teaching nutrition a fun experience for the kids by making each lesson an interactive experience.

Although the Lawrence Parks and Recreation Department's summer nutrition education began with providing instruction to local kids, LPRD quickly realized that the campers were bringing their knowl¬edge home. Parents regularly approached staff to inquire about the new programming —asking for advice on how to provide a balanced diet to their children. Some parents joked that their kids were giving them a hard time at home about junk food around the house.

In addition to making appearances in the youth camps, the OrganWise Guys program was introduced to and made a strong impression upon Lawrence's special populations program. Over time, this group developed great interest in the nutrition education. This was a particularly important success for LPRD as children with disabilities are known to be less physically active and at greater risk for obesity. The program has drawn the Parks Department's attention to the fact that it must continually strive to provide the same lifestyle opportunities to the special populations as other populations.

LPRD considers their work with the OrganWise Guys program in their free lunch program, camps, and special populations program a huge success of summer 2012.LPRD increased the number of healthy, summer meals served to children in the community by nearly 35 percent. Although funded by the grant, LPRD does not see the end of summer as a stopping point but plans to integrate nutrition education into more programming. Participation in the Serving Kansas Communities program has laid a foundation for the community's continued commitment to fighting obesity and promoting an active lifestyle. In cooperation with the K-State Research and Extension Office of Douglas County, who provided food models and programming guidance over the course of the summer, Lawrence Parks and Recreation plans to use the OrganWise Guys curriculum year-round.