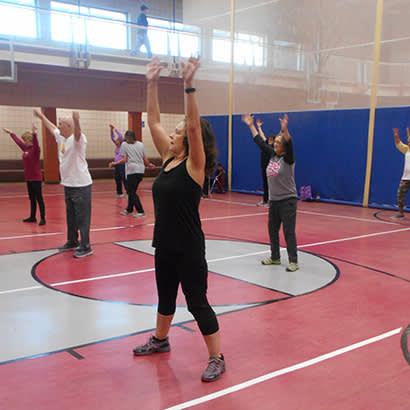 The City of Mustang (OK) Parks and Recreation is proud of its age-friendly department and prides itself on offering programs and services that are not only fun, but effective in improving the health and wellness of those served. Since 2014, Mustang Parks and Recreation Senior Center has been offering evidence-based physical activity programs targeted at older adults with chronic conditions. The participant testimonials and stories have been heart-warming and encourages us to continue expanding the programs and services offered to our aging population.
According to Diane, "I am 66 years old and recently retired from a school system. When I retired I didn't know what to do with myself and then someone invited me to try the Fit and Strong! program at the Mustang Community Center. I admit that it was tough at first, but the teachers were very encouraging. They would say to me, 'Diane you can do it!' and I started to believe that I could! At my age I decided that I didn't care what I looked like, I was going to try it until my body and mind started to remember the moves and then it just became automatic. I found new friends that I made in class and we are now buddies. It became my hobby and gave me a place to be and some structure for my life. I think my endorphins started taking over my body and I didn't want to stop exercising and coming to the classes. I started volunteering to help the teacher get set up for class and encouraging others not to be afraid to try. I am amazed that I can do what the young girls are doing! I want to tell everyone out there 'stay persistent, don't quit, keep moving, stay after it, and it will come!' Thank you to the Mustang Community Center for offering these classes that make such a difference in the lives of the people in our community."
The programs offered through our senior center have been well received by the community so much that our best marketing strategy is word-of-mouth. Participants who have attended the programs tell all their neighbors and friends! This was the case for Beverly. "My neighbors initially told me about the Fit & Strong! class they had started attending at the Community Center," said Beverly. "I wasn't sure about taking it since I am 80 years old, however I tried it and the class was so great I wanted to keep going to all the classes! Since that time, I have only missed two classes and I schedule my appointments around my Fit and Strong! class so I don't have to miss it! I want to encourage anyone who is having any kind of health problem to start exercising. It might be hard in the beginning, but don't give up! Keep it up and expect results! Since I have been taking the class, I can walk faster and longer than I could in the beginning. I want everyone out there to know that they can do it too! I have increased my reach and flexibility over the period of time I have been taking these classes. I want everyone to know that it is never too late to start exercising and trying to be healthy. I would like to say thank you to the Mustang Community Center for offering this program!"
Our mission at the Mustang Senior Center is to provide rewarding programs and services that help our aging residents adopt and maintain healthy lifestyles and enhance their quality of life.
Ashley Humphrey is the adult program coordinator for the City of Mustang Parks and Recreation.