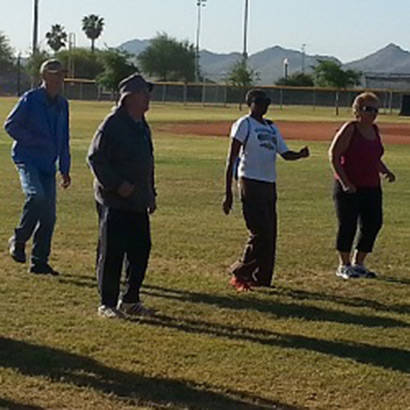 The City of Buckeye Community Services Department in Arizona was awarded a grant from NRPA and the Arthritis Foundation to get community residents engaged, active, and on their feet by walking in the Walk with Ease (WWE) program.

The WWE program is an evidence-based, six-week exercise program developed by the Arthritis Foundation designed and proven to reduce arthritic pain and improve overall health. Implementation of the Walk with Ease program has been proven to:


Reduce the pain and discomfort of arthritis
Increase balance, strength, and walking pace
Build confidence in your ability to be physically active
Improve overall health

With the grant funds the department certified three staff members and one community volunteer to lead their WWE programs at four sessions that were offered at two city owned parks and City Hall. Of the four sessions, three were offered to the residents of Buckeye, while the fourth session was offered to all city employees. Each of the three sessions open to the residents filled at the 20 per class maximum capacity, while we had 103 city employees register for the city-wide Walk with Ease Step Challenge. The Community Services Department worked with our human resources staff as part of the employee health and wellness program to implement the Walk with Ease program.

Collectively, the City of Buckeye was able to engage 163 participants in the program. Walk with Ease participants received program manuals and pedometers to help track and record their progress throughout the program cycle. Many of the participants noted that they really enjoyed walking outside, meeting new friends and learning more about personal fitness.

The success of this program was measured by the overwhelming positive feedback from the program surveys. Many described their experience as resulting in improvements to their health. Of those surveyed, 96% of the participants felt their goals were met during the six week program. Some of the respondents indicated that they experienced drastic improvements from the beginning to the end of the program to include weight loss, improved strength and flexibility, and more energy and stamina.

Thanks to this grant the Community Services Department was able to provide a much needed class setting where residents came together to improve their overall health. With the success of this program the city plans to continue with a walking program in the fall leading up to the upcoming December Buckeye Marathon where participants from both the spring and fall session will participate as a city wide walking group.