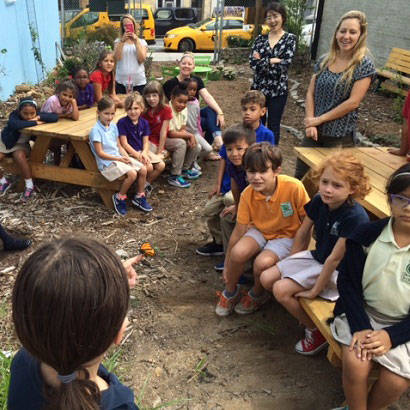 It's hard to imagine that in nine months' time, a vacant lot in the Dutch Kills area of Queens was transformed into a lively community garden to enjoy nature, promote healthy living, and engage local youth. Soon after being licensed and registered as a GreenThumb community garden, Windmill Community Garden's development was set into high-gear with the help of the 2016 Disney Parks Build Community program. Before Windmill Community Garden's groundbreaking, the neighborhood had only three other community gardens in an area with nearly 200,000 residents. The once rubble-filled lot provides a much needed green oasis and healthy living hub for residents that are all too used to high-rises and concrete. Today, Windmill Community Garden is complete with a robust vegetable and learning garden; a patio and stage for cultural events; plenty of chairs, tables, and benches for socializing; a 500-gallon rain water harvesting tank; a winding bluestone accessible pathway; a shed filled with garden and educational supplies; a mural by local artists; a wildlife habitat; native plants; perennials; pollinators; fruit trees, and more. "We are so grateful to have this green space in the neighborhood," cheered Erin Acosta, member of Windmill Community Garden and Parent Coordinator at Growing Up Green Charter School.

In addition to the Disney Parks Build Community program, Windmill Community Garden teamed up with GreenThumb many local organizations, agencies, institutions, and elected officials to engage the community with the new green space, including Flux Factory (a not-for-profit arts organization), Dutch Kills Civic Association, Growing Up Green Charter School, GrowNYC (a hands-on non-profit that has been improving New York City's environment for over forty years), Grow to Learn (an initiative that supports schools across NYC to grow vibrant learning gardens), New York City Department of Environmental Protection, New York City Council Member Jimmy Van Bramer, and New York State Assemblywoman Margaret Markey. The shared vision of Windmill Community Garden truly galvanized collaboration and resources.

By harvest time, Windmill Community Garden produced nearly 100 pounds of fresh vegetables and herbs; engaged thousands of students, community members, and visitors; and established itself as a safe space for passive relaxation, to discover nature, and to learn about health living. Community members grew and harvested radishes, cucumbers, tomatoes, zucchini, broccoli, broccoli rabe, mixed salad, bell peppers, jalapeno peppers, chili peppers, rosemary, sage, oregano, basil, and thyme. Students from Growing Up Green Charter School engaged in hands-on activities to learn about life-sciences, environmental sciences, and sustainability. Teachers and students raised and released butterflies, planted bulbs (a tie-in to the neighborhood and garden's Dutch namesake), harvested vegetables, and more. Windmill Community Garden hosted events for neighbors to further participate. "The rain barrel give-away event (was) the perfect demonstration of serendipity: Our 5th grade class was learning about water conservation and the positive impact rain barrels can have on the environment when Assembly Member Margaret Markey and the (New York City Department of Environmental Protection) reached out to our school needing a space to host their rain barrel give-away for the Dutch Kills neighborhood. And our gorgeous new community garden, which the school is a partner in, was the perfect spot to bring all these great groups and neighbors together," stated Ms. Acosta.

The Disney Parks Build Community program provided a catalyst for Windmill Community Garden to keep growing. Much is planned for the future, including outdoor lesson plans, more community events, and growing hundreds of pounds of produce. By the time the daffodil and tulip bulbs bloom in the spring, Windmill Community Garden hopes to erect murals on both exterior building walls surrounding the garden. A ribbon cutting with New York City Council Member Jimmy Van Bramer is in the works for 2017. This dynamic union of efforts is invaluable. "The opportunity for our students to stand in the dirt and dig in it, not just read about it in a book, is priceless," stated Ms. Acosta.

Windmill Community Garden is protected and supported by GreenThumb, NYC Parks' community garden program that provides assistance, programming, and materials support to over 550 community gardens and 550 schools gardens in New York City.