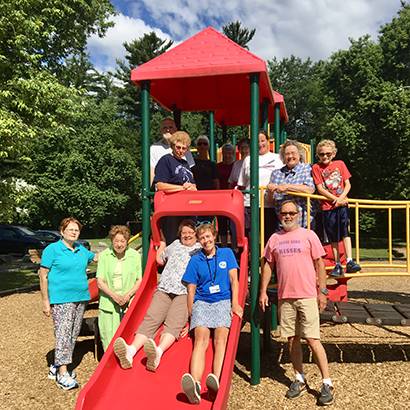 Chautauqua County is a rural county in southwestern New York. According to the 2016 New York State Department of Health Behavioral Risk Factor Surveillance Survey, over 30% of our residents have been diagnosed with arthritis, compared to 23% of New York state residents with arthritis. With an aging population that also suffers from high rates of other chronic diseases, engaging residents in low-cost, evidence-based programs, like Walk With Ease, are critically important.
The Walk With Ease program began Spring of 2018 and has been a great program for our community. We've held programs throughout our county, including in the village of Falconer. Three times per week, our walkers meet at picnic tables under a pavilion in the lovely Village of Falconer Park, energized and ready to enjoy the great outdoors, while learning about safe and comfortable walking and strategies to overcome challenges to exercising in order to effectively manage their arthritis (and other chronic conditions). Some walkers have utilized paved and wooded trails in this small but beautiful park, while others have ventured through nearby neighborhoods. Those walking in the park have enjoyed the butterflies, wildflowers, picking wild raspberries along the route, and even found a four-leaf clover. Our neighborhood walkers have also discovered new routes together, and quickly figured out which routes were best for that day's temperatures and humidity- very important to sustaining a walking program!
Almost all of our participants have reported improvements in flexibility, strength, balance or endurance. They all, however, agreed that what they valued most about the program was getting out, meeting new people, and having fun while being active. Several participants have gone on to start a "Falconer Senior Walks" program, and recently hosted a "New Walker Wednesday" to encourage others to join in- a true sign that this program has motivated the community to be more physically active.
Chautauqua County Parks Department continues to partner with the Chautauqua County Health Department and Chautauqua County Office for the Aging to offer the Walk With Ease program to communities throughout our County. We are looking forward to many more walkers in Chautauqua County!
Lisa Schmidtfrerick-Miller is a healthy communities consultant with Chautauqua County.