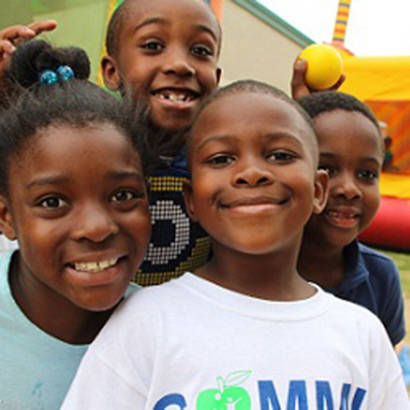 Bounce houses and balloon animals. Popcorn and painted faces. While this fair offered the traditional activities anyone would expect, what made our first Commit to Health Fair extra special was all the OTHER options available to the guests. The focus on healthy choices and physical activity was clear from the moment the doors opened until the last guest left.

For the first time ever, Little Rock Parks and Recreation held a Commit to Health Fair to culminate and celebrate the success of our Commit to Health campaign. The Health Fair focused on each area of the HEPA (Healthy Eating and Physical Activity) standards. On May 19, 2016 during the Afterschool Latchkey program, Stephens Community Center hosted the event for children and their families, inviting several Out-of-School Time programs to participate. More than 250 participants joined us for the fun and educational festival, coming from our other Little Rock Parks and Recreation Community centers, Boys & Girls Clubs, and other independent organizations.

Participants had the opportunity to visit vendor booths inside the gym and talk about healthy choices and taking care of their bodies. Vendors included doctors, dentists and nurses who offered important tips and information for the crowd and they distributed friendly material and healthy snacks. Arkansas Game & Fish had several demonstrations including Hooked on Fishing and the Not on Drugs program. To stress the importance of healthy grooming, young men were provided free haircuts by Good Fellows Barber Shop and young ladies had the opportunity to get a facial.

The Healthy Eating standard had several components including a healthy supper and snack served within the CACFP guidelines. Coca-Cola's Balanced Calorie Initiative Team set up their activity truck with games and distributed more than 200 bottles of Dasani water to participants. Little Rock Parks and Recreation staff and volunteers set up an eye-catching 12-foot long buffet of fruit and vegetables! Another tasty treat that made this fair extras special was grilled chicken and grilled cabbage. This was a hit among many of the guests…some who had never tried it!

Inside the gym, a certified instructor offered an "Introduction to Fun Exercises" class in accordance to the physical activity standards while outside, we offered several CATCH (Coordinated Approach to Child Health) activities such as jump rope, kickball and other games.

Partners from the community included The Alliance for a Healthier Generation, Arkansas Children's Hospital, Arkansas Pediatric Dentistry and Behavioral Health Services of Arkansas.

One of the biggest surprises of the evening for the children was door prizes! Four lucky youngsters took home a new bike donated by Watershed Social Hospital. Bicycling is a great form of exercise and we are thankful to give that chance to the children in our community. Each child was asked to sign a "Commit to Health" Pledge card which were sent to NRPA and the Alliance for a Healthier Generation. No fair is complete without a fun souvenir to take home. Each youngster received a t-shirt and a backpack along with memories to last for many years to come. We are already excited about next year's Commit to Health Fair!