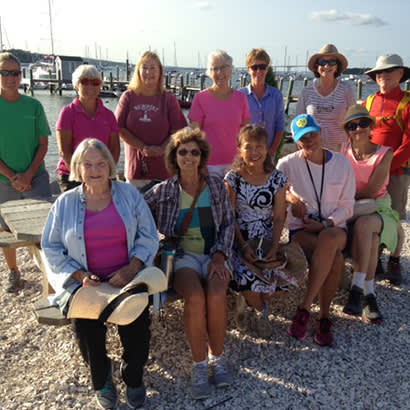 Implementing new programs can sometimes be difficult in a small community. However, for Jamestown Parks and Recreation, this was not the case. With many programs offered for older adults such as aqua therapeutics, chair yoga, and nutrition education, Jamestown once again had great success with the inclusion of a new program, Active Living Every Day Program (ALED)- a 12-week evidence-based physical activity program that meets once per week and designed to help sedentary individuals sustainably incorporate physical activity into their lifestyle. Our group of participants were eager to begin and that feeling continued throughout our first session and still holds true now into our second session.
The shared sentiment of "Jamestown isn't just a place to live, it's a way of life" truly represents our participants sense of well-being and community. We latched onto this sentiment of community and incorporated it into our physical activity. We met up for our weekly meetings at different locations around the island. "It is fun to explore new locations in our community!" said one participant. Looking at the program from an instructor's viewpoint, capitalizing on the sense of community really helped build friendships and close-knit relationships. These things enabled our participants to stick with the program because there were others cheering them along.
The dedication we have seen from our ALED participants has truly amazed us and has inspired us to want to continue the program. The second week of our second session, the weather was not cooperating. We had planned to walk as a group but were experiencing rain showers all day and we debated whether or not to cancel our outside plans, but our participants still wanted to continue! So, we did. Donning our rain jackets and carrying umbrellas, we all walked together. The "die hard" dedication was evident. Our participants are at all different levels of physical fitness. That is the beauty of this program. It brings together different ages, different abilities, different backgrounds, and through the desire to become physically active and healthy, the program is a success and lasting relationships are formed.
Our motivation is enhanced through other's motivation and the cycle continues. Every week we look forward to reconnecting with our participants. The camaraderie amongst our group makes the Active Living Every Day program, a success in our community.
Betsey Anderson is a Senior Program Coordinator and Deb Hagie is a Recreation Supervisor at Jamestown Parks and Recreation.