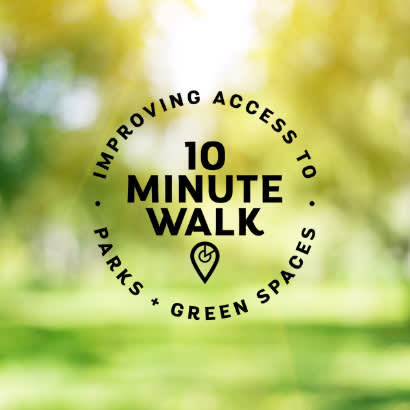 For the past two years, NRPA has been working with park and recreation professionals to enhance equitable park access and quality in communities across the country. These professionals have engaged with each other and learned new strategies and best practices through the 10 Minute Walk Learning Series. Since 2018, we have covered a variety of topics, including partnerships and coalition building, equity in parks and recreation, community engagement, master planning, and public and private funding, just to name a few. In 2020, we'll be building on this momentum with new webinar topics and new 10 Minute Walk Network leadership!
Upcoming Webinars and Network Calls
This year, all park and recreation professionals and private/non-profit partners are invited to join our upcoming webinars and network calls:
All of these webinars and network calls are held at 2 p.m. ET and feature professionals from every sector working to enhance park access and quality providing unique perspectives and a variety of strategies for how we can work together to make our communities healthier and more equitable.
You can register for the learning series here.
10 Minute Walk Network Leadership
Launched in early 2019, the 10 Minute Walk Network is a growing group of park and recreation professionals who come together to discuss the biggest topics in equitable park access and quality. This group is led by a team of leaders from across the country who represent varying perspectives that make up the park and recreation field. Here are a few of the new leaders joining the 10 Minute Walk Network team:
Stacie Anaya, Chair
Stacie Anaya has worked with the Lewisville Parks and Recreation Department since 2017 and is leading the city's effort to "Extend the Green" and insure every resident lives within a 10 minute walk to a park. Prior to joining the team in Lewisville, she served as the Assistant Director of the Corpus Christi Parks & Recreation Department, and the Director of the Eagle Pass Parks and Recreation Department. She began her career in parks and recreation with the National Gold Medal-winning Austin Parks and Recreation Department.
Stacie has been a member of Texas Recreation and Park Society since 1999 and has served in various capacities on the board of directors. She currently serves on the Texas Parks and Wildlife Department's State Park Advisory Committee. She holds two degrees from Southwest Texas State University (now known as Texas State University): a Bachelor's of Arts Degree in History and a Master's Degree in Public Administration. She is, and always will be, a Mighty Mission Eagle — a title shared with the likes of Tom Landry and Sen. Juan "Chuy" Hinojosa. In her free time, Stacie likes going for long bike rides, doing CrossFit, traveling to new places, as well as hanging out with her husband, Pete, his daughter, Katie, their dogs, Tuffy and Peanut, and a small legion of great friends and family. She lives by the motto "The World Needs Play," a value her family instilled in her from a young age.
Frank Carson, Co-Chair
Frank Carson currently serves as the Director of Recreation for the City of El Cajon and as the Region 5 Representative (encompassing San Diego, Imperial, Orange and parts of Los Angeles County) on the state board for the California Park & Recreation Society (CPRS). He has a bachelor's degree in History from the University of California San Diego, a teaching credential in social studies and a post-baccalaureate certificate in instructional technology from San Diego State University, as well as a master's degree in Recreation & Tourism Management from the California State University East Bay (Hayward).
He served as a Regent for the NRPA Reitz Marketing & Revenue Sources Management School based in San Diego from 2008-2009. Carson also serves as an adjunct professor at San Diego State University teaching upper-division hospitality, recreation and tourism courses. He has worked in management capacities for the cities of San Diego and Chula Vista and has nearly 30 years of experience serving in the park and recreation profession. Carson has secured over $3 million in grants in the past six years to enhance parks and recreation services for the residents of El Cajon. He was also a volunteer teacher in rural Guatemala from 2001-2002 and is fluent in Spanish.
Geneviève Villamizar, Secretary
Geneviève Joëlle Villamizar is a landscape designer with more than 25 years of experience and is currently pursuing a Master of Environmental Management for Sustainable, Resilient Communities. Her focus is Rewilding Children And The Built Environment — her 9-year old daughter Juniper as her muse. As a freelance writer, Geneviève uses the power of story to connect people, places and meaning. Genevieve serves as a Commissioner for the Park and Recreation Commission in her community of Carbondale, Colorado.
Valerie Claggett, Network Representative
Valerie Claggett is the Permit Coordinator for Five Rivers MetroParks in Dayton, Ohio. She has a B.S. in Business Administration from the University of Oregon and has resided in four U.S. time zones and two overseas time zones Her career has spanned the spectrum from public to private, including Habitat for Humanity and shopping center developer General Growth Properties. Claggett has served on a variety of boards and commissions, including a historic preservation commission, Keep American Beautiful, and local arts organizations and public school associations in the Dayton area. Her interest in equitable park access and quality is drawn out of her own living experiences.
"Every place I've called home has included a place I could take my kids to play or enjoy a quiet stroll along the water. These shared open areas expand our living spaces and broaden our shared experiences within our communities and provide connections to nature essential to our own existence."
Merritt Driscoll, Non-profit Representative
Merritt Driscoll is the executive director of Blue Zones Project, a wellness initiative in Klamath Falls, Oregon. As a current 10 Minute Walk grantee, she is working closely with multiple jurisdictions to improve access to local parks through improved wayfinding and signage and community outreach. Merritt has a Master of Public Health and Master International Degree from Tulane University School of Public Health. Merritt has played a number of roles in Klamath Falls, from being the co-chair of the Healthy Klamath Coalition to running the Tobacco Prevention and Maternal Child Health Programs for Klamath Tribal Health. Prior to moving to Klamath in 2012, Merritt spent two years in Tanzania, East Africa, where she taught community health and secured funding to improve the medical school's infrastructure. In her free time, she enjoys being active and spending time outdoors with her husband and two little girls.
Our next 10 Minute Walk Network Call will be on Thursday, February 20 at 2 pm ET. Check out our 10 Minute Walk group on NRPA Connect and join the movement to make our park and recreation systems more equitable.
Jared Mummert is a Program Specialist for NRPA.