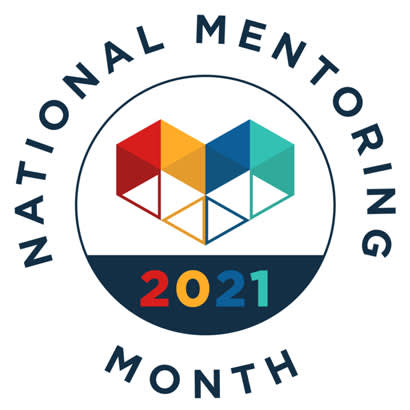 January is always an exciting time of year. As the first month of a new year, it is an opportunity to reflect on the past and set goals for the future. Given the challenges and uncertainty of 2020, let us welcome a brighter and more promising 2021. We can start by celebrating National Mentoring Month and recognize the value and impact that mentors have on the youth of our nation. Formal one-on-one and group mentoring programs, as well as informal mentoring opportunities, support youth in establishing strong connections with compassionate, caring adults and positive role models. Youth who are at risk of falling off track but have a mentor, are 55 percent more likely to enroll in college, 52 percent less likely to skip a day of school than their peers and maintain better attitudes towards education. Mentoring also plays a role in preventing young people from engaging in risky behaviors like early sexual activity, drug use and violence. In fact, youth with mentors are 46 percent less likely than their peers to start using drugs.
The most recent NRPA Park Pulse focused on the importance of mentors among youth and young adults. Through a poll of 1,000 U.S. residents focused on park and recreation issues, the group was asked:
"How important, if at all, is it for children and young adults to have access to mentors? These mentors may include community leaders, teachers, coaches and/or counselors who help build confidence, encourage positivity and values, empower healthy decision-making and are a source of support."
Results from the survey are as follows:
Nearly 9 in 10 (88 percent) U.S. adults say that it is important for children and young adults to have access to mentors, including 71 percent who say that it is extremely or very important.
Nearly 4 in 5 (79 percent) Gen X say that it's extremely or very important for children and young adults to have access to mentors, making them more likely to feel this way than Boomers (71 percent), Millennials (70 percent), and U.S. adults overall (71 percent).
Parents (80 percent) are also more likely than non-parents (66 percent) and U.S. adults overall (71 percent) to say that it's extremely or very important for children and young adults to have access to mentors.
NRPA continues to support youth mentoring through the Mentoring in Parks and Recreation initiative – a project dedicated to supporting agencies in their efforts to build effective and evidence-based mentorship programs that connect youth with caring and compassionate mentors while strengthening connections across communities. Given the many challenges park and recreation departments and programs have faced during the coronavirus (COVID-19) pandemic, NRPA would like to highlight innovative ways in which park and recreation professionals have persevered in offering mentoring programs this time.
Elizabethton Parks and Recreation Department
Program staff, with support from the Carter County Drug Prevention Coalition, developed physically-distant and virtual programs/activities for youth to continue to engage in during the pandemic. The "World Tour Wednesday" series occurs on a weekly basis and focuses on a specific country. Youth are invited to participate, and receive free lunch, a craft, snack and fun activity focused on the country of the week. Additionally, the "Winter Wednesday" series provides activities and take-home bags for youth on a weekly basis. Themes and activities include a nutcracker activity, gingerbread house bag, elf on a shelf bag, Christmas around the world activity, etc. Park and recreation program staff also secured additional funding to support basic needs of community members, to include gift cards and monetary assistance to purchase necessary food and hygiene items.
Mount Airy Parks and Recreation
Mount Airy Parks and Recreation staff continue to conduct weekly check-ins with program mentors, mentees and their families. Staff also delivered food and provided meals to community members as a way to support basic needs and keep the community engaged in the mentoring program.
Middlesboro Parks and Recreation
Middlesboro program staff have continued to conduct home visits and engage in routine communication with mentors, mentees and families. Most recently, the mentoring program has developed a series of monthly virtual meetings in which program participants can interact with one another in a fun and safe manner. Examples of these meetings include a pumpkin pie baking session, gingerbread house competition, and a game night. Materials and supplies were also provided to each participant at no cost.
MENTOR, The National Mentoring Partnership
MENTOR, The National Mentoring Partnership was created 30 years ago to expand opportunities for young people by building a youth mentoring field and movement, serving as the expert and go-to resource on quality mentoring. Their mission is to fuel the quality and quantity of mentoring relationships for America's youth and to close the mentoring gap for the one in three young people growing up without this critical support. To celebrate National Mentoring Month, MENTOR has developed various toolkits and activities that park and recreation professionals can use to support mentoring efforts and spread awareness about the benefits of mentoring in local communities.
National Mentoring Month Toolkits:
Key National Mentoring Month Dates:
January 17 is International Mentoring Day: In honor of Muhammad Ali's birthday, join the international conversation on social media where photos, videos and messages of powerful mentoring stories are shared.
January 18 is Dr. Martin Luther King, Jr. Day of Service: A day to share in the inspirational words of Dr. Martin Luther King, Jr., and elevate the spirit of service through volunteerism.
January 29 is #ThankYourMentor Day: A day to show gratitude for your mentor by posting on social media using hashtags #ThankYourMentor, #MentoringAmplifies and #MentoringMonth
Lauren Kiefert is an NRPA program specialist.