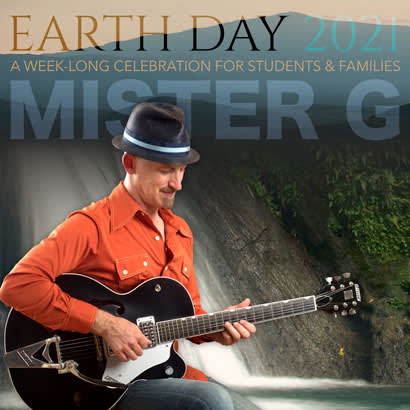 Image: Photo of MISTER G with text that says, "Earth Day 2021. A week-long celebration for students and families." Photo courtesy of MISTER G.
The highlights:
Free workshops and concert during Earth Week.
Opportunity to be featured in workshops and/or concert by promoting Earth Day activities in your park (see below for details).
Many of us are pining for things to be "normal" — to enjoy things like spring concerts and large group events. And while there is hope on the horizon, we're not there yet. If the past year has taught us anything, though, it's that when we're dealing with unusual circumstances, we can come up with some extraordinary opportunities.
That's why this Earth Month we're excited to be working with MISTER G to promote a series of online workshops and a livestream virtual concert for kids of all ages. While we may not be able to host concerts in person, the beauty of technology opens up a range of new possibilities and opportunities.
MISTER G is a Latin GRAMMY Award-winning artist, author, activist and educator. To celebrate Earth Month, he is presenting an exciting bilingual Earth Day concert for children and families with an emphasis on ecoliteracy. Broadcast live from the Academy of Music Theatre, the performance will be filled with music; culture; special guests from all over the world; and, of course, a foot-stomping, hand-clapping good time.
Hailed as "a bilingual rock star" by The Washington Post, Ben Gundersheimer originally was dubbed MISTER G by his young students while pursuing a Master of Education degree. His dynamic, interactive performances aim to dissolve borders and foster cross-cultural connections. His most recent album, "Children of the World," unites musicians across five continents and 14 countries (including Argentina, Chile, Brazil, Romania, Iran, Liberia, Senegal, Vietnam, Guatemala, Bangladesh, Mexico, France, Jamaica and the United States).
You are invited to register for the workshops and concerts for free and utilize them in your childcare and out-of-school time programs or however you see fit. You can learn more about the events and register for them here.
View a printable flier with the workshop and concert information here.
If a family had 20 minutes to spend outside on Earth Day, what would you encourage them to see or do in your park?
You can also get involved by submitting a video that answers the question above! Your clip, ranging from 20 seconds to one minute in length, could be used during the workshop and/or concert as a way to encourage participants to get outside and enjoy their local parks on Earth Day. To participate, record a 20 to 60 second video that includes:
Name
Role
Rark
City
Answer to the questions, "If a family had 20 minutes to spend outside on Earth Day, what would you encourage them to see or do in your park?"
Submissions can be uploaded to this Dropbox link. If you have any questions, don't hesitate to reach out and ask.
We look forward to seeing how you implement these events into your Earth Month programming. Feel free to tag NRPA in your social media posts to show us all what you are doing to celebrate planet Earth!
Roxanne Sutton is NRPA's director of communications.