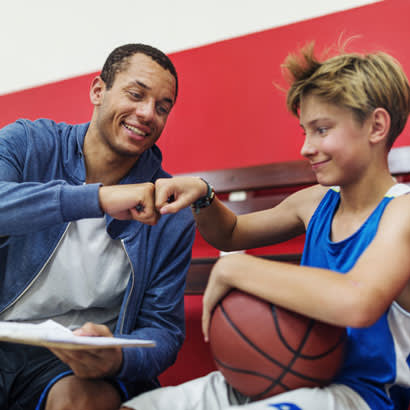 Your recreation center's volunteers are essential to keeping your youth sports programs running smoothly. They're the coaches, assistants, and other cheerleaders that create a positive experience for the young athletes in your community, helping kids develop lifelong skills and friendships.
But as a park and recreation professional, it can be challenging to recruit enough qualified volunteers to help out. You must find individuals who not only want to support your programs but also have enough free time in their schedules to actually do so.
In this post, we'll highlight four effective tips for recruiting volunteers for your youth sports programs:
Reach out to a wide range of audiences.
Use a multichannel approach.
Share the benefits of participation.
Set volunteers up for success.
Effective volunteer recruitment starts with connecting with the right people using the right message. What does that look like in reality? Read on to learn more!
1. Reach out to a wide range of audiences.
The first people you probably turn to recruit volunteers for your youth sports programs are the athletes' parents and guardians. But as you know, these individuals are often busy and may not always be looking to take on the responsibility that comes with volunteering.
Therefore, make sure your recruitment strategy is wide-ranging and inclusive to give parents a break and ensure you aren't overlooking any enthusiastic potential volunteers. Target your recruiting efforts to reach:
Past volunteers: This includes past coaches, assistants, concession workers, referees, and other supporters who might have let their involvement lapse. You never know who might be interested in coming back!
Former youth sports program participants: Depending on how long your program has operated, you might have program alumni who are willing to contribute their time to create a great experience for this generation's athletes.
High school or college student volunteers: High school and college students are often looking for ways to get involved in the community to earn service hours. Volunteering in a youth sports program can be a fun way to earn these hours.
While these individuals might be a highly receptive audience for your recruitment efforts, don't leave parent/guardian recruitment out of the picture entirely! Caregivers are often excited to engage in their child's sports journey, making them a perennially helpful audience to turn to.
2. Use a multichannel approach.
You won't be able to reach all prospective volunteers by marketing your opportunities on just one platform. Take a multichannel approach and pursue a variety of recruitment platforms, including:
In-person: Recruit ahead for next season by talking with attendees at games and practices.
Traditional advertising: Post recruitment ads in your local newspaper, create flyers to hang in popular areas such as your local library, or create direct mail postcards to send to prospective volunteers.
Online marketing: Use your social media pages and email newsletters to spread the word about open positions.
Use each platform to reinforce your message, boosting the chances that your target audience members will see and engage with your outreach content.
3. Share the benefits of participation.
Although they won't be getting paid, that doesn't mean your sports program volunteers won't receive anything from their volunteer efforts. Your recruitment marketing materials should highlight volunteering benefits, including opportunities to:
Help youth members of the community thrive in a constructive environment.
Fulfill volunteer hour requirements for a club or class.
Get to know more people in the community.
Access any special volunteer perks you offer, such as free concessions or appreciation gifts.
Potentially be able to contribute a monetary donation to your organization via a volunteer grant.
These benefits might provide the motivation some individuals need to not only get involved, but also stay involved in your program for years to come.
4. Set volunteers up for success.
Your program's volunteers won't want to head into a new sports season feeling unprepared, especially your new volunteers who are participating for the first time. Ensure your recruitment materials describe the type of support volunteers will receive before the season starts, including:
Training: Offer a thorough pre-season training session for new coaches and assistants.
Equipment/supplies: Provide volunteers with training equipment, such as cones, pinnies for scrimmages, goals, whistles, clipboards, etc.
Participant waivers: Offer an online waiver system for participants' guardians to sign digitally, taking the stress of getting waivers signed off your volunteers' shoulders.
Be responsive to questions early on in the recruitment process. Also, once volunteers sign up, use your volunteer management software to offer them a streamlined scheduling process that makes it easier to know where to be and when to be there.
Enthusiastic, empowered volunteers can make all the difference when it comes to running your youth sports program. Be sure to reach out to a diverse group of potential volunteers and equip them with the proper resources to succeed.
Shreya Tragad (she/her) is a digital marketing specialist at InitLive.