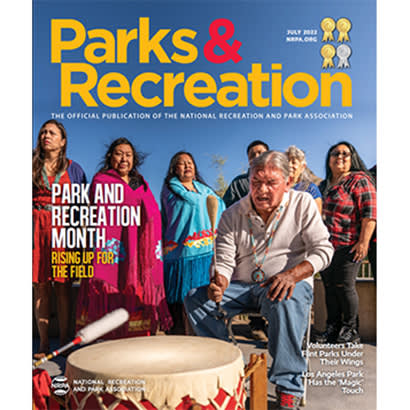 For an enhanced digital experience, read this story in the ezine.
In March, Parks & Recreation magazine and NRPA's marketing and communications department were recognized during the 2023 TRENDY Awards: Salute to Association Excellence luncheon reception in Washington, D.C., presented by Association Trends. This highly regarded program honors the best marketing and communications pieces in the association and nonprofit community. The magazine's July 2022 issue, which highlights Park and Recreation Month, earned the Bronze award. This recent nod marks the sixth-consecutive year the publication has won a TRENDY Award for "Monthly Trade Association Magazine."
Most notably, NRPA's marketing and communications staff — with the help of communications firm Worthy Journey Communications — earned the coveted Gold award for NRPA's 2022 Annual Report, which highlights the important work that park and recreation professionals are doing for their communities across the country, as well as touts the organization's generous sponsors and corporate partners whose continued funding makes this critical work possible.
"This recognition by Association Trends is a testament to our teams' level of commitment toward producing quality content that not only tells these engaging park and recreation stories, but also brings about greater awareness to the public at large about NRPA's overall mission — ensuring all communities have equitable access to our parks and open spaces," says Vitisia Paynich, executive editor of Parks & Recreation magazine and NRPA's director, print and online content.