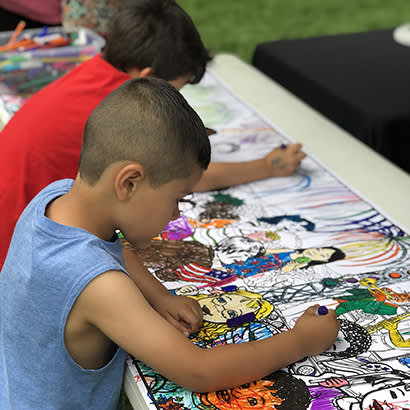 For an enhanced digital experience, read this story in the ezine.
Whether you're preparing for the pool's opening day or planning summer camp activities, a park district should ensure all programs, facilities and events are accessible to everyone, regardless of culture, background or ability.
Tip 1: Understand Your Community
Questions to ask include:
Who makes up our community and how can we include them?
What can we do to make programming more accessible?
What is the desired outcome we want to achieve?
As you are gathering data and analyzing your organization's current equity goals, be sure to involve the community in the decision-making processes. Engage Black, Indigenous and people of color, LGBTQIA+ and other marginalized groups, and provide a safe space for people to talk about their experiences and opinions. Communicate with your Board of Commissions, volunteers, staff and program participants through one-on-one discussions, focus groups and surveys. By acknowledging these voices, you will better represent the community's economic, cultural and social demographics.
Tip 2: Represent Your People
Once you have a good understanding of your community's wants and needs, it's time to make internal changes. Build a workforce that reflects the community, and train employees to understand inclusion and diversity on an operational level. Emphasize Black, Indigenous and people of color, LGBTQIA+ and other voices through social media and cultural events. Lastly, consider forming a Race, Equity, Diversity and Inclusion (REDI) Committee to review and recommend equity-focused policies.
Tip 3: Remove Barriers
Surveys reveal that one of the major reasons people don't participate in recreational activities is due to financial restrictions. People in low-income areas especially have a hard time accessing leisure activities. While revenue is important for the operation of a park district, there are ways your organization can ease the burden on families.
Awarding scholarships and free opportunities to broader and more diverse audiences is one of the most effective ways to get people through the door. The Chicago Park District, for instance, has offered free Learn to Swim sessions for youth ages 6 to 17 since 2014. Foundation fundraisers, donations and corporate sponsors can make up for any costs associated with free programming. Free programs, programs with lendable gear, or programs offered at a discounted rate will make your summer programming more equitable.
More than 40 million people in the United States speak Spanish. In some communities that could mean more than 50 percent of residents live in Spanish-speaking households. To meet the needs of your residents, it's important to offer bilingual marketing materials and programs.
As you plan your summer programming schedule, consider launching programs that specifically target and promote marginalized groups. The Forest Preserves of Cook County, Illinois, created an "Out in Nature" program that invited LGBTQIA+ nature lovers to the preserves. The West Chicago Park District partnered with the Western DuPage Special Recreation Association to provide inclusion services. More examples of what you can do to remove barriers include:
Make paperwork available online instead of in-person only.
Remove the requirement of a government-issued identification to include non-citizens.
Improve physical accessibility for older adults and people with disabilities.
The goal is to make your programming registration and participation as easy as possible.
Equity ensures everyone has fair treatment, opportunities and pathways to success. By following these practices, your organization will be able to address the interests of your community while providing fun, engaging spaces for everyone to enjoy.
Danielle Spence is Marketing and Communications Manager at West Chicago Park District