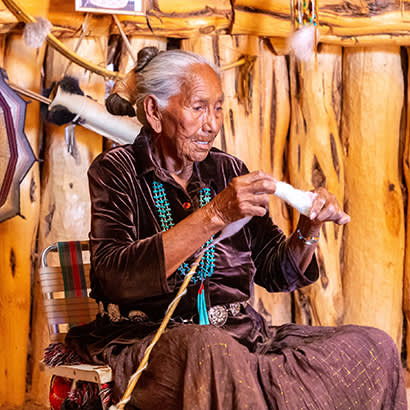 For an enhanced digital experience, read this story in the ezine.
Each morning, as the sun rises over the expansive desert, mountains and canyons of the Diné Bikéyah — the people's sacred land — the cycle of daily life begins. For centuries, Diné traditionalists have conducted their offerings early in the morning to embrace the sun's rays, encouraging a mentally-, physically- and spiritually-healthy start to the day. Traditions like this are deeply rooted in place and the land Diné people have inhabited for time immemorial. Connection to Mother Earth is at the heart of culture for Diné people.
Reclaiming Land and Culture Through Parks
Diné Bikéyah is known to most non-Native people as the European-coined Navajo Nation and encompasses nearly 17 million acres. Many non-Diné people are familiar with the most iconic spots, like the red rocks of Antelope Canyon and the towering buttes of Monument Valley. In response to the U.S. government's taking of their land to create national park sites, like the Grand Canyon and Glen Canyon, the Navajo Nation's government created the tribal park system to protect these sacred spaces and to create a park system that could bring economic revenue to the Navajo Nation.
The Diné community continues to experience devastating challenges due to hundreds of years of efforts by colonizing Europeans to suppress their human rights, such as eradicating their culture, removing them from their land and denying them essential services. These elements bring about high levels of depression, suicide, alcoholism, poverty and poor health. Exemplifying all of these factors is the sheer disparity in economic status between Navajo Nation communities that experience grave poverty and neighboring communities that harvest wealth through revenue generators, such as Grand Canyon National Park and Glen Canyon Recreation Area.
To foster connection to tribal parks and trails and promote healthy lifestyles, the Navajo Nation partnered with NavajoYES, a community-based organization empowering Native youth with an active lifestyle. Navajo Nation Parks and Recreation received NRPA Resilient Park Access grant funding for its Diné Canyon trails initiative. The goal of the project is to provide an opportunity for the Diné community to experience their shared cultural and physical bond with their landscape. They are doing this through community engagement, adding meaningful signage, and providing community amenities that will offer healing to those experiencing imbalance due to long-term poverty, poor health, historical injustice, biodiversity decline, and loss of Indigenous culture and language.
Promoting Equitable Access to Diné Bikéyah Lands
The project team started by assembling an advisory group consisting of representatives from different parts of the Navajo Nation, with interests from cycling to culture. NavajoYes spearheaded engagement events to attract people to the spaces and solicit feedback on how the trails can be more accessible and culturally relevant. The project team has started making improvements, including updating signage to include the Diné language — Diné Bizaad — and place names. Not only does this reverse the erasure of Indigenous language, but also it educates visitors of Diné culture while promoting pride and cultural understanding of the Diné language and customs. In the coming months, the project team will continue to hold engagement opportunities, enhance trails and explore opportunities to expand beyond the current priority areas.
This project promotes equitable and just access to the land of the Diné Bikéyah for the people of this sacred land. Though history and climate change continue to impact the health of the land and its people, advocates today are working to ensure treasured spaces are protected, accessible and welcoming for the people of the community. This work ensures tomorrow's children can live in a better world and be equipped to continue the work to enhance connection to land for future generations.
NRPA's Resilient Park Access program, supported by The JPB Foundation, aims to advance community-driven, systems-level strategies for equitable park access that improve the environmental resilience and health of communities through public parks and recreation. NRPA believes parks play a key role in advancing equitable environmental and social resiliency that improves communities and ensures they can meet current and future challenges.
Jared Mummert is Community and Environmental Resilience Program Manager at NRPA. Louise Tsinjinnie is Media Representative for Navajo Nation Parks and Recreation.