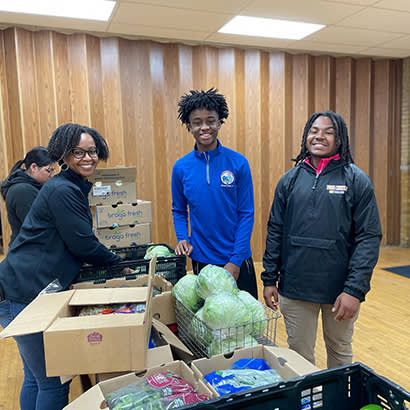 For an enhanced digital experience, read this story in the ezine.
In the spring of 2022, with the support of the Walmart Foundation, NRPA awarded funding to 15 park and recreation agencies and their community-based partners to plan and implement Community Wellness Hubs. The Parks as Community Nutrition Hubs grant program supports local park and recreation agencies and community-based organizations as they advance equitable food access for all through community-driven, upstream and systems-change solutions.
The vision for this work is to support the continued transformation of local park and recreation agencies into intentional, sustainable Community Wellness Hubs to advance health equity in communities. NRPA defines Community Wellness Hubs as trusted gathering places that connect every member of the community to essential programs, services and spaces that advance health equity, improve health outcomes and enhance quality of life across seven unique but interconnected dimensions of well-being.
In Peoria, Illinois, nonprofit Peoria Grown is addressing food insecurity through nutrition education and by providing access to affordable, healthy food options. Working together, Peoria Grown and Peoria Park District are increasing each organization's capacity to provide a welcoming space for people and families within the most under-invested Peoria neighborhoods to access these food options. Additionally, the market they've created serves as a community gathering place where people can socialize with neighbors and friends, learn more about nutrition and healthy living, and get connected to other community services.
The Community
Within Peoria's Southside 61603 and 61605 zip codes lives a community of people that are majority-minority; 50 percent of residents are Black, and 10 percent are Hispanic. This contrasts with the overall makeup of greater Peoria, which is home to 2.08 times more white residents than any other race or ethnicity. At approximately $27,000 annually, the median household income of Black residents is about 50 percent lower than that of white residents. Additionally, within these two zip-code areas, approximately 5,000 residents receive Supplemental Nutrition Assistance Program (SNAP) benefits, according to the 2019 U.S. Census American Community Survey.
In 2018, two grocery stores within these areas closed, creating a food desert. What's more, lack of affordable and reliable transportation makes it difficult for community members to get to a source of fresh fruits and vegetables, with most located upwards of three miles away. If they are able to get to a grocery store or other location with fresh food, the price of that food is likely to have increased due to inflation. In Peoria's 61605 zip code, more than half of the children live below the poverty line, meaning these price increases can be the difference between a healthy snack and an unhealthy one, or even none at all.
These barriers that prevent access to affordable, fresh, healthy food inevitably increase the risk of other challenges and complications, such as chronic health conditions like diabetes, obesity and cardiovascular disease. According to the 2019 Peoria County Mortality Report, this is exemplified in Peoria's Southside neighborhoods, where increased health conditions lead to the median age at death for Black residents to be 10 years younger than that of their white counterparts.
Pairing Strengths and Challenges
While Peoria does face challenges when it comes to public health, there is a strong foundation of solutions to work from that begins with parks and recreation. Peoria Park District — the oldest and largest park district in Illinois — boasts 60 square miles of parkland, and staff are known for their ability to activate the department's facilities and spaces through their strong presence and programming. "We have a shared commitment with Peoria Park District, [which] can provide access to key parts of the targeted service community by offering access to facilities that are housed in parks adjacent to neighborhoods in need," says Julie Eliathamby, founder and executive director of Peoria Grown. "This helps to keep costs down and allows for maximum reach of dollars donated to the project. The Peoria Park District has a strong commitment to community wellness and offering equitable access to healthy activities and holistic services for all members of the Peoria community."
In addition to a strong park and recreation presence, Peoria also has many well-established health-related organizations, including two medical centers, a major regional hospital system, four nursing schools and a community health clinic. Other community-centered nonprofits also work together with the park, recreation and health institutions to meet various community needs, such as housing and providing support for children, families and LGBTQIA+ community members.
Using the Community Wellness Hub model, Peoria Grown sees its healthy food market, Market 309, as a way to bring these community partners together and amplify the impact of the solutions they already are providing. A strength that Peoria Grown brings to the table is the solid relationships staff have built with community members, local healthcare organizations, food suppliers, Peoria Public Schools and other local partners that contribute their services. "We have cultivated trust and rapport with residents of the Peoria Southside community," says Eliathamby. "Customers feel a sense of ownership to Market 309 and recognize that their feedback and input is valued as stakeholders."
Partnering for Success
Parks and recreation is central to communities — both in physical location and in staff's connections to community members — and provides welcoming spaces designed for community gatherings. That's why Peoria Grown is partnering with Peoria Park District to bring Market 309 to Trewyn Pavilion, a park and recreation site located in one of Illinois' most under-resourced communities.
"Partnering with the park district allowed us to use community resources that were already well-established and known by the communities and customers we serve," says Eliathamby. "The Peoria Park District facilities are in the neighborhoods of the customers we serve, making our programs more accessible. Our customers have shared stories of activities they have participated in at these facilities over the past decade. It's the strong community ties that helped build relationships with our customers."
Previously, the market was hosted at the Logan Recreational Center — another park and recreation site — but community needs quickly outgrew the space. Challenges included lack of storage for fresh produce, lack of space for a teaching kitchen and market expansion, and the need for an appropriately sized and located hub that would help to raise the stability and visibility of the program.
Thanks in part to funding from the NRPA grant, the partners have been able to establish a 3,000-square-foot market at Trewyn Park where they can implement new storage, such as a commercial refrigerator, and expand available offerings. In addition to bringing affordable and healthy food options back to these Peoria neighborhoods, the market serves as a Community Wellness Hub location where patrons can access nutrition education, socialize, participate in physical activity, and connect with other community partners in the fields of healthcare, wellness, recreation and more.
"We are also excited to collaborate to provide workforce development opportunities in partnership with Peoria Grown to increase capacity of these residents to secure stabilizing employment," says Executive Director of Peoria Park District Emily Cahill in a letter of support of Peoria Grown's grant application. "Our district is able and willing to assign interns to the program and may be able to support additional youth employment opportunities as grant funds allow."
Project Goals and Outcomes
Within the first year of the grant project, Peoria Grown increased its sales of fruits and vegetables by more than 10 percent and SNAP redemption by a similar amount. "One significant happening over the past six months is hiring our first part-time dietitian. In her role, she is educating the community on how to prepare healthy, and culturally relevant, foods," says Eliathamby. "Since February 2023, she has held 43 cooking classes to almost 200 participants." The organization also embodied the Community Wellness Hub model by expanding partnerships with healthcare and community partners, who refer patients to the market through a FoodRx program.
In the coming year, Peoria Grown hopes to purchase more of its fresh produce — upwards of 40 percent — from local farmers and community gardeners who prioritize equity and cultural diversity. The organization also plans to increase SNAP usage by an additional 20 percent, as well as implement a mobile market program that will center Peoria's most food insecure communities.
"Overall, we strongly value feedback from our customers. We listen to our customers and make changes based on their experiences," Eliathamby explains. "Changes range from the flow of the market to practical and affordable pricing in a time of significant inflation."
As this program sees continued success, Peoria Grown plans to expand the Community Wellness Hub model by pursuing partnerships with the local health department and community healthcare providers to further address social determinants of health, establish a market within a community health clinic location, and expand the FoodRx program to increase the number of vouchers physicians provide to patients.
"The Peoria Park District relies on public-private partnerships to help us move towards our mission of improving health and wellness, as well as vibrancy, in our diverse community. It has been an honor to be able to support groups like Peoria Grown as they bring their expertise and passion to the community in our spaces and places," says Cahill. "Their success is wonderful to see and we look forward to continuing to support their growth and influence in the community."
Lindsay Collins is Managing Editor of Parks & Recreation magazine. Maureen Neumann is Senior Program Manager at NRPA.