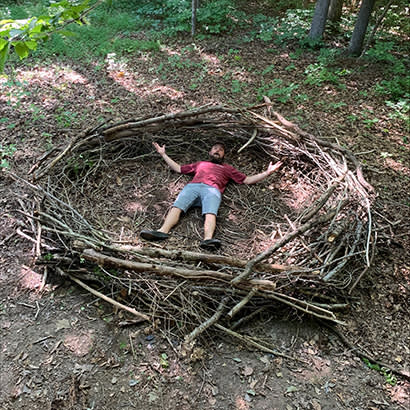 For an enhanced digital experience, read this story in the ezine.
In celebration of Park and Recreation Month 2022, Chesterfield County (Virginia) Parks and Recreation designed a community engagement strategy using Facebook posts about a large bird circulating throughout its parks. The objective was to drive park and trail visitation while increasing interest in the department's facilities and services.
The idea was inspired by a campaign orchestrated by the Westminster (Colorado) Parks, Recreation and Libraries Department several years ago. Identified as the Chesterfield Crowned Prismatic Raptor, or CCPR, the bird moved to a different park each week. New information about the bird — name, size, color and habits — generated by Chesterfield County Parks and Recreation emerged on social media with the help of community members who agreed to promote the campaign with their own posts, sharing information and their own "sightings." The bird also dropped multi-colored (plastic) teeth for citizens to find and keep. Community members could redeem a gold tooth for a prize. To join in the fun, the agency's Rockwood Nature Center staff built a large nest and shared the story with summer camp participants.
Posts about specific "sightings" of the fictional bird sparked interest and garnered attention from outside the state and from the media. Chesterfield County Parks and Recreation's two initial Facebook posts were shared 57 times, and a flood of comments filled the threads. A local TV station seeking a story contacted the department, and a national zoological organization called to inquire if this bird might be a missing fowl belonging to a zoo from a neighboring state. Staff shared the ruse and asked them to keep the information secret until community members eventually figured out the real story. An unusual and unrelated event occurred when a dolphin traveled far upriver and appeared at one of the agency's facilities, which made the news and added to the fervor and interest in the equally mysterious CCPR.
Throughout July, many people visited the county's parks searching for the CCPR and its fallen teeth. Engagement on social media was high. Staff enjoyed the opportunity to develop this unique strategy. The creative campaign met the goals of promoting the department and increasing park visitation.
Sharon K. Entsminger, CPRP, is Manager of Communications, History and Special Events at Chesterfield County (Virginia) Parks and Recreation.