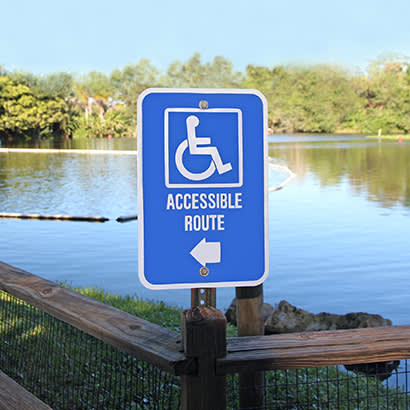 For an enhanced digital experience, read this story in the ezine.
Park and recreation agencies are successfully implementing the Americans With Disabilities Act (ADA) in every state. However, there are occasional miscues, and here we provide guidance on playgrounds and trails.
Playground Grandfathering Does Not Exist
At a gathering of park and recreation vendors and administrators this past fall, a regional representative for a prominent playground equipment manufacturer insisted that existing playgrounds are grandfathered into the ADA. However, there is no grandfather clause in the ADA.
One-to-One Staff Support
We urge agencies not to take an absolute position on assigning one-to-one staff as an inclusion aide. The staffing ratio should always flow from an assessment. The Title II regulation clearly says that reasonable modifications include "assignment of aides to beneficiaries."
Trails and the Architectural Barriers Act Guidelines
Guidance on trail accessibility, provided by the Architectural Barriers Act Accessibility Guidelines, is final and enforceable only for federal agencies. However, the guidance provided in sections 1017 and 1019 is a great place to start for states and local governments. Remember that today trails are subject to the program access test, meaning that the "program" of trails must be accessible.
For more about ADA compliance, contact John McGovern. W-T Group is NRPA's exclusive provider of accessibility audits. Learn more information on accessing your membership discount with W-T Group.