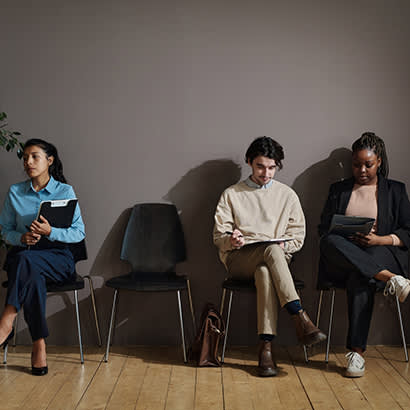 For an enhanced digital experience, read this story in the ezine.
City of Seaside, California, makes an impact in underserved communities through its Youth Employment Program
Ask any team member at the Seaside Youth Resource Center (SYRC) in California and they'll tell you that troubled teens who walk through their doors have the potential to change their story. Described as "a one-stop resource center for at-risk youth and their families," SYRC originally started as a youth program by a nonprofit in 2014. The program transferred to the city a year later, evolving into SYRC. During that time, the resource center was provided $1.3 million in first-round funding from the California Gang Reduction, Intervention and Prevention (CalGRIP) grant program as an effort to curb violent crime and gang activity in the city's neighborhoods.
Seaside, the second-largest city in Monterey County with a population of nearly 34,000, already was experiencing a dramatic uptick in violent crime a few years prior to SYRC's inception. To address the growing concerns among community members, a 35-member Blue Ribbon Panel (renamed the Blue Ribbon Task Force for the Prevention of Youth Violence) — comprising county and city agencies, criminal justice, community-based organizations, elected officials and more — developed a Youth Violence Protection Plan. This initiative included the Seaside Youth Resource Center designed "to give the youth opportunities to meet the challenges that they were facing and provide resources to them," says Dan Meewis, recreation director for City of Seaside.
SYRC's services include:
Employment provisions, such as job skills and life skills training, job referral or placement and possible internship opportunities
Activity coordination for youth, families, partner programs and prospective employers
Facilitating collaboration of and leveraging other existing prevention-type programs and activities that may or may not currently exist in the community
At SYRC, "one of the things that we pride ourselves on [is] we look at the human being walking through the door," says Ted Black, SYRC's youth center supervisor. "We treat everybody with respect. And it doesn't matter what they're going through; we're going to work with those challenges. That … 15-, 16-, 17-year-old child [is] probably reaching out for some support [but] just [doesn't] know how to go about getting it. We want to be there — we want to be that ear for them."
Black, a longtime resident of Seaside, understands the challenges these kids face every day in their community — whether it be problems with drugs, alcohol, abuse, economics or gangs. "We do have a huge gang population out here and a lot of the youngsters that we work with either have someone in the family affiliated [with a gang], or they're teeter-tottering on being affiliated with a gang," he explains.
"Ted was instrumental in setting up the youth resource center through a variety of different programs that he was doing…to help the kids get off the streets," says Meewis. He adds that SYRC got the CalGRIP grant "because our violence numbers were so high, and we continued to get that grant funding that helped with a variety of different programs here." In 2017, the state changed the name of the grant to California Violence, Intervention and Prevention (CalVIP).
By 2018, the agency no longer qualified for the CalVIP grant because Seaside's violent crime numbers had declined dramatically — a win for the city and residents. "However, we still wanted to provide more meaningful opportunities for the youth, which is why we started the Youth Employment Program in 2019," Meewis says. During that time, SYRC hired Kee Hyon Higgins as recreation supervisor to set up the program.
Filling a Need
The Youth Employment Program offers teens ages 15 to 18 an alternative to drugs, alcohol, gangs and other unhealthy behavior. During that first year, recalls Meewis, "we only had enough funding to bring on 20 youth. And Ted, at that time, already had a group of gentlemen that he knew could benefit from this program." So, the staff approached those kids who they already had formed a close-knit bond with and asked, "Hey, we're going to be launching this program. Are you interested in getting some meaningful work experience?"
The SYRC team started recruiting in March 2019 and assisting teens with the application process. "Working for the city, there's a lot of documents they have to get — state ID, a work permit, a bank account, [tuberculosis] test [and] background information," notes Higgins.
He says when they started promoting the program, teens would see how much they could potentially earn by working during the summer for the city. He says the majority of "the youth employees work about 40 hours — some 20, some 30 — depending on whether they're out of town on vacation, they're in sports or even [attending] summer school. But they have the choice at the end of the summer to continue working with us." Many of them stay.
What were the results of the program's inaugural year? "[O]ut of those 12 kids that joined the program, I would say by the start of year two, all 12 of them still worked for us," notes Meewis. "We had a 100 percent retention [rate] with those employees for their first year of employment. To us, that shows that what we were doing as a program was working. They were getting meaningful work experience."
For some, this program is a lifeline — especially for those likely to be indoctrinated into a gang. "Some kids are grandfathered into the gang world. They have no choice about it," Black explains. These young individuals might come from a family, whereby close relatives might be affiliated with that life. He says the Youth Employment Program helps to subvert that grandfathering process — "pull that kid…into a program where they're going to be nurtured and they will have the opportunity to choose a different path."
Black and SYRC have a good relationship with the schools and especially the police department "to make sure that kids aren't going straight to jail or to [juvenile hall]," says Meewis. Instead, they are being diverted to the resource center.
Among the Youth Employment Program's biggest allies is Seaside Mayor Ian Oglesby, who took office in 2018. According to Meewis, "our mayor is extremely supportive of this program. And every year, he asks us, 'How much money do you need?'" Meewis says the city leader wants to keep adding more and more participants because he sees the positive impact the program is having on Seaside youth and the community as a whole.
Providing the Resources and Tools
According to Black, all of the schools in the Monterey Peninsula Unified School District have a Positive Behavior Intervention and Support (PBIS) program. Through this PBIS program, SYRC has a referral process set up for tier two and tier three students. "Tier two [and] tier three mean they're at risk. They're at risk of being kicked out of school or at risk of failing their grades," he says.
Meewis points out, "When going to get a job as a youth, you have to get a work permit through the school. And for those kids that aren't meeting their grades, we have an understanding with the school district that allows them to participate in our program even if they're not making [good] grades because of this referral system…. Whereas if they were to go to McDonald's, they wouldn't be able to get their work permit to work there." School administrators cooperate with the program because they know Meewis and his staff will give these teens the help that they need to succeed in the workplace, as well as assist them with any of the challenges that they may have with academics.
SYRC mentors and tutors these kids and helps to correct a lot of the behaviors that they're going through at school. For those who want to pursue the Youth Employment Program, Black puts them on an academic contract in which they agree to work toward improving their grade point average to at least a 2.0.
Preparing Them Beyond Recreation
The program provides youth workers with tools and skills that will help them throughout their lifetime, such as how to conduct themselves and answer questions during a job interview, as well as the proper attire for the occasion. As part of the training, recreation staff serve on a panel for a mock interview with youth employment candidates.
Realizing that some youth might not have the money for clothing, Meewis says some funds are available. "We took them shopping and we…bought them each an outfit with everything they would need to at least dress business casual for a part-time interview," he says.
What's more, SYRC hosts quarterly money management workshops. Black explains that when these kids earn a paycheck, it's important that "they understand how to spend their money [wisely]. There's a responsibility to that, and so we teach them that as well."
"When youth come into the program and they make it through all the steps and they officially become hired, they submit [a list of] their skills or what areas they would like to work in," Meewis says. "While a lot of the employees come in and they end up working within the recreation department, some have shown that they want to…learn more about administration, business and finance. So, we give them opportunities to go and work with other departments in the city." He says they've had employees work within the finance department, human resources, community development and even the city manager's office.
The Pandemic and U.S. Census
The Youth Employment Program flourished in 2019, but the coronavirus (COVID-19) pandemic threw SYRC a major curve ball in March 2020. "That was right about when we were getting ready to open up our program to the community as a whole," recalls Meewis. "While rec departments were shutting down and I was sending employees home, our mayor was asking, 'How do we get these kids back in here?' We weren't offering programs. So, we came up with a variety of different things [so that] we could put these kids to work. They were working outside, pulling weeds [and] cleaning up the streets."
This also was right at the beginning of the city's 2020 U.S. Census push. According to Meewis: "A lot of these kids went door to door hanging census [material] on residents' houses and just trying to increase our numbers, because, obviously, we know how big a deal the census is."
Aside from the census push, youth employees also helped with food distribution through the city and school districts. "We basically put them to work any way we could," notes Meewis, "and gave them a meaningful task that they could go home at the end of the day and say, 'You know what? I did good work today.'"
Looking Ahead
How does Meewis and his team see this program evolving over the next five years? "I would love to have more involvement through other [city] departments," he says. "Ideally, I would like to see a pathway for [youth] to go into public safety, police and fire. I think a lot of cities are having a hard time with hiring police officers, and I think if there's a way that we can get these kids to turn their life from being one way to then going the other way into public safety, that will be really beneficial, especially here in Seaside."
Black believes lowering the age limit down to 15 across the board in the community would help with what they do. "They all need jobs, and that's just to keep their minds active, keep them invested in something different other than being on a video game at home and just really not being productive," he says. "Putting them out there in the work world at an early age, teaching them the responsibility of independence and learning how to stand on their own two feet [are] invaluable. And so, hopefully, within the next five years, we can get buy-in throughout our own community to do the same thing that we're doing."
For now, the SYRC staff will continue reaching out to at-risk youth to get them off the streets and into their program to turn the tide of their circumstances and help them work toward a meaningful future.
Vitisia Paynich is Executive Editor and Director of Print and Online Content at NRPA.