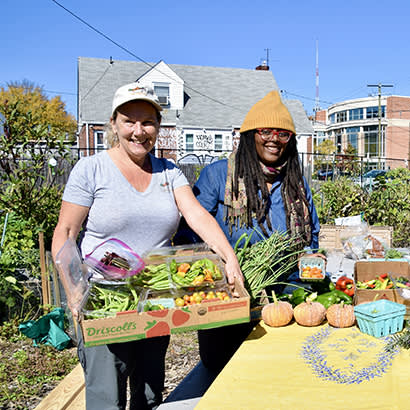 For an enhanced digital experience, read this story in the ezine.
On a sunny and crisp Saturday in October — days before Silver Spring, Maryland, saw its first autumn frost — gardeners, volunteers and park staff were sweating it out, collecting crates of fresh produce during a harvest party at a Montgomery Parks community garden. It was the garden's fourth and final harvest party of the year.
Montgomery Parks and HarvestShare, a volunteer-run nonprofit, collected about 75 pounds of peppers, tomatoes, spinach, beans, okra and other healthy, fresh food. Soon after, volunteers transported the food to Mid-County United Ministries for distribution.
In 2022, gardeners at the Fenton Street Urban Park community garden in Silver Spring donated more than 300 pounds of produce. In total, gardeners who rent from Montgomery Parks' stock of more than 500 garden plots have donated more than 2,900 pounds, surpassing the previous year's weight by about 400 pounds and almost tripling the amount collected two years before that.
Michelle Nelson, Montgomery Parks community garden program manager, says harvest parties began about five years ago when she and volunteers noticed an accumulation of waste in Montgomery Parks' gardens. Gardeners had grown more food than they knew what to do with, Nelson says, and plots were scattered with rotting fruits and vegetables.
Nelson was compelled to review the community garden program's terms of use policy, established in 2009, searching for a solution to the abundance of unused food. Eventually, with the wordsmithing and backing of 22 garden liaisons, she added a clause to the policy that enables volunteers to initiate garden-wide harvest parties, which are food collection and donation events.
Fast forward to 2022, and Nelson's idea for harvest parties has propelled Montgomery Parks' community garden program into a new direction. Now, gardeners are connected to their community by providing extra food to people struggling to get enough on the table.
And although many — if not most — donate, gardeners are not required to donate the fruits and vegetables of their labor, Nelson says. "Most gardeners do donate. It is [on] a case-by-case basis because we do have gardeners in our program that grow for substance, which is to feed their families," Nelson says. "But we have some gardeners that have an extra crop or extra herb that they can donate to this effort."
Nelson wants to see the community garden program grow, both in the number of gardeners it can support and in the amount of food assistance it can provide. She wants to make more parkland available to Montgomery County residents for not just recreation, but also for food production. "Wouldn't it be fabulous to go to a park and get your groceries?" Nelson asks. "We should be thinking about how private-public partnerships can be used to create spaces where people can eat, play and drink. It requires big visioning."
Hugh Garbrick is Former Public Relations Specialist for Montgomery Parks.