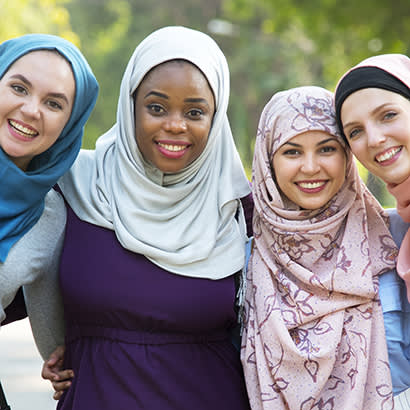 For an enhanced digital experience, read this story in the ezine.
"Is the park ready for 50 women in hijabs, Yakuta?" It was a phone conversation, so I couldn't see her face or her gestures as she asked this very perturbing question. But her tone was more like joy, as I think she was visualizing her beloved community running and roaming freely in nature, far from the drug- and trauma-riddled streets of the Tenderloin district of San Francisco, which they now called home. Her beloved community — a mix of Syrian, Lebanese, Pakistani, Indian, Bangladeshi and Yemeni families, many of them escaping their war-torn countries, pining for a normal and safe life for their children and elderly in America.
I knew very little about Bushra and her Yemeni roots, and what inspired her to be the voice for her community at the Cross-Cultural Community Center, where she serves as a fierce yet compassionate teacher and community builder. I knew that fate had brought us together for a reason back in 2017. Our first meeting prior to this phone conversation had been a video chat with a group of other community leaders from the Tenderloin Community Benefit District (TLCBD) and Arab Resource and Organizing Center (AROC). Our collective dream at this meeting was to transport the residents of this neighborhood to a wonderland in nature where they could celebrate Eid-ul-fitr without the worry of being attacked or surrounded by hostility, violence and racial slurs.
One of the earliest teachings for our Muslim brothers and sisters involves the five pillars of Islam. These pillars of Faith (shahada), Prayer (salat), Alms (zakat), Fasting (sawm) and Pilgrimage (haj) form a way of life. While I had religiously practiced some of these pillars until I was a teenager, the connections started to happen only when my childhood upbringing, both in my community and my family, started to meet my adulthood spiritual practice and my growing love and connection with the more-than-human world. At this internal junction was where the inner layers of cultural and social identities within started to peel, even melt, taking new shapes and forms, remerging with renewed and beautiful ways of seeing and being.
A scribble from my daily journal reminded me of dawn one particular morning when I sat cross-legged on the floor at home, staring at my window landscape — a buckeye, a pine, half a sky — listening to the aural landscape around me and the silence within my hour-long Vipassana sit. The metta bhavana (loving-kindness meditation) at the end of the sit on this morning had put me in a different state of reflection about the ongoing month of Ramadan, and I let the inner voice dare to ask the questions: "Could these five pillars have a new meaning and metaphor in my work in conservation, restoration, stewardship and community building in the parks? Where were they showing up in my movement on the trails, in what I was listening to amongst the bird and wildlife habitat, the plants I was interacting with, and the soil and water I was touching?" I poked my head out the window and saw an almost full moon. If I had the lunar calendar right, that meant that I had a few more weeks before "Eid" to sit with these new questions that had graciously arrived.
The next day, I decided to share an invitation with our park volunteers and the larger Bay Area communities for an Eid in the Parks program. With a trace of nervousness and hope, I wondered: "How would this invitation be received? Would our local Muslim communities attend what was a habitat restoration volunteer program to celebrate this intimate festival outdoors? With all the challenges around the recent Muslim travel ban, would they feel welcomed and belonged at this park site?"
I packed all these questions into my backpack as I walked to lands end, where I hoped to facilitate this program. The new spring wildflowers, and the familiar sounds and sights of this dear park brought instant comfort. The ocean, which has been my mentor all these years, calmed the mechanisms inside. My feet touched the Coastal Trail, and as I walked, I realized that the answers to all these reflective thoughts were already in nature. I smiled a big smile, waved and greeted all my usual human and more-than-human friends, and walked back home with clarity and readiness, waiting for the moon to signal the celebration.
With a warm welcome, I invited our participants to gather in a circle and reflect, observe and listen along with me while following the pillars:
Faith and Prayer
Where do I see faith? When we start a long-term restoration or conservation project to bring back habitat for an endangered species or address a climate change challenge through a climate adaptation project, I must have the faith that our approach will work. Without faith, there is no direction forward. And faith often leads to prayer.
What is a prayer after all? To me, it is bringing awareness to and sharing positive and healing thoughts for someone or something. In my mother tongue, Gujarati, there is a saying, "Dua ma yaad," which literally translates to "Remembering in prayers." Could parks become places of prayer, where we gather to pray for the health and well-being of all beings and fill up our cups with faith?
Alms and Service
In an age of so many competing demands from life, our participants had chosen to give their time to nurture the park site. They were giving alms in the form of care and attention to the park, helping build a thriving habitat for many other beings, thus serving their souls too.
Fasting and Patience
If you have had the opportunity to fast, you know that the most important thing it teaches you is patience. Where does patience show up in the parks? We grow plants from a tiny seedling, but for it to bear fruits and flowers it can take months, sometimes a whole year. That requires patience. Patience shows up in every aspect of our stewardship activities, from collecting seeds in the plant nursery to growing the saplings and then planting.
Pilgrimage and Migration
We then bring our awareness to a different form of pilgrimage and movement, in many cases, not a chosen one. Migration of birds and butterflies, of wildlife, migration due to climate change — climate refugees. Migration, though beautiful and natural, these days, is often for survival.
I observed the group and their movements. I saw tears and empathy in the circle. I saw connection to the habitat restoration work we were about to embark on. I saw a new way of viewing the park and the land we stood upon. I sensed a shift in energy.
We gathered our tools and proceeded to perform the planned habitat restoration work where I heard participants continue to explore the five pillars as they interacted with the flowers and pollinators. My heart was melting. They saw and felt what I saw and felt: kinship.
How does a park get ready for 50 women in hijabs? Bushra's question continues to tug at my heart every day. The park, made up of trees, lakes, flowers and birds, doesn't judge, differentiate, restrict or exclude the way we as humans have somehow learned to do. These species we share this Earth with have always been ready — it is us and the infrastructure we require to feel safe that need preparation. Can the practice of kinship help us?
Editor's note: The person's name mentioned in this story was changed for anonymity in the print version.
Yakuta Poonawalla is Associate Director of Community Stewardship and Engagement at Golden Gate National Parks Conservancy.