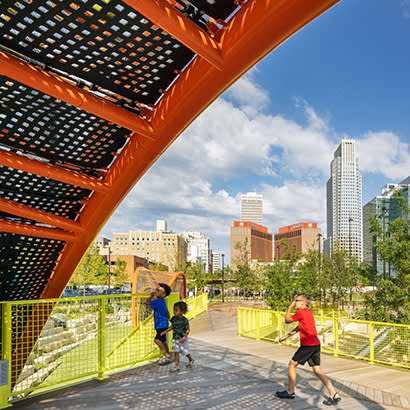 For an enhanced digital experience, read this story in the ezine.
Six strategies for moving toward regenerative park and recreation environments
Health and Wellness, Equity, and Conservation — these are NRPA's Three Pillars. They also are concepts and ideas that are priorities for many organizations across the United States and Canada. The challenges that underlie them regularly permeate the conversations architects and designers have with cities, communities, and park and recreation professionals. Common questions include:
How can we create facilities that do no harm and contribute to a better natural environment?

How do we conserve natural environments and habitats while providing healthy outdoor spaces for people to gather?

How do we embed resiliency and flexibility into our facility designs, so they can withstand increasing environmental degradation?

What role should publicly funded community buildings play during extreme weather events?

How do we create equal access for all community members to amenities and programs?
Defining Regenerative Design
Given the challenges we face intoday's society, all three of these pillars are priorities for the built environment in the places and spaces that serve our communities. This is why the design industry is shifting from sustainable to regenerative design. Broadly defined as design that reconnects humans and nature through the continuous renewal of evolving socioecological systems, regenerative design moves beyond basic, high-performance design toward renewal-focused solutions. With sustainable design, the architecture industry has worked toward achieving net-zero carbon, water and waste in many facets of the built environment. With regenerative design, the industry is moving toward realizing net-positive benefits in these categories while accounting for the interconnectedness of environment, equity, and health and wellness.
What We Measure Matters
How can we tell if something is truly regenerative? We must be intentional about measuring it. For example, design firm HDR created a tool that, for nearly any building or environment, helps us set renewal-focused impacts and metric-driven targets for our projects. The real benefit of the tool lies in its ability to incorporate data from many different publicly available sources and use that to contextualize and customize the benchmarks a project should be working toward.
The tool also accounts for the fact that different metrics mean different things to different owners, users, buildings and environments. It allows stakeholders to select the most relevant factors for their project and set regenerative targets in those categories.
"Social equity is a guiding principle for many park and recreation organizations. We use the regenerative design tool to put social equity into context. Understanding a community's history and demographics directly informs how we approach outreach," shares Whitney Swanson, AIA, of HDR, who has served as project manager on library and community center projects in Denver. "For example, on a recent project, it informed our decisions to make all of our materials available in dual languages, to host engagement events in conjunction with other well-attended community events, and to have virtual engagement options in place to capture the perspectives of those not in attendance. This site-specific engagement process led to a robust needs and allowed the design team to prioritize the community's most treasured components."
But the tool isn't necessary to start thinking and measuring how capital investments can be more regenerative. There are many ways that park and recreation organizations can be proactive about making more "regenerative" decisions.
Prioritizing Regenerative Design
Below are six considerations for taking a regenerative approach to designing a recreation facility or park project.
1. Context is everything.
A community amenity, be it a recreation center, arena, pool or park, should never be defined solely by the physical boundaries of the site on which it's located. Every project finds itself in a different geographic and climate context that informs what "regenerative" means and what strategies will be needed to meet certain regenerative design goals. For example, if an aquatics center in a northern climate and an aquatics center in a temperate climate both wanted to target reduced operational carbon, the benchmarks that they would aim for would be different because the colder climate has a larger heating load and reducing that heating load by the same percentage would result in more energy saved in the colder climate than the warmer one.
It's also essential to consider the context of time. Every project today is being planned and designed for a future that the climate will undoubtedly affect. Summers will be hotter; in some areas of North America, being outside for any length of time might be dangerous. In many places, there will be greater potential for flooding. Municipalities, departmental leadership and the design teams they work with should carve out space to have honest conversations about how climate change might affect the community and use robust modeling tools to consider the likelihood of different scenarios. This information can inform design strategies that will increase the projects' resiliency, even in the face of the unknowable impact of climate change.
2. Look at capital and operational costs holistically.
Too often, the costs of capital investments are calculated separately from the building's operational costs and ongoing maintenance. A project budget is set, sometimes several years before a design team is even engaged. That budget then drives decisions about adopting strategies that support regenerative design and decrease life-cycle and operational costs in the long run.
For example, photovoltaic panels often will increase a project budget quite a bit up front, but organizations will reap significant financial returns within a few short years (depending on geographic location). However, when organizations have not found a way to structurally tie the two budgets together, conversations about regenerative innovations with both significant upfront costs and significant long-term savings are likely to break down before there is a chance to give them serious consideration.
"As code and energy compliance requirements change, we see more non-traditional MEP [mechanical, electrical and plumbing] systems, such as fully electric or geothermal options (as opposed to natural gas) required, and these decisions should be made early on in the design process because these tend to be expensive systems and the upfront cost can be cumbersome," shares Swanson. "By looking at these systems holistically, we are able to get a better understanding of the total life-cycle costs and make smart decisions to make these more renewable energy sources possible. And the earlier we do this cost analysis, the more likely we are to be able to identify grant dollars that can help subsidize both the capital and operational costs associated with more sustainable, regenerative options."
3. Understand the nuances to healthy living and community building.
Most park and recreation organizations are deeply committed to being open and welcoming to all community members — no matter their gender, physical ability, age, race or socioeconomic status. These spaces engender equitable access in their primary function — to bring together members of the community regardless of their background. But too often, these aspirations fall short — even for a new, state-of-the-art community center. Why is that?
It could be numerous different issues, and not all have to do with space. For example, teenage girls may stop using community centers because as they mature, their self-image changes, as does the way they socialize. When girls feel judged or watched, whether it is happening or not, their participation rates decrease significantly. Those living in lower socioeconomic households might not feel they have the time or can easily access the center via public transportation. Indigenous groups often have an underlying feeling that centers and programs are not meant for them and that they are not welcome. Considering and understanding the unique needs of the community is vital for creating both a facility and programming that will get people in the door and returning on a regular basis.
4. Prioritize early community engagement.
Project leadership should consider community engagement before finalizing a program, while there is still flexibility around what services and spaces a facility will offer. Early engagement allows for a robust community needs analysis to inform the spaces and programming provided in a facility. "Community engagement is critical to park and recreation projects because the community is the primary stakeholder," shares Swanson. "It is an opportunity to test assumptions, expand awareness of the larger context, reconcile interests to add greater value, and inspire public investment in the project's aspirations."
Community meetings can include several activities that provide quantitative and qualitative data about various groups' and members' priorities. Different groups of community members will benefit when project leadership tailors activities to their specific needs. For example, it's not as productive to engage with children the same way you would engage with older adults.
On one community project, we asked children to use stickers to show us what was the most meaningful part of the existing complex to them personally. One child stuck her sticker on the parking lot and shared that when her father brought her to the facility, he would drive through the parking lot, and if there wasn't any parking immediately available, he would leave. Hearing this, other children agreed and shared their own stories. This engagement directly impacted how we approached equitable access in the new facility and validated the transportation concerns voiced by other stakeholders.
It's also important to have strategies to meet community members where they are, even those who may seem "unreachable." Community organizations have put a lot of work into developing strategies to get input from those who are unlikely to participate in a community meeting, survey or focus group. These same strategies should apply when thinking about community engagement for a new or renovated facility.
5. Consider "out of the box" approaches to programming.
Unconventional and innovative solutions can emerge from a robust understanding of the community's needs and makeup. For example, Steveston Community Centre and Library in Richmond, British Columbia, brings recreation and library under one roof so that individuals from all walks of life can learn, connect and recreate.
The library provides multipurpose rooms, kid and teen zones, quiet study areas, digital services, library collections, and a media lab. Community center amenities, including a dividable gymnasium, large teaching kitchen, fitness center and event space, are dispersed among the building. By coupling the two facilities, they can reduce their carbon footprint by sharing parking, lobby space and washroom areas. It also provides much larger space for the community for longer extended hours, particularly during a community crisis.
6. Don't underestimate the importance of change management.
When vetting final design solutions, it's important to consider an organization's propensity for change. Water reduction strategies require new approaches to how a community pool is operated and maintained. The adoption of all-electrification systems requires maintenance staff to adopt new systems. Transitioning to all-gender restrooms and changing rooms requires a shift in how community members interact within public spaces. Working with all key stakeholders to plan for implementing new processes and technologies is critical to making sure organizations reap the life-cycle savings or social-equity benefits of the strategies they are embracing at the organizational level.
While all of the strategies above provide direction for adopting a regenerative design approach to park and recreation projects, there is not a one-size-fits-all solution. Working toward a regenerative future will take individuals, organizations and continual societal investments in our future.
Mary Chow is a Civic Principal at HDR in Vancouver.