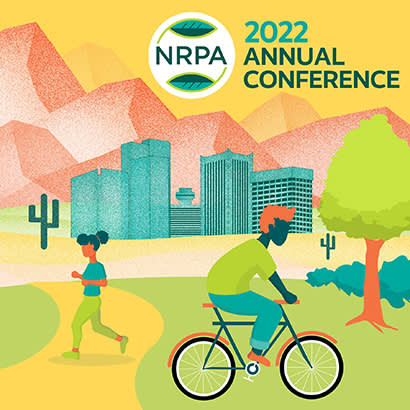 For an enhanced digital experience, read this story in the ezine.
Explore Phoenix and the 2022 NRPA Annual Conference
This year, the 2022 NRPA Annual Conference takes place September 20-22 in Phoenix. Nicknamed "The Valley of the Sun," Phoenix is located in the Sonoran Desert and earns its moniker from the area's exceedingly sun-drenched climate and lack of rainfall throughout the year. As the sixth-largest city in the United States, Phoenix boasts a population of 1.68 million people and welcomes more than 16 million visitors annually. Most notably, the founders of the city named it Phoenix after the bird "because it had sprung from the ruins of a former civilization that had vanished in history. As a result, the Phoenix bird became the official city symbol." Thus, the 2022 NRPA Annual Conference theme "We Rise Up for Parks and Recreation" complements this year's conference location perfectly.
We invite you to join us and your fellow park and recreation colleagues for a week of high-powered networking, thought-provoking education, exciting exhibits and just some good old-fashioned fun in the sun! Whether you plan to arrive early or extend your stay in the city, here are some attractions worth visiting — along with frequently asked questions that might help make your conference planning a breeze.
Arizona Science Center
Located in downtown Phoenix, this popular attraction offers daily demonstrations, hosts shows at its Dorrance Planetarium and boasts a five-story, massive screen in its IMAX Theater. Check online for a list of events along with coronavirus (COVID-19) protocols.
Address: 600 E. Washington St., Phoenix, AZ 85004
Hours: 10:30 a.m. to 4 p.m. daily
Website: azscience.org
Admission: Adults $21.95, seniors (65+) $19.95, children (ages 3 to 17) $15.95. *Due to limited daily capacity, guests are encouraged to purchase tickets in advance online.
Desert Botanical Garden
Spanning 55 acres, this botanical garden features thousands of species of cactus trees, flowers and other plant life.
Address: 1201 N. Galvin Pkwy.
Phoenix, AZ 85008
Hours: 9 a.m. to 5 p.m. daily
Website: dbg.org
Admission: General admission $14.95 to $24.95, children (ages 3 to 17) $14.95, children 3 years and younger free. Guests are required to purchase tickets in advance online.
Castles N' Coasters
This venue is perfect for visitors desiring low-key, family entertainment and for thrill seekers wanting to test the limits — from miniature golf and arcade games to a two-loop rollercoaster.
Address: 9445 N. Metro Pkwy. E., Phoenix, AZ 85051
Hours: 10 a.m. to 10 p.m.
Website: castlesncoasters.com
Admission: $7 to $55 passes
Heard Museum
This art museum presents the stories of Indigenous people from a first-
person perspective, as well as exhibitions that showcase the beauty and vitality of traditional and contemporary art.
Address: 2301 N. Central Ave.
Phoenix, AZ 85004
Hours: 10 a.m. to 4 p.m., Tuesday through Sunday
Website: heard.org
Admission: Online tickets — adults $20, seniors (ages 65+) $17, students (w/ college ID) $9, children (ages 6 to 17) $9, children 5 years and younger free. On-site tickets — Adults $23, seniors (65+) $20, students (w/ college ID) $9, children (ages 6 to 17) $9, children 5 years and younger free.
Papago Park
Located mere minutes from downtown Phoenix, this park features red rock buttes looped with trails along with breathtaking views from the top of Hole-in-the-Rock Trail.
Address: 625 N. Galvin Pkwy.
Phoenix, AZ 85008
Hours: East of Gavin Pkwy., 5 a.m. to 7 p.m. daily; West of Galvin Pkwy., sunrise to sunset daily
Website: phoenix.gov/parks
Admission: Free
Phoenix Art Museum
A local museum featuring an expansive collection of celebrated art spanning from the Renaissance period to the present.
Address: 1625 N. Central Ave.
Phoenix, AZ 85004
Hours: 10 a.m. to 9 p.m., Wednesday; 10 a.m. to 5 p.m., Thursday through Sunday
Website: phxart.org
Admission: Adults $23, seniors $20, students (w/ valid ID) $18, children (ages 6 to 17) $5, children ages 5 and younger free. Advanced ticket reservations are required.
Phoenix Zoo
This attraction is the largest privately-owned, nonprofit zoo in the United States.
Address: 455 N. Galvin Pkwy.
Phoenix, AZ 85008
Hours: 7 a.m. to 1 p.m. daily
Website: phoenixzoo.org
Admission: Adults (ages 14 and older) $29.95, children (ages 3 to 13) $19.95
Roosevelt Row
After a long day at conference, want to get away to relax, unwind and maybe get a bite to eat? Roosevelt Row is an urban district featuring galleries, street art, shopping boutiques, coffee shops, bars, as well as restaurants offering a variety of cuisine options. For more information, visit rooseveltrow.org.
For more information about Phoenix attractions, go to visitphoenix.com. Note: Venue hours and pricing are subject to change.


2022 NRPA Annual Conference Frequently Asked Questions
Following are some commonly asked questions and general information about the 2022 NRPA Annual Conference that might help you plan your travel and navigate your time during this must-attend event.
Q: What is the address of the Convention Center?
A: Phoenix Convention Center
100 N. 3rd St.
Phoenix, AZ 85004
Call for general information:
602.262.6225
Convention Center website:
phoenixconventioncenter.com
Q: Where can I find my membership ID number to register?
A: You can find your membership ID number by logging in to your NRPA account. You also can contact NRPA's Customer Service Team by emailing them or calling 800.626.NRPA (6772).
Q: What is the registration fee? What does the registration cover?
A: All registration information can be found at our conference registration page.
Q: If I have specific questions about my registration or housing, or need to make changes, how do I reach NRPA's registration and housing partner, MCI (previously known as Wyndham Jade)?
A: Call MCI at 888.385.8010 (and 972.349.5891); use the live chat (open Monday through Friday from 8 a.m. to 5 p.m. CDT); email an MCI representative.
Q: Does my registration include tickets to NRPA ticketed events?
A: Full Package and Young Professional Full Package registration rates include all education sessions, the NRPA Opening General Session, the Closing General Session, the Exhibit Hall and NRPA's Opening Reception at the Duce. There are separate registration fees for pre-conference workshops (PCWs), the Local Host-
organized Off-Site Institutes (OSIs) and Leisure Tours, as well as the Golf Tournament, and the Yoga – 5K Fun Run/Walk, as well as other ticketed events and opportunities. Further details regarding all additional events and the conference schedule can be found on the NRPA Conference website.
Q: Are there any meals included with my full registration package?
A: Food will be provided at the Opening Reception on Tuesday evening, and lunch will be served in the exhibit hall on Wednesday afternoon.
Q: Is there a retired rate?
A: Yes. NRPA is happy to bring back a retired registration rate for 2022.
Q: Is there a discount on my hotel rate? If so, how do I receive the discount?
A: NRPA has contracted with a number of hotels for the conference. The best place to check out your options and availability is here on our conference hotel reservations page.
Q: Can I pay my registration fee with a purchase order?
A: Yes, you can pay with a purchase order (PO). You will need the PO number and a copy of the actual PO to complete your registration. Policies for paying with a PO have changed in the past couple of years. All attendees using a PO should read our Registration Terms and Policies regarding POs as a form of payment.
Q: If someone cannot attend, can we substitute another person for an existing paid registration?
A: Yes. To do so, please contact MCI at 888.385.8010 or email MCI. If you registered as a nonmember and received a membership, that membership also will be transferred. If registrations are transferred, it is often necessary to ensure housing arrangements are changed as well.
Q: Who do I make a check out to?
A: If you are paying by check, please make it out to "NRPA."
Q: Can I attend an Off-Site Institute, Leisure Tour or Pre-Conference Workshop if I am NOT attending the full Conference (i.e., education sessions, etc.)?
A: Yes! This is possible. When completing the online registration, be sure to click on the radio button for "Additional Training Sessions Only," which will be your registration type. At that point, you will be able to select any of the add-on options and they should appear in your "cart" for when you are ready to check out.
For additional information, visit our annual conference website.
Vitisia Paynich is Executive Editor and Director, Print and Online Content at NRPA.