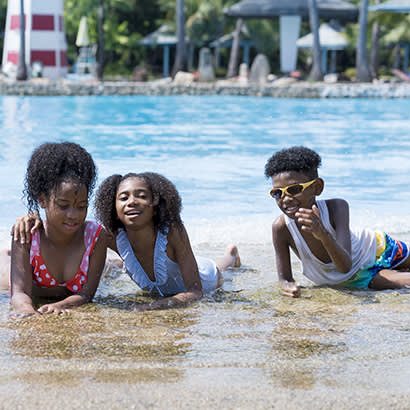 For an enhanced digital experience, read this story in the ezine.
Changing the narrative by building equity
and understanding within the field
When recently discussing (with non-recreation colleagues) my opportunity to attend our local state "park and recreation" conference, I found myself explaining that my department — aquatics — is part of the larger park and recreation industry. The first look of surprise followed by the casual, "Hmm…really? That's interesting," response led me to dive into an overly complicated explanation of how many community pools are managed and operated. I was surprised by my need to explain our seat — the greater aquatics seat — at the park and recreation table.
When I took a step back to examine why I was surprised, I realized it was not for a lack of inclusion. We are included in municipal structure (even if housed under "Parks and Recreation") and at conferences, there are aquatics tracks. There are webinars and trainings devoted to aquatics and aquatics-specific certification(s) housed within NRPA resources. However, the problem is a lack of both education and equity — education within our communities and equity within our departments and organizations. As parks, recreation and aquatics professionals, how do we begin to address this?
A Deep Dive
As I began to look at aquatics with more magnification, a few things stood out to me. First, there's a deficit with the demand of the job and risks involved in relationship to aquatics salaries. Second, there is a disconnect between demand on aquatics professionals and our supervisors' understanding of what we do. The deficit is a ripple effect, from our highest level of aquatics training to the lowest. From aquatics directors to lifeguards, the deficit between salary and risk of the job is ever increasing. Lifeguards are not widely viewed or paid as first responders, yet they do the job of first responders. We do not view aquatics supervisors, directors and coordinators as first responders, yet they are expected to respond as such.
I realized the disconnect is that many decision-makers and/or supervisors of aquatics professionals within our field (park, recreation and aquatics) have a lopsided idea about what goes into running an aquatics facility or site. There's no palpable feeling for the day-to-day challenges, the evening stress or the 3 a.m. thoughts about "what if?" They might have experience running recreation programs, organizing senior center activities or maybe even performing park maintenance, all of which can apply, to some degree, to aquatics. They likely have experience dealing with an upset customer or the juggling of staff to be able to open on time. However, have they ever had to weigh the likelihood whether a late-night phone call from work is a time clock issue versus staff notifying you that they have pulled someone from the bottom of the pool? I venture a suggestion: unless an individual has managed an aquatics facility or site, they do not know the risk.
The Risk
Park, recreation and aquatics professionals know there is a level of risk involved — from the risk of losing personal time to someone not liking your program to your budget not being approved to not being able to hire enough staff for the season. When weighing the three — parks, recreation and aquatics — only in aquatics is there a constant and severe risk of litigation, revoked certification/licensure, as well as lifelong devastation for you and the employees you are responsible for. The daily risk in aquatics is unmatched; the demand is high and yet our coordinators, supervisors and directors are viewed the same way as their park and recreation counterparts.
Equity
To say, "Increased salaries to match the level of risk will fix our problems" would be naive. I do, however, believe a few things would make a huge difference:
Emphasize "aquatics" in the overall conversation of parks and recreation. Change the narrative to reflect "parks, recreation and aquatics."
Eliminate the disconnect. Everyone overseeing an aquatics professional should participate in a lifeguard in-service, a staff training or simply "a day in the life."
Repair the deficit. Recognize that lifeguards and aquatics professionals are first responders and the demand of the job is high, and then adjust salaries and benefits to reflect that.
Unfortunately, deficit and disconnect go hand in hand. Until the disconnect is repaired and there is a full, well-rounded understanding of what aquatics professionals do, the deficit will continue to grow and good aquatics professionals will leave the industry all together.
Kathryn Hosey, is Aquatics Coordinator for the DeForest Area School District.