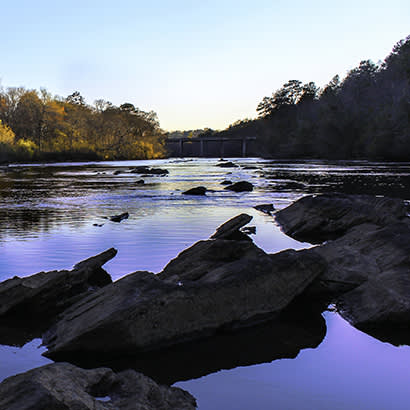 For an enhanced digital experience, read this story in the ezine.
An unseasonably cool and drizzly day greets me when I arrive at the Chattahoochee River on a May morning. A chorus of local birdsong harmonizes with the ever-present hum of industry as I greet a group of dedicated residents working to conserve Atlanta's riverfront. Through my role as a landscape architect at Park Pride, I've had the opportunity to get to know this community of stewards who have built grassroots political support for conserving Atlanta's riverfront in partnership with nonprofits and City of Atlanta. Thanks to decades of city planning and community activism, this movement is gaining momentum at the grassroots, municipal and regional levels.
Atlanta's relationship with the Chattahoochee has always been complicated. Historically a corridor of trade between the Cherokee and Muscogee people, the river was given over to industry after European colonization for manufacturing, power production and disposal of waste. Some of these industries, notoriously Chattahoochee Brick, used an abusive system of convict leasing, exposing unpaid laborers of color to agonizing working conditions. These extractive uses left scars on the regional ecology and culture.
The Chattahoochee also is a vital natural resource, beautiful to behold, and necessary to support Atlanta's growing population and native wildlife. Amid these overlapping layers of natural, cultural and historical meaning, a movement co-led by community and the city is restoring the river as an iconic and accessible public corridor, offering places of memory, restoration and recreation.
Keith Sharp, one of the grassroots leaders of Atlanta's riverfront movement, has been stewarding a vision for a five-mile system of trails and parks along the river since he first learned of it in 1994. Called Riverwalk Atlanta, the project will reconnect Atlanta to its waterfront by providing access to the river's edge, while also restoring local ecology through a steady cadence of volunteerism and some well-timed real estate transactions.
In 2014, Sharp was awarded a $100,000 grant from Park Pride, a local nonprofit supporting community park initiatives, to purchase two flood-prone properties to hold in trust for a new park. This initial investment was key in attracting city funding to purchase adjacent land through the sustained efforts of The Conservation Fund, the city's land acquisition partner. These first two lots are now part of a new nine-acre park that will provide the first public river access in City of Atlanta.
After providing seed funding for these investments, Park Pride also brought community and municipal partners together for park planning. After a six-month process of civic engagement, led by our small-but-mighty park visioning division, we recently published a comprehensive vision plan for this new park along lower Paul Avenue, bringing further attention to the potential of Atlanta's riverfront.
City of Atlanta officials continue to play a key role in this effort. In 2018, the Department of City Planning prioritized an ambitious new approach to the Chattahoochee River in its comprehensive planning document, The Atlanta City Design: Aspiring to the Beloved Community. Rather than displacing riverside industry (which is valuable to Atlanta's economy), the city envisions an approach of conservation and park and trail development that will "create a wild, adventurous riverfront that provides a welcome change of pace in the city." Working directly with the community, the city is making good on this vision with public funding directed toward strategic park acquisitions that are responsive to community priorities, including the recent purchase of Chattahoochee Brick.
All this investment and energy surrounding Atlanta's riverfront also feeds into a larger regional effort led by The Trust for Public Land. Called the Chattahoochee Riverlands, this project will connect communities to the river along a 100-mile stretch of "continuous public realm." Published in 2020 after two years of public engagement and input from more than 80 government and community partners, the plan offers a bold new vision for regional connectivity.
On that drizzly May morning by the river, I asked Sharp to reflect on the community's many years of effort amid all this new momentum. With a smile, he responded that he used to think of the project as a giant puzzle with huge pieces, which are beginning to feel more like a line of dominoes waiting to fall into place. Though he's grateful that more neighbors can enjoy the results, he's quick to add that his efforts of conserving Atlanta's riverfront won't be ending any time soon.
Andrew White, PLA, is Director of Park Visioning at Park Pride.