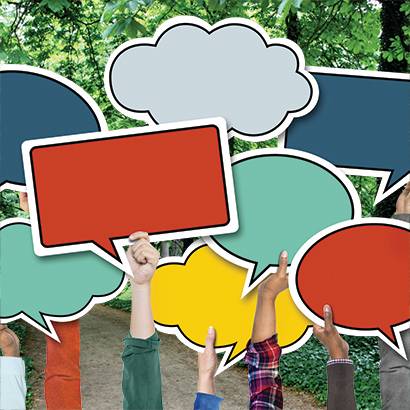 For an enhanced digital experience, read this story in the ezine.
Local parks and recreation centers are those special places that often provide us with our first experiences in nature and introduce us to a favorite hobby or physical activity. They are places to gather with friends and family, spaces to celebrate life's special moments, spots of respite and healing, sites that connect us with essential community services and so much more. The services park and recreation professionals provide are vital for communities — from protecting natural resources to providing open spaces for all people.
July is Park and Recreation Month, a national month-long celebration of the vital work park and recreation agencies do to serve their communities all year long. This year, NRPA is asking our members and supporters to rise up and help tell the story of parks in their communities. Telling stories is one of the most powerful ways that folks can influence, teach and inspire others. Storytelling forges connections between people and ideas; stories convey culture, history and values that unite people.
To help park and recreation professionals tell their agency's story, NRPA put together some compelling data and perspectives.
Data Is on Our Side
The data is clear: public support for local parks and recreation spaces has always been high, but it has surged since the coronavirus (COVID-19) pandemic.
According to NRPA's 2021 Engagement With Parks Report , people place a high value on the programs and services that park and recreation agencies deliver to their local communities every day and strongly support their mission. Some key findings include:
In the United States, 260 million people visited a local park or recreation facility at least once during the past year.
Four in five U.S. adults seek high-quality parks and recreation when choosing a place to live.
Eighty-seven percent of people agree that parks and recreation is an important service provided by their local government.
Nearly nine in 10 people agree it is important to fund local park and recreation agencies to ensure every member of the community has equitable access to amenities, infrastructure and programming.
Additionally, more than nine in 10 U.S. adults say it is important for local government to invest in community infrastructure, such as parks, community centers, recreation facilities and senior centers, according to a 2021 NRPA Park Pulse poll.

Despite this support, far too often park and recreation agencies are the first public services limited or curtailed in times of economic hardship. Misjudged as an extracurricular or "nice-to-have" amenity, these cornerstones of communities are forced to do more with less. So, how do we translate this overwhelming public support into action and investment in park and recreation agencies?
Reframing the Conversation
NRPA pulled these data points into compelling narratives to help make the case for your agency. These impact statements highlight the many ways that park and recreation agencies positively impact their communities:
Park and recreation agencies promote community health and wellness.
People who live near parks are both physically and mentally healthier than those who do not. Proximity and access to parks encourage active recreation in spaces, such as playgrounds, hiking and biking trails, senior centers, sports fields and swimming pools, resulting in park users being three times more likely to achieve recommended levels of physical activity than non-users. Mental health is significantly related to residential distance from parks, with people living more than one kilometer away from a green space having nearly 50 percent higher odds of experiencing stress than those living fewer than 300 meters from a green space.
Park and recreation agencies' programming and education activities positively impact childhood development.
Park and recreation agencies are a leading provider of childcare, out-of-school time programming, healthy meals, nutrition services and education. Four in five park and recreation agencies offer out-of-school time programs; 92 percent offer team sports leagues; and nearly three in five offer science, technology, engineering and mathematics (STEM)-specific programs. Children of all skills and abilities can play and learn together in nature, experiencing better emotional stability and improved mental health.
Parks and recreation drives economic opportunity.
Local park and recreation agencies generated $166 billion in economic activity and supported more than 1.1 million jobs in 2017. What's more, the outdoor recreation economy, which includes local parks and recreation, accounted for $373.3 billion of the U.S. Gross Domestic Product (GDP), or 1.8 percent of the U.S. economy, in 2020. Investments in improving a community's quality of life can create a virtuous cycle: high-quality places attract workers, which attract employers, which, in turn, attract more investments and jobs.
Parks and recreation is everywhere, uniting people and strengthening communities.
With more than 10,000 agencies across the United States, parks and recreation counters social isolation by connecting people with nature in nearly every city, town and county. Irrespective of age, income level and political affiliation, the public strongly supports parks and recreation's mission, and they want their political leaders to fully fund these agencies.
Parks and recreation is essential and adaptable infrastructure that makes our communities resilient in the face of natural disasters and climate change.
Local park and recreation agencies collectively manage more than 11 million acres of open space across the United States. Park and recreation agencies are on the forefront of their communities' emergency response. People with access to parks and green spaces live longer, healthier lives. Six in seven U.S. adults believe and want parks and recreation to protect local natural resources and mitigate the impact of climate change.
Rise Up for Parks and Recreation
Parks and recreation is about bringing people together. This Park and Recreation Month, rise up and let your united voices be heard. With August recess and the midterm elections right around the corner, we have a prime opportunity to harness the public's appreciation for parks and translate it into robust public investments in local parks and recreation.
Dan McCarthy is NRPA's Advocacy Manager.