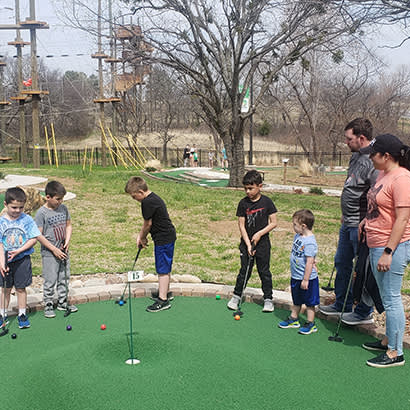 For an enhanced digital experience, read this story in the ezine.
The Clubhouse is a family entertainment center (FEC) that sits inside the largest park in Ardmore, Oklahoma — Regional Park — and is operated by the City of Ardmore Parks and Recreation Department. The Clubhouse includes 31 arcade games, a redemption area, two indoor party rooms, a soft play area, a dining room and The Clubhouse Café. The Clubhouse Café features traditional favorites, including wings, burgers and Philly cheesesteak sandwiches, but also serves up delicious southern delights, like chicken fried steak and fried pork chops. Guests can dine indoors or outdoors on the patio. The outdoor attractions include Raceway Go-Karts, Shade Tree Mini Golf, Flight Line Zip, Eagle's Landing Adventure Courses, Water Wars, Rowdy's Raceway Pavilion, three treehouses for parties, and Ardmore's first seasonal ice rink. The Clubhouse is two stories with an open upstairs area to allow expansion.
This project began forming in 2016 when the Ardmore community voiced the need for an FEC. Members were selected for an FEC Committee and the four-year process began. Teresa Ervin, City of Ardmore parks and recreation director, submitted a Request for Proposal for a consulting firm to help guide the process. Davis & Davis Recreational Planning Consultants was chosen and came with high recommendations and experience. The feasibility study presented a positive outlook showing that the Ardmore community and surrounding towns want not only an FEC, but also one that can be supported and maintained. The City of Ardmore committed to funding the project with the help of local foundations and Tax Increment Finance funds. Numerous meetings and decisions took place before the project finally broke ground in April 2019. After 18 months of construction, the doors officially opened on September 23, 2020. Despite the coronavirus (COVID-19) pandemic, The Clubhouse received overwhelming support and has been successful. The FEC has served thousands of people, increased tourism to the city and received community gratitude. Additionally, Ardmore Parks and Recreation staff have learned immensely.
As park and recreation professionals, we still are adapting and integrating our processes. The Clubhouse operates differently than recreational facilities and needs to produce revenue. We have had to develop packages that are a balance of affordable and profitable. As a park and recreation department operating an FEC, we have unique opportunities to run recreational programs in a non-traditional setting. Ervin states, "Ardmore Parks and Recreation Department is passionate about the community and the quality of life that we provide for our citizens and guests. There are many avenues in recreation and each person has a different interest. We now have the opportunity, with the creation of The Clubhouse, to reach out to a sector of our community that may not have benefitted from our other activities or facilities, but now they can. With the right location, the funds and the support of your decision-makers, cities can make [an] FEC work for them."
Our ultimate goal in parks and recreation is to serve the needs of our community in the best way possible. The Clubhouse is another avenue to do just that. The Clubhouse is "Ardmore's Way to Play!"
Alicia Henry is Parks and Recreation Assistant Director for City of Ardmore, Oklahoma.