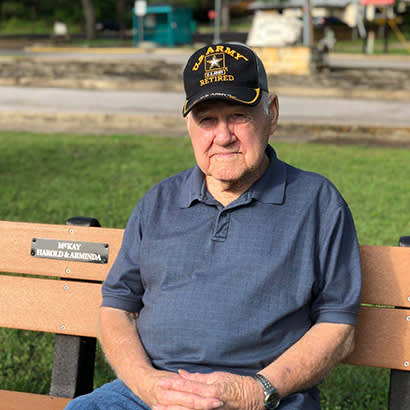 For an enhanced digital experience, read this story in the ezine.
Sometimes, a grieving or melancholy heart can be soothed and lifted when the afflicted person does something good without an expectation of receiving anything in return. That's what Harold McKay, a Korean and Vietnam War veteran, did when he purchased a park bench in honor of his late wife and had it installed along the popular Nolan Creek Hike and Bike Trail in Belton, Texas.
McKay, now 93, was a frequent user of the trail system in Belton. During his regular morning walks, his thoughts would often turn to his late wife, Arminda, who died in 2013. The couple had spent 64 years together before she passed.
Soon his walks included a diversion from the well-worn path to the nearby offices of Belton Parks and Recreation, where he learned about Belton's Legacy Program, which allows residents to honor friends or family by making park improvements in their honor. In many cases, the improvement is as simple as planting a tree.
McKay began with two trees, one on each side of a nondescript concrete pad located adjacent to the most popular walking trail in Belton. This spot also served as a natural place for older walkers to take a break. The only problem was that it lacked a place to sit down.
This inspired McKay's plan to recognize his wife while adding an important missing component to the trail. He discussed his idea with staff at the City of Belton, and they helped him accomplish his goal.
"Now he has a tangible reminder of his wife every day he walks the trail," Belton Director of Parks and Recreation Matt Bates says, "and his family and many others will enjoy the trees and bench for generations."
Ask McKay how he and Arminda met, and he immediately gets nostalgic. It was 1948, and he was home on leave from the military when he took a seat in a restaurant in Wolfe City, Texas.
Here is how McKay describes the encounter: "Oh man, I thought, 'My God, I don't have to look no more. There she is — right there, just waiting.'"
Decades later, McKay, with a heart filled with warm memories, picked out the perfect location for a bench, which honors her with a placard inscribed with both their names. It is fitting that he chose a bench to honor his beloved Arminda, because when he first saw her, she swept him off his feet.
The walkers who enjoy the gift of the bench may never know the depth of feeling that brought it about, but its donor knows, and his heart is better for it.
Paul Romer is Public Information Officer for City of Belton, Texas.