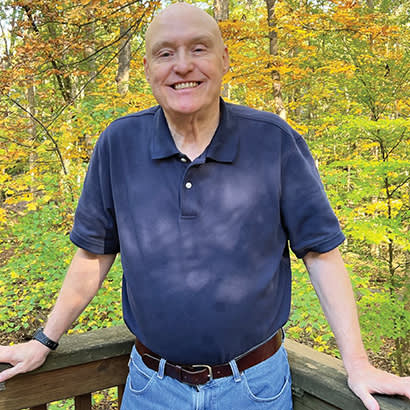 For an enhanced digital experience, read this story in the ezine.
Get to know James C. Kozlowski, J.D., Ph.D., author of the monthly column
For 40 years, James C. Kozlowski, J.D., Ph.D., has contributed his well-received Law Review columns to Parks & Recreation magazine. To mark this notable anniversary, Parks & Recreation caught up with him to learn more about his career in parks and recreation law and the lessons he can share from four decades of authoring the column.
Parks & Recreation: What inspired you to pursue a law degree?
James Kozlowski: While completing my masters and beginning the doctoral program with a focus on park resources at the University of Illinois, I completed two graduate courses in urban planning law, which were taught by an attorney. I saw a very interesting and unique opportunity to develop a similar non-traditional career path for myself in parks and recreation law. To do so, I thought I would need a law degree while earning an income. So, I left the Illinois doctoral program and returned to Baltimore to begin night law school at the University of Maryland while working as a claims representative for the Social Security Administration in a Baltimore branch office.
While attending law school, I also was admitted to the recreation doctoral program at the University of Maryland College Park. After earning my law degree, as part of my doctoral program at Maryland, I developed my course in parks and recreation law, which focused on negligence liability.
P&R: What drew you to the field of parks and recreation?
Kozlowski: Growing up in Northeast Philadelphia, until I left for college in Baltimore, my life revolved around my neighborhood park as well as the recreation centers and the free public pool where I learned to swim. During high school, I also worked as a lifeguard and swim instructor at the local [YMCA] and the Philadelphia Aquatic Club.
Following college in Baltimore and graduate school in Chicago, I was a 10th grade English teacher for one year in Baltimore County. While swimming laps after school at the local [YMCA], I realized swimming had led me into teaching and began to acknowledge that I was more interested in pursuing a career in parks and recreation as opposed to continuing to work in secondary education.
While it sounded like a fanciful idea at first, I started to seriously consider a career change to pursue my interest in parks and recreation. I read several books about recreation related to agencies within the [U.S.] Department of the Interior, specifically the National Park Service, and the old Bureau of Outdoor Recreation. I also developed a list and sent inquiries to the major universities with graduate programs in parks and recreation. While I got a discouraging letter from the department chair [at the] University of Maryland, I got very supportive replies from [University of] Illinois [and The Pennsylvania State University] where Dr. Betty van der Smissen was department chair. Betty had both a doctorate in recreation and a law degree with a legendary focus on legal liability. Years later, I got to know Betty who appreciated my work.
I applied and was accepted into the master's program at [University of] Illinois. Prior to leaving for Illinois, a fraternity brother, who was doing graduate work on the role of urban parks in neighborhood revitalization in Baltimore, introduced me to NRPA and a visit to NRPA headquarters in Virginia, where I first met my future NRPA colleague, Dr. Don Henkel.
P&R: Tell us about one of the most unusual cases you've come across.
Kozlowski: My April 2003 article reviewed the opinion of the Louisiana appeals court in the case of Henry v. Parish of Jefferson. In this case, the Jefferson Parish Department of Parks and Recreation was found not liable for several shootings [that] had occurred at a recreation center playground on the evening of November 14, 1992. I was retained as a defense expert by a Louisiana attorney who I later discovered is the brother of singer Harry Connick Jr.
As an expert witness for the defense, I gave a day-long deposition and was scheduled to testify at the trial more than a year later on September 12, 2001. The attacks on 9/11 prevented myself and my park and recreation colleague, Dr. Fran Wallach, a playground expert for the plaintiff, from traveling from Washington and New York to New Orleans for the trial. I was told material from our depositions was read into the trial record.
P&R: From a legal perspective, what is one law related to parks and recreation that you believe should be changed and why?
Kozlowski: Based upon my work and experience with NRPA public policy efforts, annual appropriations for state assistance grants under the Land and Water Conservation Fund Act (LWCF) has been a top priority and constant challenge in NRPA's public policy advocacy efforts. To avoid the political vagaries of the appropriations process, NRPA had always advocated for a law which would fully and permanently fund LWCF. In 2020, this long-time legislative goal was finally achieved when the Great American Outdoors Act was signed into law. Hopefully, this legislation will address the funding challenges for LWCF state grant assistance. That being said, the more immediate and ongoing challenge is for NRPA and park and recreation advocates to promote awareness and vigilance to ensure the existing LWCF law is effectively enforced to protect the legacy of state and local LWCF funded projects.
The regulation governing "Conversion Requirements" of Section 6(f)(3) of the LWCF Act assures that once an area has been funded with LWCF assistance, it is continually maintained in public recreation use unless [the National Park Service] approves substitution property of reasonably equivalent usefulness and location and of at least equal fair market value. 36 CFR 59.3 Over the years, a number of my monthly Law Review articles have focused on Section 6(f)(3) of the LWCF conversions.
P&R: What are three key lessons that you've learned throughout your career in parks and recreation or practicing law?
Kozlowski: When I began to prepare for my career in parks and recreation as a graduate program student at the University of Illinois, I learned the importance of active participation and membership in the National Recreation and Park Association. While working as a hearings and appeals analyst in the Social Security Administration in Arlington, Virginia, as an NRPA member, I offered to conduct some law and policy research on the federal budget legislation for NRPA public policy director, Barry Tindall. This work was instrumental when an opportunity arose to join NRPA in the public policy division. In 1981, NRPA allowed me to develop my monthly law review column for Parks & Recreation magazine. In 1983, I also developed the quarterly Recreation and Parks Law Reporter for NRPA (1984-2002). In recent years, the Open Forum in NRPA Connect has provided me with an ongoing learning experience in parks and recreation with me participating and providing information in law-related threads.
Second, in my career, I have learned the importance of legal literacy in parks and recreation. Unfortunately, our educational system, [kindergarten] through Ph.D., provides little more than an eighth grade civics understanding of the law, including most university curricula in parks and recreation. I expressed my concern in my September 1982 in Parks & Recreation magazine entitled: "Legal Literacy: Self-Help Training for Recreation Advocates."
For the past forty years, I have tried to share what I have learned about park and recreation law through my monthly Law Review articles in Parks & Recreation magazine. In so doing, I have tried to increase the legal literacy of the field on a wide variety of law-related topics, including: liability, disability rights law, environmental law, constitutional law, music copyright law and park resources law.
Third, throughout my career in parks and recreation, I have resided in Northern Virginia, always in close proximity to a neighborhood park. I have learned the importance of parks and recreation in enriching the quality of life in society and my personal well-being. According to the Visit Fairfax website: "If you enjoy mother nature and parks, then you've come to the right place! There are many things to do in Fairfax County.... Northern Virginia is home to wonderful parks, playgrounds, natural preserves, farms and more that can be enjoyed year-round." Northern Virginia is the home of nationally renowned award-winning agencies, the Fairfax County Park Authority and NOVA Parks. For me personally, in recent years, I have enjoyed the physical and mental benefits of a daily six-mile walk from my home to traverse the 4.8-mile trail around Burke Lake in my neighborhood.
Years ago, I used my law-related knowledge of the LWCF to preserve the integrity of my favorite [park], Burke Lake Park. One of my graduate students in my park resources law course at George Mason provided me with an environmental assessment [that] indicated the proposed alignment for a highway widening project would take 46 acres of Burke Lake Park. I contacted the NRPA public policy [team] and learned that Burke Lake Park had received a LWCF development grant in 1968. In response, I sent a letter to the Virginia Department of Transportation (VDOT) indicating any conversion of this LWCF property would impose a legal requirement on VDOT to provide land of equal market and recreation value for any land taken from of Burke Lake Park for the proposed highway project. Ultimately, the highway alignment was shifted, sparing Burke Lake Park. I would like to think that my law-related letter played some role in preserving the park.
P&R: What do you like most about the park and recreation profession?
Kozlowski: What I like most about parks and recreation is undoubtedly the colleagues and life-long friends I have made in a profession and field populated by genuinely nice, intelligent and dedicated people. As an NRPA public policy staff member and through my later service on the board for the National Society of Park Resources, a former professional branch of NRPA, I had the unique opportunity to get to know federal, state and local park and recreation professional leaders across the country, including many of the legends in the field. Over the years, I have been gratified that park and recreation professionals have been very supportive and appreciative of my ongoing efforts, through NRPA, to provide relevant and practical law-related publications and information to the field on a wide variety of legal issues and trends.
Vitisia Paynich is Executive Editor and Director of Print and Online Content at NRPA.