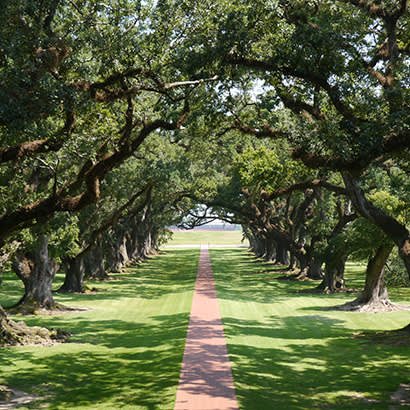 For an enhanced digital experience, read this story in the ezine.
Ensuring our parks benefit everyone is essential to guaranteeing resilient, healthy and equitable communities. To do so, the interests and desires of the entire community — especially those that may not have been included in the past — must be centered in our plans, designs, builds and activation of our parks. Inclusive and transformative community engagement is vital to this process.
By doing this, our communities are driving change to ensure they are environmentally resilient, while also welcoming and inclusive to everyone. When community members are empowered to steward change, great things can happen.
Community Outreach and the Hazelwood Greenway
Pittsburgh's Greater Hazelwood was a thriving industrial neighborhood for most of the 20th century. A vibrant mix of European immigrants and African American Pittsburghers lived and worked under clouds of black smoke from nearby steel mills. The city's last mill, LTV Coke Works in Hazelwood, closed in 1998. The air was suddenly cleaner, but rapid depopulation and the closures of scores of community businesses followed.
Now poised for a comeback, the working-class community of 5,000 residents had its neighborhood plan released in 2019, expressing community needs and priorities for development. The plan highlighted challenges, including pollution, climate change and high rates of type 2 diabetes and asthma.
With a sense of shared purpose, the community acted swiftly to convert its greenway from a liability into an asset. The 183-acre greenway, a hilly forest the city could not afford to manage, was clogged with invasive species and illegal dumping sites. However, the area had the potential to be a source of exercise, cleaner air and cooler summer temperatures.
A partnership formed between residents, City of Pittsburgh, philanthropies and nonprofits. The OnePGH Fund contributed grant funding; community development corporation Hazelwood Initiative spearheaded outreach; workforce development nonprofit Landforce brought land management crews and employment opportunities; urban forestry organization Tree Pittsburgh contributed trees and expertise; and Allegheny GoatScape brought goats to eat invasive plants. This partnership is converting Hazelwood's tree canopy into a source of public health and climate resilience, as well as mitigating the effects of environmental racism.
Volunteers from the neighborhood, Landforce and Tree Pittsburgh have planted 253 native trees in the greenway during the past year, while residents have adopted and planted more than 100 additional trees in their yards.
Landforce crews improved trails where neighborhood residents take nature walks, bike rides and snowshoe hikes with support from partners Venture Outdoors and Pittsburgh Parks Conservancy. Visiting the goats each summer is a highlight for families who might not otherwise venture up the steep hills.
Not everyone has to be a hiker. Not everyone will volunteer to plant trees. Not everyone has to get excited about goats or native species. However, everyone in the community can find a way to participate and belong.
Creating Equitable Parks in Farmington, New Mexico
The key component of City of Farmington's efforts to create resilient and equitable parks is to center our work around community members who have not always had a voice at the table. During the past year, department staff convened an advisory council composed of underrepresented residents and organizations, such as our teen community; our Diné (Navajo) and tribal communities in Farmington and beyond; those who identify as LGBTQ+; disability advocates; and our Hispanic and Mexican diasporic communities. The goal of this engagement was to create transparency of city processes and policies with the idea that knowledge of the system would better prepare these advocates to engage it. Initially, the advisory council would be involved in two projects — one built project (All Abilities Park) and one policy project (City of Farmington Parks, Recreation and Cultural Affairs Master Plan) as the vehicle for learning city processes.
Our engagement process was designed to perfection — or so we thought. The strategy appeared to be informative and many group members found it interesting. However, after sensing some disconnect and lower attendance, we began to question if the advisors were truly engaged.
In conversations with our council, we discovered there were opportunities and interests that weren't being explored and these interests could actually play a role in improving many aspects of our park network. So, we went back to the drawing board.
As we adjusted our approach, our community partner Denisa Livingston of Diné Community Advocacy Alliance was a part of the design process. We added to the existing strategy by getting folks out to our parks to understand different park typologies and the opportunities to explore their unique interests, such as incorporating native plantings within parks and revitalizing derelict park areas.
We prompted our council members to visit parks they had never visited and conduct "site analysis" to discover additional projects to expand beyond the two projects our strategy revolved around. One particular interest we're excited to explore is the coupling of traditional Diné ecological knowledge with green stormwater infrastructure concepts to mitigate stormwater within our parks and medians. By incorporating community knowledge and vision, our open spaces and parks can leverage those elements to support climate resiliency, while also being welcoming spaces for everyone in our community.
Juliet Martinez (they/them) is Managing Editor at Hazelwood Initiative. Tiffany Taulton (she/her) is Director of Outreach and Sustainability at Hazelwood Initiative. Denisa Livingston (she/her) is Community Health Advocate and International Councilor at City of Farmington Parks, Recreation, and Cultural Affairs. Rachelle Crosby (she/her) is Park Planner at City of Farmington Parks, Recreation, and Cultural Affairs.