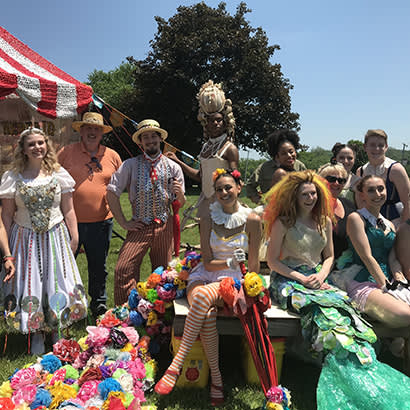 For an enhanced digital experience, read this story in the ezine.
What if we could engage an entire community with an artistic experience that simultaneously elevated sustainability awareness? Three West Chester University professors — maria urrutia, Gretchen Studlien-Webb and Constance Case — had long championed sustainability efforts in their personal lives and envisioned a theatrical performance with sustainability at its core. From this vision, the "Carnival of Ruin" was born.
The play follows a carnival barker, Charlie Boggs, as he arrives in town, carelessly littering before leaving without a thought of what he left behind. He is met by a fortuneteller, who speaks of his imminent doom if he does not begin understanding the errors of his ways. In the final, emotionally-charged scene, Charlie ventures down to the polluted water's edge to find the love of his life, a mermaid named Virginia Waters, covered in single-use plastics and garbage while writhing in pain. That's when he finally gets it. A lifetime of living without sensitivity to his environment has caused Charlie to lose the love of his life.
The Making of the Carnival of Ruin
The creativity of the "Carnival of Ruin" experience began with the performance dialogue, but sparkled like a million bright lights in the costuming and staging. Echoing the message of sustainability, every performer's costume was made from 100 percent post-consumer waste. For example, the mermaid's tail was made from recycled green soda cans and Charlie's vest was woven from soda can tabs and fabric scraps. Every carnival has a big top, and this one was made from 8,000 single-use plastic bags that were braided into "plarn" (plastic yarn) before being woven into white and red panels over the course of 350 hours.
To accomplish an experience of this magnitude in a public setting, the "Carnival of Ruin" creators partnered with the East Goshen Township Department of Parks and Recreation, a gold-level certified sustainable community in eastern Pennsylvania that serves 18,000 residents and has a well-documented history of delivering outside-the-box programming. "Carnival of Ruin" debuted in the park with two free public shows. Park and recreation department staff went to work, getting the residents excited for the performance and enlisting residents to donate their "garbage" that would become art. Department staff collected everything from plastic bags to soda cans to cat litter containers that would anchor the big top posts.
To keep the momentum going and to further drive home sustainability education, a series of six public service announcements (PSAs) was created. These starred Charlie and the township director of parks and recreation, and covered topics, like "Recycle this, not that" and "Keeping our streams clean starts in our front lawns." These were quick-hitting nuggets of hilarious, yet poignant, messages meant to bolster "Carnival of Ruin's" mission and prime the community for the upcoming live performance debut. A neat ripple effect of the PSAs was these messages could live outside the "Carnival of Ruin" ticketed audience and be seen online by the public at their leisure, with the number of views reaching 6,870.
The Debut
The cast rehearsed in preparation for a May 2020 debut but postponed until summer 2021, as the coronavirus (COVID-19) pandemic put a hold on public events. It was heartwarming to see the entire cast, crew and community remain interested and engaged in the "Carnival of Ruin" through a nearly 14-month pause.
Spring 2021 brought warmer weather and hopes that the show would go on. "Carnival of Ruin" leadership held an exhibit and big top reveal on campus, with timed public access and a brilliant table read live-streamed on social media that gave the public a taste of the performance to come.
But the "Carnival of Ruin" leadership had one final question to answer: How would they know if the play made inroads into changing behavior? The West Chester University Statistics Department was enlisted to create a statistically valid survey about pre- and post-Carnival of Ruin event attitudes and behaviors. Utilizing the six public service announcements as a jumping off point, all ticketed guests were asked in April, and then again in mid-June, a series of sustainability-focused questions.
The morning of the premiere came and a truckload of empty milk jugs, recycled plastics support beams, reused plastic film and gorgeous costumes made its way to East Goshen Township Park. During the two performances, the audience laughed at Charlie's buffoonery and marveled at the exquisite costuming. The show reached its crescendo as Charlie realized that living a sustainable life is an achievable and worthwhile goal. The entire cast were met with loud applause as they took their final bows.
But the "Carnival of Ruin" was created as an intimate, hands-on experience, and so, this was just the beginning of the performance. Show organizers invited the audience backstage to see the costumes, stage and big top up close. The star of the play, Virginia, sat for countless pictures with children who could not believe she had a tail made from recycled ginger ale and soda cans. Kids could climb on the stage and crunch, crumble and poke the actors' costumes. Grown men looked for their favorite beer bottle top in Charlie's topcoat and everyone marveled at the elegant beauty of the tight rope walker's colorful train. But equally impressive was the big top. Over the course of that past 18 months, the community made the deliberate and conscious choice to bring in single-use plastic bags that otherwise would have ended up in the local county landfill. That collective community effort, in the form of a carnival big top, sat on a hilltop at the park's highest point, proudly championing the hard work of all those involved with the "Carnival of Ruin."
Calculating Impact
Once the show had come full circle, "Carnival of Ruin" leadership and park and recreation department staff were still left with that final question: Had they changed public attitudes toward sustainability? Survey conclusions were encouraging. These included:
Eighty-two percent of the audience thought the show was very or extremely effective in conveying its message that when you throw something away, it truly doesn't go away.
Eighty-eight percent pledged to not use single-use plastic bags.
Ninety-four percent pledged to reuse single-use plastic bags.
Eighty-eight percent pledged to talk to family and friends about sustainability.
Studlien-Webb, Case and urrutia created a mesmerizing theater performance that was entertaining, thought provoking, compelling and, most importantly, inspiring people to take action. We can draw some really wonderful conclusions when we look back at the "Carnival of Ruin" experience through a municipal park and recreation lens. Sustainability is a worthy goal, and something that park and recreation departments can help communities tackle as a whole. Our bread and butter come from offering outdoor programming in public spaces, such as waterways, greenways and on mountainsides, that all need our attention. Water and air quality, energy usage and repurposing of expended goods can be something we address through park and recreation experiences. Be creative! Have a simple goal and craft a message that your public can get behind. As the fortuneteller told Charlie, "This can be a beautiful place, and your environment is only as kind as you keep it."
Jason Lang, MS, CPRE
, is Director of Parks and Recreation at East Goshen Township Parks and Recreation.