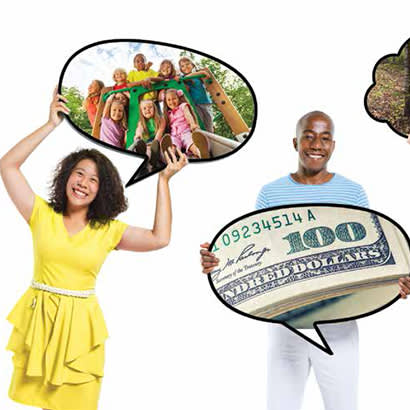 For an enhanced digital experience, read this story in the ezine.
Park and recreation agencies increasingly recognize public policy and advocacy as essential functions of their work. However, many professionals remain unclear about how to best engage in these spaces to achieve measurable results and effect systemic change. That's where NRPA's Public Policy and Advocacy team has you covered!
Whether you're an old hand in public policy and advocacy or you're new to this work, here are three sessions taking place at the 2021 NRPA Annual Conference you won't want to miss:
Elevating Parks in the Policy Debate Over the Next Five Years
Park and recreation agencies provide essential services for their communities. However, when decision-makers hold tough policy or budget conversations, park and recreation agencies often find themselves left out and unheard. As the saying goes, "if you're not at the table, you're on the menu."
This session will outline strategies park and recreation professionals can employ to stay relevant in policy and budget conversations. The session will highlight the key policy debates and trends happening in Washington, D.C., and in communities across the country, illustrating how park and recreation professionals can bring their unique perspective to these conversations.
Show Me the Money! Federal Resources Available for Your Department
Congress and the Biden administration took historic steps to meet the multiple crises presented by the coronavirus (COVID-19) pandemic. The American Rescue Plan Act invests $1.9 trillion to help families and communities recover from the pandemic and build back better. NRPA's Public Policy and Advocacy team worked with Congress and the administration to ensure that park and recreation agencies were eligible for these funds.
This session will summarize federal legislation and funding resources, including the specific provisions that park and recreation agencies can access for funding. Public policy experts will answer your questions and help you identify potential sources of federal funding for your agency.
Telling the Story of Parks for Influence, Advocacy and Equity
Effective grassroots advocacy, at its core, is effective storytelling. Your agency may put on the best programs and offer the best services, but if no one knows about them, it's as if they don't exist! Just like you advertise your agency's programs and services, you can (and should) advocate on behalf of your agency's impact on the local community and make sure decision-makers know your contributions, resource challenges and priorities.
This session will help you craft a compelling argument for your agency through insightful examples from the field and thoughtful exercises. Join the movement and help build support for parks and recreation.
Public policy development and advocacy are continuous efforts, meaning the work doesn't stop at conference. We look forward to engaging with you throughout the year to learn about what work is on the horizon for your agency and how NRPA can provide the resources to support the critical work that you do. Stay informed and engaged on the issues that matter to park and recreation professionals by subscribing to NRPA's advocacy list.
Looking for more ways to get involved and make your voice heard? Check out our website for detailed policy analysis and advocacy resources.
Dan McCarthy is NRPA's Advocacy Manager.