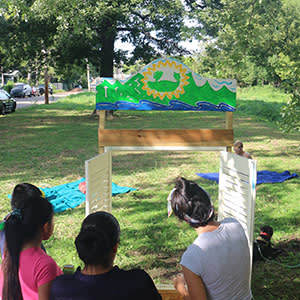 For an enhanced digital experience, read this story in the ezine.
Chattanooga's Lynnbrook Park puts equity at the center of its design
This year's NRPA Parks Build Community Project in Chattanooga, Tennessee, is well underway, with construction slated for completion in the spring of 2022. Located on the southeast side of the city, this project is focused on converting an empty lot with a history of flooding to a functional park with a restored stream that will serve as a central natural feature of the park. A benefit on several fronts; the surrounding Oak Grove community will have access to a place to gather, play and explore that it didn't have previously, and the Works Project Administration-era drainage ditch will be restored into a natural meandering stream with rain gardens and natural, native plantings, enhancing the overall watershed, minimizing localized flooding and improving water quality for area residents.
Overall, only 38 percent of Chattanooga's residents are within a 10-minute walk to a park, and the Oak Grove neighborhood — with a significant Guatemalan immigrant community — is no different. Many Guatemalans immigrated to the area due to political and socioeconomic conflict in their home country caused by a long, brutal civil war from 1960 to 1996. During this time, horrific atrocities were committed by Guatemala's government against the residents, and the genocide of more than 200,000 people has been documented. A significant number of people fled Guatemala during this era looking for a better life, and many sought refuge in the United States. In the 1980s, industries moved to the Chattanooga area for cheaper taxes, government subsidies and a consistent supply of labor. Immigrant Guatemalans found work and settled in Chattanooga. Later on, other family and community members also moved to the area. The 1986 Immigration Reform and Control Act allowed some undocumented Guatemalan migrants to legalize their status by applying for political asylum. Today, Chattanooga has a notable Guatemalan community that continues to grow.
In 2016, the Chattanooga Public Lands office and The Trust for Public Land (TPL) applied for and obtained a National Endowment for the Arts grant. They used the funds to put together a series of public engagement events to determine what type of park would be built in the area. The goal was not only to build a park, but also to build a community where people felt connected with nature.
Spearheading the public engagement for the park was Josiah Golson, a local lawyer, artist and writer. His team included TPL's Daniela Peterson, architect Roy Wroth and multimedia artist Botany Rain. For Peterson, this project was the first time she had ever interacted with a community in this way. "Instead of asking what they wanted in a park and doing a survey, [we took a different approach]," she says. "We didn't ask 'What do you want to see in a park?'; that wasn't on the list of questions. Instead, it was more like, 'How do you use the outdoors?'"
Since Chattanooga is such a largely immigrant community, "the reality in their countries was completely different," says Peterson. "If I go and knock on your door and ask what you want in a park, I am assuming that you know what I mean by a park. Many of these people didn't have access before [to parks] because it was the first time they were in the states." What we found in our questioning was that "people spend family time outdoors; they spend time eating together. People [were currently] already using the space each day; walking through, going to work, going to school, going to main street," she says.
For Peterson, this project goes beyond turf and playground equipment — it has impacts and significance for generations to come. In the United States, "we are a community that is very proud of ourselves for being an outdoor community, but so far, the outdoor community face is a white face; it's not a diverse group of people [who] are in the outdoors," she explains. "This community, in particular, doesn't have access to the outdoors, and when I say outdoors, I also include parks [not just large natural areas]. Parks are like the first introduction to the outdoor community. If you don't have a park close to your house, it's going to be more challenging for you to go and explore [further]" into other outdoor areas. The way Peterson sees it, having a neighborhood park in the community has two benefits. "Number one, they have access to the outdoors. Number two, they will have a better understanding and feel more comfortable being in the outdoors, and in the long term, this is changing who is in the outdoors," she says. This, over time, creates a more diversified outdoor community both in our local parks and in our larger, more natural outdoor areas, such as national parks or forests.
In a recent New York Daily News article, Executive Director of the Design Trust for Public Space Matthew Clarke discussed how parks build democracy. "First, an emerging body of research shows that working on the creation and stewardship of parks builds social capital and cohesion. In Philadelphia, researchers proved that greening vacant lots improved community health, but it also created new connections amongst residents, especially those who felt previously disenfranchised," he says. "These social ties were then used for other purposes: to host voter registration events, to organize testimony at city council hearings, or to create mutual aid societies. Secondly, parks and public lands offer a critical infrastructure for society. They improve our health by reducing chronic disease, improving mental health and elevating everyday joy. They can protect our environment by capturing stormwater and reducing the heat island effect. No other investment can stack these benefits together in ways so profound and so impactful."
According to Peterson, "Democracy happens outside. In the short term, we are bringing a park to a community that didn't have it, and that normally doesn't get these kinds of benefits. In the long term, it's going to benefit the city overall. If you feel welcome and know that the park is there for you, you will pass that sentiment onto your family. [Your children] are going to grow up with a park in their neighborhood. You will create memories; you will know your neighbor; it's going to be a generational benefit. For me, it's a way, actually, to learn about democracy."
For Peterson, it is about looking at immigrant communities differently. "Normally, the approach we have around immigrant communities is [addressing] the problems or issues they cause — not the quality of life that they need and what they need access to," she says. "The social capital side of this is the impact it can have on someone. This is more than just health; we are affecting how our cities are shaped. We are affecting how people understand that they can be involved in their city, and they can understand citizenship not just from having a piece of paper, but actually being an active member of your community."
Making Lynnbrook Park a Reality
To help make the creation of Lynnbrook Park possible, NRPA's Parks Build Community donors have donated their products, equipment and expertise to not only create a park, but also to create a place where a community can thrive and grow. "Few things give the Musco Team more pride than our involvement with NRPA and the annual Parks Build Community initiative," says Jeff Rogers, president of Musco. "These facilities provide families and youth in underserved areas with access to high-quality recreational resources and have the power to serve as a social centerpiece for the entire community. We're excited for residents of Oak Grove and southeast Chattanooga and wish them the best as they utilize the new Lynnbrook Park for years to come."
"DuMor fully endorses NRPA's tagline, 'Because everyone deserves a great park.' For too long, access to parks has not been fair across all communities," says Anita Rudy, DuMor president. "We believe everyone deserves a great park with great site furnishings, which we strive to provide. Every park deserves to have nice benches for people to sit and great tables for people to either eat or play games. These elements are necessities. Benches and tables are the physical symbols in parks that everyone is welcome. DuMor loves being a part of NRPA's Parks Build Community projects because they work to develop great parks for underserved communities. Parks can offer quality time outdoors with areas that invite people to sit quietly and reflect, as well as areas that encourage people to come together with friends and neighbors to picnic and play. In this way, parks help to enrich the lives of those in the community."
City of Chattanooga Parks Planner and PBC Project Manager Akosua Cook says Lynnbrook Park construction will start in the fall, with completion slated for spring 2022. "Right now, we are setting the stage. We are getting permits in place and finalizing the design. Recently, we hung some signs and banners at the site to let the community know what the park will look like and what's happening," she says. "We are also building a virtual meeting space where community engagement will happen. This space will keep people updated on what is happening throughout the process. It will give them a place where they can ask questions, provide feedback on what they're seeing and maintain contact."
As the construction project continues toward creating a place where the local community can build lasting memories and relationships, there are still opportunities to be a part of the creation of Lynnbrook Park through the donor program. For more information about the 2021 Parks Build Community project and how you can be involved, contact Nury Marquez, NRPA's senior director of development.
Paula M. Jacoby-Garrett is a Freelance Writer based in Las Vegas, Nevada.