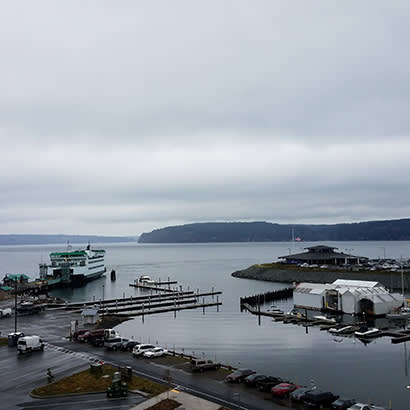 For an enhanced digital experience, read this story in the ezine.
How communities are using parks and recreation to foster health and resiliency
It was an overcast Pacific Northwest day in December 2019 when Metro Parks Tacoma (Washington) Management Fellow Jackson Skinner led a group of about 35 park and recreation professionals and planners around Tacoma's park system. From the picturesque waterfront at Point Defiance Park — complete with a zoo, aquarium, miles of trails and views of the Puget Sound as well as, on a clear day, the breathtaking 14,410-foot Mount Rainier and Cascade Mountains — to the recently constructed and meaningful Eastside Community Center, park and recreation professionals witnessed the beauty, complexity and diversity of the Metro Parks Tacoma system.
The Tacoma park and recreation department, along with the visiting park and recreation professionals, were grantees of NRPA's 10 Minute Walk grant program, in partnership with The Trust for Public Land and the Urban Land Institute, to ensure that everyone has close-to-home access to a high-quality park and recreation space. Over three years, 32 communities across the United States — from sunny Miami, Florida, to snowy Anchorage, Alaska, and from Winooski, Vermont, with a population of 7,000, to Los Angeles County, with a population of more than 10 million — received $40,000 for a park-planning grant to create equitable park systems.
Reimagining the Basics
Park and recreation professionals have taken the basics of park planning — master planning, land acquisition, geographic information system (GIS) mapping and more — and adapted them to meet the moment. Some communities, like Camden, New Jersey, had a high percentage of community members living within a 10-minute walk of a park, but many of those spaces were not high quality. Others, like Chattanooga, Tennessee, had a low percentage of access to parks within a 10-minute walk, but the spaces they had were of a higher quality. To address these nuances, each community took an approach that was best for them. El Cajon, California, created El Cajon 2030, the city's first-ever park master plan, to bring parks and open spaces to a community that is fully built out. In Lewisville, Texas, the park and recreation agency worked to establish a land dedication ordinance for development that more equitably funds park development in a rapidly growing city. Raleigh, North Carolina, used GIS data and community input to develop a park quality assessment tool to determine priorities for its master plan update.
Equity and community engagement were central to grantees' park access work. In Anchorage, park and recreation professionals centered immigrant, refugee and Indigenous voices in their engagement process to learn how they could increase access and create culturally relevant and welcoming spaces. The project team held listening sessions at the Alaska Native Heritage Center to hear the concerns of new Alaskans and Alaska Natives. Through these sessions, the project team learned of barriers, such as the need for season-appropriate gear and fears of wildlife encounters. Participants expressed the desire for culturally relevant art, more signage, edible and native landscaping, and culturally relevant markets. Further south in arid Southern California, park and recreation professionals in Norwalk, California, went into their master plan process with a vision and expectations of the project. As the team engaged the community, they learned of deep-rooted barriers to access that were not only physical barriers, but also were grounded in a mistrust of government. This development led the agency to cultivate new partnerships with community-based organizations to build trust and deliver on promises for the community.
In 2018, Denver completed its Neighborhood Equity Index and found that the city's most vulnerable neighborhoods — which have high numbers of people of color and high-poverty rates — lack access to high-quality parks or, in some cases, any park. To address this injustice, Denver voters passed a 0.25 percent sales tax that provides a dedicated funding stream for park and recreation professionals to improve park quality and acquire land for new parks in park-poor areas. Through this grant, Denver's park and recreation professionals held public meetings, hired additional staff dedicated to managing parkland acquisition and built out a framework to develop their land acquisition plan. In June 2021, the city completed Denver Parks and Recreation's Strategic Acquisition Plan to close its 10-minute walk gap. Access to high-quality parks and recreation improves mental and physical health, environmental resilience, safety and social cohesion. Ensuring everyone has access to parks and recreation is part of the answer to addressing the harm and disinvestment done to Black, Indigenous and Latino communities.
Access to Parks and Recreation Is Restorative Justice
In Tacoma, the Eastside Community Center represents why access to parks and recreation is a form of justice. The East Side community of Tacoma had long faced disinvestment. The neighborhood was redlined in the 1930s by the Home Owners' Loan Corporation because it was a low-income, immigrant community. In the following decades, the neighborhood would see a school, pool and library built and later closed. The community lacked safe gathering spaces. It took a tragic event and a motivated, tenacious mother to change that.
As park and recreation professionals toured the community center in 2019, they heard the powerful story of the impetus for the community center from Shalisa Hayes, mother of Billy Ray Shirley III. In 2011, Shirley, who was 17 years old, went to a party to give someone a ride home when a fight broke out. He and a friend collected another friend and were leaving when someone came up from behind and shot Shirley in the back, killing him. According to Hayes, Shirley often would talk about the need for a safe space for kids on the East Side. At her son's funeral, Hayes announced that she would pursue getting a community center built in their neighborhood. Friends, family and neighbors joined the effort and convinced their elected officials to make Shirley's dream a reality.
It was a difficult and tumultuous effort. Hayes and community members advocated for years and spent countless hours debating what the space would include, balancing their desired amenities, like a pool, with what they thought would be realistic and affordable. The determination and courage of a mother shone through when Hayes, in need of additional funding, went to a summit in Tacoma that Governor Jay Inslee was attending and found her moment when he and his staff were getting on an elevator. She gave the governor her elevator pitch and got $2.5 million in his next budget. In 2018, the 55,000-square-foot, $32 million community center opened, complete with a climbing wall, zipline, gym, music recording studio, kitchen, café, classrooms and a 318,000-gallon swimming pool — a reflection of the vision of the community.
In hearing this story, one is inspired yet disheartened. It should not have taken the loss of an innocent, young life to galvanize the resources for a community gathering space, but it did. Shirley's story — Hayes' story — is powerful and was made possible by a visionary son and a passionate and determined mother, but the story of disinvestment in low-income communities of color; the story of senseless gun violence; the story of a lack of access to safe, culturally-relevant, welcoming park and recreation spaces is not unique to Tacoma. These stories can be told of communities across the United States.
A New Phase in the Parks Movement
Over the past 150 years, parks and recreation has responded to the needs of communities — from the Olmsted parks, built to combat pollution and disease in cities, to parks functioning as service centers for immigrants, to the many roles of parks and recreation centers today. Park and recreation professionals provide meal sites during the summer and after school. They offer places for older adult and youth physical activity programs. They provide spaces for learning, connection to nature and environmental resilience; spaces for healing and memorials; spaces for joy and celebration.
Parks and recreation is essential to the fabric of every community. Lacking access to parks and recreation is an injustice. To achieve just and fair park access for all people, agencies must acknowledge, harness and celebrate the unique power and resilience that dwell within communities while working to remove the barriers that perpetuate the inequities that exist between them.
In July 2021, NRPA announced the selection of a new cohort of grantees for the Resilient Park Access grant, taking the work of the 10 Minute Walk to the next level. These six communities are receiving more than $2.5 million total to take a community-driven, equity-focused, systems-level approach to addressing systemic racism and inequities in park access, environmental resilience and community health. Grantees are using a myriad of strategies, such as promoting community engagement, supporting workforce development, creating culturally relevant spaces for healing, and enshrining community power in plans and policies, to shift power structures in their systems and institutions from a traditional top-down approach to a grassroots, community-driven approach. "We are thrilled to be working in partnership with these park and recreation professional leaders to advance community-centered local solutions," says Rachel Banner, director of park access at NRPA. "While this work will take intentionality and time, we are excited to be able to lift up their journey along the way so that park and recreation professionals can work together to create stronger, healthier and more resilient communities through parks."
This moment in our history requires us to live up to the highest ideals of our profession in creating a multiracial, multicultural democratic society that supports community power in creating equitable park access and quality for all. Communities across the United States are picking up this gauntlet. How are you and your agency answering the call?
Jared Mummert is Park Access Program Manager at NRPA.