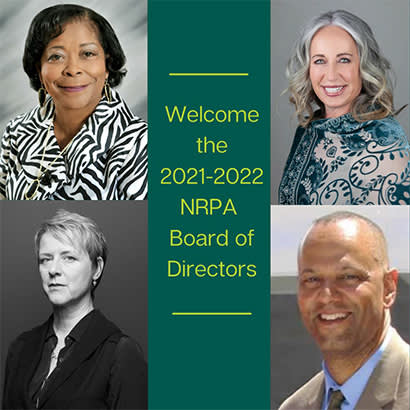 For an enhanced digital experience, read this story in the ezine.
Each year, during the NRPA Annual Conference, NRPA officially welcomes its incoming class of board members. The NRPA Board of Directors reflects our membership, which includes professional and advocate leaders in the park and recreation movement; park and recreation agencies and organizations representing the public, private, voluntary, commercial and industrial sectors; firms supplying park and recreation products and services; and individuals and civic groups interested in the park, recreation, conservation, health and equity fields.
Welcoming Carolyn McKnight-Fredd, CPRP, as Chair-Elect
NRPA proudly welcomes Carolyn McKnight-Fredd, CPRP, as chair-elect of the 2021-2022 NRPA Board of Directors. McKnight-Fredd has served as an NRPA board member since 2017 and has volunteered in numerous additional leadership roles for NRPA, including CAPRA accreditation commissioner, committee chair for the NRPA Baltimore Maryland Conference Education Program, Directors School instructor, and chair of the National Recreation and Park Ethnic Minority Society, among others.
In the November 2021 issue, we will be sharing more information about McKnight-Fredd, as well as additional news about the 2021-2022 Board of Directors and its Executive Committee.
Three Members Join the Board
Rebecca Armstrong
Co-founder and CEO, North
Portland, Oregon
With a career in agency and design management spanning 30 years, Rebecca Armstrong has seen trends come and go. But to her, two key marketing tenets endure: tell the truth and make the truth fascinating. She is most proud of the work she has done with her partners at North to build an advertising powerhouse known for the craft of strategic thinking, its insistence on close collaboration with clients and its uniquely differentiating and effective creative product. In its 16 years, North has served Columbia Sportswear, Hydro Flask, Clif Bar, Peet's Coffee and Pacific Foods, among many others.
Armstrong has served on boards for Big Brothers Big Sisters, Portland Advertising Federation and Providence Cancer Institute. She is a passionate advocate for access to the outdoors for all, having been the lucky beneficiary of its restorative effects her whole life.
Mollie Marsh-Heine
Senior Vice President of Development, Earthjustice
Boulder, Colorado
Originally from Tennessee, Mollie Marsh-Heine attended high school, college and graduate school in Colorado. She received her undergraduate degree from the University of Colorado in 1993, followed by a master's in business administration in 1999. Part of Marsh-Heine's college experience included a year and a half at the University of Dar es Salaam in Tanzania.
From an early age, Marsh-Heine has been drawn to the nonprofit world — working as an outdoor educator with the Denver Public Schools, Outward Bound instructor, youth intervention specialist, child advocate, outdoor education director, and, eventually, moving into more challenging leadership roles.
From 1999 to 2004, Marsh-Heine worked for the Colorado Chapter of The Nature Conservancy (TNC) as director of operations, followed by three and a half years as the executive director for The Dairy Center for the Arts, a multi-disciplinary arts center in Boulder, Colorado. Her true passion stayed in environmental work, and she returned to TNC as director of philanthropy to lead its fundraising efforts for the continent of Africa. Her tenure with TNC culminated in a promotion to partner with the CEO and various vice presidents of TNC as a senior principal gifts officer — working with donors at the highest levels of philanthropy in complex and sophisticated donor engagement.
Marsh-Heine is delighted and enthusiastic about the continuation of both her path as a philanthropy professional and passionate environmentalist in her newest role as vice president of development with Earthjustice.
When not trying to save the planet, Marsh-Heine lives in the foothills of Boulder County, Colorado, with her partner Seth, their children and Scout the Airedale Terrier. She enjoys just about every outdoor sport there is, live music, theater and art, wine and laughter with friends, and time with her family.
Arnold L. Randall
General Superintendent, Forest Preserve District of Cook County
Chicago, Illinois
Arnold L. Randall is the general superintendent of the Forest Preserve District of Cook County (Forest Preserves) and is responsible for the day-to-day management of one of the nation's oldest and largest forest preserve systems. During Randall's tenure, which began in December of 2010, the Forest Preserves has made notable strides in becoming a more transparent, accountable and strategic government agency, with an increased focus on restoring and protecting Cook County's most precious natural areas. Key accomplishments include the ambitious Next Century Conservation Plan; a multi-year Centennial celebration to bring new and diverse audiences to the preserves; developing and launching strategic plans for camping, recreation, trails and habitat restoration; creating an independent advisory Conservation and Policy Council comprised of civic and business leaders; and opening five new campgrounds that re-establish the legacy of camping in the preserves.
Randall previously served as director of the Office of Civic Engagement at the University of Chicago (UChicago), where he helped plan and coordinate major public projects undertaken by the university, working as a liaison between UChicago and the city, neighbors and other concerned parties. He was a key part of the Chicago 2016 Olympic Bid Committee's community outreach team and previously worked as commissioner of the City of Chicago's Department of Planning and Development, where he directed the department's leadership responsibilities for promoting economic development in Chicago by helping new and existing businesses meet their goals for growth while creating new jobs for city residents.
In addition, Randall served in a number of roles with the Chicago Park District between 1995 and 2007, including director of legislative and community affairs, director of planning and development, and lakefront area and southeast region manager.