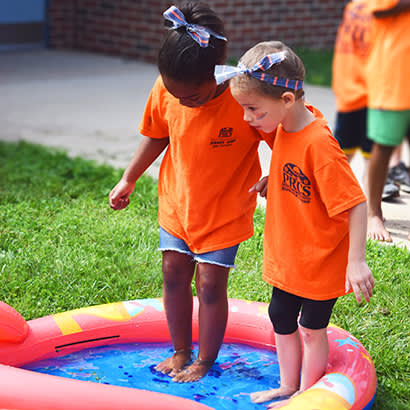 For an enhanced digital experience, read this story in the ezine.
According to the 2020 U.S. Census, the population in Loudoun County, Virginia, grew 35 percent since the previous census and projections indicate the region will continue to see exponential growth in the coming years. The Loudoun County Department of Parks, Recreation and Community Services (PRCS) maintains 17 centers, four historic sites, a performing and visual arts center, 127 athletic fields, 3,100 acres of parks and open space, 60 miles of trails, and delivers more than 11,000 activities each year. Staff strive to provide outstanding programs and services for people of all ages, spanning a diverse range of topics and activities to promote the best possible quality of life for residents and visitors.
PRCS Director Steve Torpy saw the journey toward accreditation from NRPA's Commission for Accreditation of Park and Recreation Agencies (CAPRA) as an opportunity to reinforce the department's foundation, keep projects mission focused, and guide staff to develop excellent programs and services for the community.
"At PRCS, we continually strive for excellence in all of our endeavors," says Torpy. "Achieving and maintaining CAPRA accreditation confirms we are catching excellence and serves as a foundation for creating the best possible community through people, parks and programs for years to come."
Maximizing staff involvement was a high priority throughout the process of working toward national accreditation. Whether it was writing narratives for the self-assessment, developing various plans or updating policy, staff from all levels were invited to participate.
"We want best practices to form the core of the department's culture," says Accreditation Coordinator Nicole Falceto. "Putting a priority on an inclusive process also meant we could offer unique opportunities for professional development to our team members."
From the beginning, the department implemented key components to organize a self-assessment and used technology to improve the visitor's experience. Staff started by identifying standards that required the assistance of other Loudoun County agencies and began working on these standards early in the process. The department also appointed a single person to act as project manager and assist staff to create narratives, collect evidence of compliance, and keep major projects on task and on time. Team members challenged themselves to find new digital methods of managing and sharing documentation. When the coronavirus (COVID-19) forced CAPRA visits to a virtual format, staff jumped into action to create video tours for the Site Visit Team. The videos allowed the Visit Team to see PRCS facilities and get to know the PRCS family.
It is important to recognize that accomplishments are rarely achieved in a vacuum. PRCS sent staff to learn about the accreditation process from educational sessions led by other agencies at the NRPA Annual Conference and the Virginia Recreation and Park Society Annual Conference. These sessions provided valuable insights into what other agencies learned throughout their accreditation process.
"I could not be prouder of the efforts by PRCS staff in achieving excellence in everything that we do," says Torpy. "But earning national accreditation is merely the beginning. We will continue to check our foundation against best practices outlined in the CAPRA standards and share our experience with agencies in hopes of helping others achieve national accreditation in the future."
Nancy McCormick is Communications Specialist for Loudoun County Public Affairs and Communications.