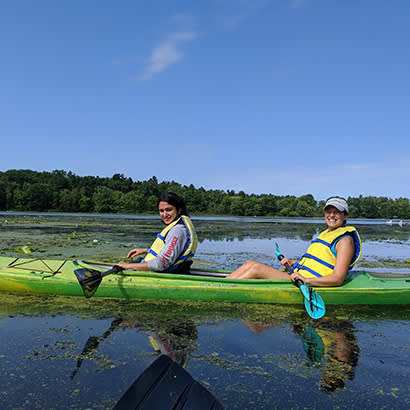 For an enhanced digital experience, read this story in the ezine.
Volunteer program builds the next generation of park and recreation advocates
The New York State (NYS) Office of Parks, Recreation and Historic Preservation is igniting the next generation's passion for parks and recreation. In 2008, the agency launched the Friends of Recreation, Conservation and Environmental Stewardship (FORCES) program to get students involved in hands-on, volunteer activities at state parks.
"FORCES became a very logical way to effectively connect our valuable environmental and recreational resources within our NYS Parks to New Yorkers, especially collegiate students seeking additional knowledge, experience and inspiration in their educational and professional pursuits," says Tom Hughes, natural resource steward biologist and FORCES program founder and creator.
The program, originally designed for college students and recently expanded to offer opportunities for post-graduates and high school students, provides youth with the opportunity to connect to nature through hands-on work while gaining academic credit, research opportunities, experience for résumés or volunteer hours. FORCES offers diverse opportunities to appeal to youth with many different interests, and programs can be tailored based on the needs of the individual. These opportunities include helping improve and maintain park spaces through trail maintenance, facility updates, invasive species management and litter pickups; assisting with research projects by conducting surveys and collecting data; and working with the public by guiding tours, developing educational materials, implementing new recreation programs and conducting online outreach. "Since current students are a key segment of the next generation of park visitors and environmental conservationists, it is vital to engage them now, building strong relationships that will last a lifetime," says FORCES Program Coordinator Amy Kochem.
Participation can range from single-day volunteer events to ongoing internship programs. Since the program began, more than 2,000 students have participated in FORCES projects across seven NYS parks' regions, and many have gone on to study or even pursue a career in parks and recreation, environmental sciences, conservation and natural resource management.
"We have several former FORCES Stewards now working within our NYS Parks' agency in full-time positions," Hughes says. "Our goal is to create generational learning pathways for young professionals to educational and professional opportunities in the science fields, and potential employment within our agency and NYS government in the future."
Through FORCES, NYS Parks not only has a dedicated set of volunteers who have established a connection with parks and recreation, but also has developed relationships with other student-centered organizations throughout the state. "Through FORCES, we creatively forge new community partnerships and pathways to further share responsibility for stewarding NYS' environmental and recreational resources both within and beyond our parks' borders," says Hughes.
For more information about this program, visit the NYS Office of Parks, Recreation and Historic Preservation or contact Kochem.
Jennifer Fulcher, is NRPA's Web Editor.