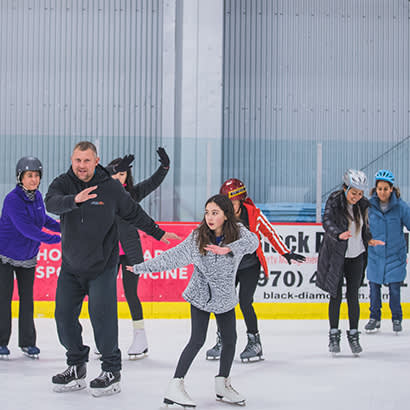 For an enhanced digital experience, read this story in the ezine.
As park and recreation professionals, it is our duty to serve 100 percent of our community, which each day grows increasingly diverse across a myriad of physical, mental, spiritual and self-identified differentiators.
As marketing and communications manager for Mountain Recreation in Eagle County, Colorado, I am responsible for communicating with our diverse community. However, built-up inclusivity in marketing often ends at marketing, and if an organization is not prepared to deliver on that promise when customers come through the door, the organization is left in a worse position. It is not only a matter of disconnect, but also a way of losing the community's trust.
Equitable marketing is achievable and is proven only if an organization can close the gap in its community's customer journey: from awareness through to continued participation. For the purposes of this article, I will focus on ethnicity, since it is the greatest element of diversity in my community. Our Latino community makes up an estimated 30 to 40 percent of our overall population, and in public schools, ranges from 50 to 90 percent of students.
The following are steps we are taking to close the gap.
Bilingual and Bicultural Marketing
It is not enough to repurpose and Google Translate current marketing materials to be used for Latino communities. Tailored marketing to this demographic is often disregarded and results in a disingenuous approach. Auto translations lead to translation mistakes (even of your own organization's name!) and contain a message culturally relevant only to the sender. How do we solve this? Mountain Recreation's goal is to ensure that every word we communicate verbally or in print to the mass community is bilingual. We contract translators who are bicultural and I, being bilingual and bicultural, create or approve all messaging. Some examples are facility signage, radio content, direct mail, editorial, social media, our registration software (with limitations) and soon, email marketing. And it doesn't stop there — our staff work with our translator regarding program materials, parent handbooks, membership agreements, staff training manuals and more. This requires double the work and double the resources — and your community will thank you for it.
Belonging
This is where the real work begins. Due to ethnic inequities and divides present in our community and across the nation, many Latino patrons (kids and adults) appear hesitant at the front door, as our staff and participants are predominately white. Part of closing the gap is creating an inclusive space and experience that our Latino community can feel welcomed in.
Through our diversity, equity and inclusion training, named "Forward Together," consultants will help us re-examine our own diverse perspectives, lived experiences and unconscious biases, and will help us broaden our acceptance of others. This means reassessing our systems, policies and overall customer experiences to achieve a deep understanding of our diverse community, the bicultural dynamics at play, and discover what we didn't know.
Closing the Gap
To fully close the gap, there is one key element that should not be underestimated that will impact every step of the journey: representation. Regardless of the diversity in your unique community, representation will improve your approach, maximize your reach and ensure a positive interaction and impact.
If you hope to serve your diverse community, know you will have more success by mirroring it through your staff. No, I am not talking about checking the box and having a few tokenized staff members — I am talking about taking an internal look at your agency to see where you can level the playing field and achieve equity and inclusion for all.
What can your organization do if this is not currently a viable option? One of the biggest elements in representation as it relates to our Latino community is language. So, our administrator, front desk staff, lifeguards and other staff are learning Spanish, taking lessons twice a week and doing their homework to better understand and welcome the members of our community. These staff are bridge builders in the making!
Continued Participation
We want to go above and beyond, so that our Latino community can continue to participate with us (including through $70,000 in scholarships) and have a seat at the table in deciding the future of our district. Communication must be a two-way street, so we started our first-ever Latino Advisory Committee. Here we are learning firsthand about these individuals' needs, interests and barriers, and have created an open space where our community is empowered to directly guide the district's offerings, rather than the district deciding what is needed.
Closing the gap has required great work and sacrifice, and much work still needs to be done, but every day we aim to be better than yesterday.
Eduardo "Eddie" Campos is Marketing and Communications Manager for Mountain Recreation.