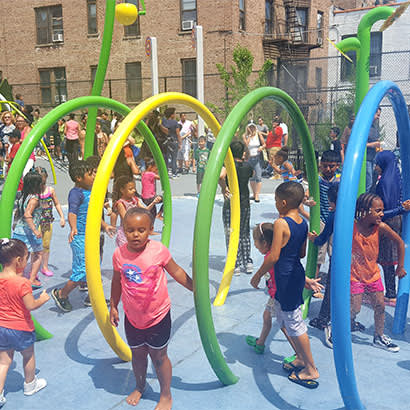 For an enhanced digital experience, read this story in the ezine.
The pandemic has given us a renewed understanding of the critical importance of parks and green spaces for our physical and mental health. However, stark inequities in the availability of quality facilities continue to plague underserved communities and communities of color. Our past failure to invest equitably has left millions without access to quality parks and recreation opportunities. Looking ahead, parks will play an essential role in the economic recovery of our nation and in addressing inequities in our cities.
Before the pandemic, cities across the country had started to address the park equity issue head-on. To address the backlog in park investments, a number of cities established data-driven equity criteria to direct funds to neighborhoods most in need of new parks and/or physical improvement and revitalized programming in existing parks.
This past October, I moderated a City Parks Alliance session during the 2020 NRPA Annual Conference: A Virtual Experience called "Data-Driven Strategies for Equitable Urban Park Investment." I was joined by panelists Jayne Miller, who has led equitable funding initiatives in her leadership roles at Pittsburgh Park Conservancy and Minneapolis Park and Recreation Board; Mitchell Silver, commissioner of the New York City Department of Parks and Recreation; and Meagan Elliott, chief parks planner at Detroit Parks and Recreation. All three leaders were instrumental in implementing equitable funding strategies in their communities.
Under Miller's leadership, Minneapolis created the Community Outreach Department and began work on 17 initiatives in underserved neighborhoods in Minneapolis. The city then enacted a 20-Year Neighborhood Park Plan to close the funding gap through data-driven racial and economic equity criteria. In New York, Silver played a key role in writing the "Framework for an Equitable Future" that invests in under-resourced public parks in dense neighborhoods with higher-than-average rates of poverty. In Detroit, Elliott served on the Detroit Park Planning Team that set the vision for how the city would push for parks as one facet of its social justice efforts.
By using data-driven metrics and methodology, these cities are hoping to undo past inequities. In Minneapolis, through the Neighborhood Park Plan, 19 new parks and 135 rehabilitation projects will be completed. New York City is now on track to reconstruct 67 neighborhood parks. And, Detroit has thus far revitalized 40 small neighborhood parks. In each of these cities, most neighborhoods had not seen investment for several decades.
City Parks Alliance has studied how these and other initiatives have employed data-driven criteria to prioritize investments in parks. Findings are summarized in our report, Investing in Equitable Urban Park Systems: Case Studies & Recommendations, and cataloged on the Equitable Park Funding Hub. The hub, developed collaboratively with the Urban Institute and Groundwork USA, with support provided by Robert Wood Johnson Foundation, includes a series of tools for park professionals to explore federal, state and local funding strategies for city parks and public spaces.
City Parks Alliance documented equity criteria and data sources that were used to make investment decisions, community engagement efforts, methods to track and evaluate programs, and policies needed to sustain the initiatives.
Key findings that emerged:
Strong leadership is instrumental in making the case for and implementing equitable approaches.
Data collection and analysis must be transparent, reliable and consistent.
Education at all levels on the data results is important for building buy-in.
New laws, voter-approved initiatives, strategic planning and, sometimes, internal reorganizations are critical to ensuring that those models are sustained.
Comprehensive tracking must occur to ensure accountability and sustained implementation.
We seek to inspire more cities to replicate this trailblazing work, so that the essential benefits of parks and recreation are enjoyed by all.
Julie Waterman is Advocacy Director at City Parks Alliance.