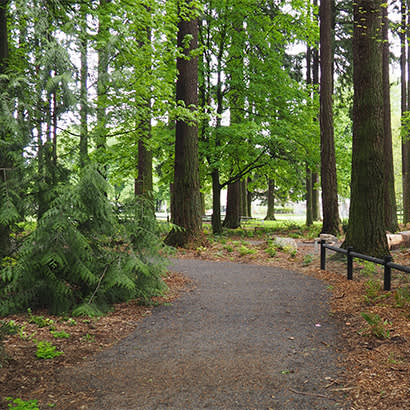 For an enhanced digital experience, read this story in the ezine.
Portland Parks and Recreation launches an initiative to transform underperforming landscapes into ecologically healthy and beautiful natural spaces
Parks are places for transformation, both personally and ecologically. They are our society's greatest tool in responding to the parallel crises of global climate change, ecological decline and human health. Sometimes, new parks can be grand green infrastructure projects that transform old brownfields and abandoned urban wastelands. Outstanding examples exist: Hunter's Point South in Queens, New York; Corktown Common Park in Toronto, Ontario; or even the 100-mile-long Chattahoochee RiverLands project, which seeks to reimagine Metro Atlanta's relationship with the Chattahoochee River.
Large park projects can spawn large outcomes. But the cumulative effects of smaller interventions also can produce surprisingly beneficial results.
The Need for Nature Patches
All park systems have what we might call "underperforming landscapes" — places where the plants are failing, invasive weeds have taken over or turfgrass has died, and muddy areas where shrubs have never thrived or shady sites where the turf is threadbare. Often driven by complaints by constituents, park agencies respond by upping the ante: applying additional maintenance resources, such as mowing, weeding and applying chemicals for fertilizing, and controlling pests and removing unwanted plants. Yet, things often do not improve. This is because the existing plants do not align with the site's environmental characteristics of soil, solar exposure and moisture. Often the failing plants are not native species and are not adapted to the climate and soils of the region. And when plants do not thrive, neither do the birds, insects and other creatures that create the park's ecology.
In Portland, Oregon, these situations led Portland Parks and Recreation to try a new idea on a smaller scale: to transform often ugly, underperforming landscapes into ecologically healthy, publicly accessible and aesthetically beautiful contributors to the city's park system.
The result was a new policy initiative: The Ecologically Sustainable Landscapes Initiative, or ESLI. Developed in 2015, the ESLI was developed to help the bureau identify these underperforming landscapes and develop prescriptions to make each landscape more ecologically functional. This policy initiative not only helps Portland Parks and Recreation build on its past sustainability practices, but also continues to innovate, experiment and engage the public in new ways to accomplish three primary objectives:
Refine best management practices to increase soil and plant health while minimizing inputs, such as water, fertilizers, herbicides, machinery and labor.
Create diverse park landscapes by converting poorly performing areas to "nature patches."
Plan, design and manage park landscapes through collaboration among staff and community members.
The new ESLI policy reinforced broader public policy imperatives, such as Portland's Climate Action Plan, Portland Watershed Management Plan and Oregon Climate and Health Resilience Plan. According to Portland Parks and Recreation Director Adena Long, "We created the Ecologically Sustainable Landscapes Initiative program as an efficient way to quickly bring more nature to more neighborhoods."
Though easily dismissed as bureaucratic policy, what no one knew at the time was exactly how popular ESLI efforts would be with the public once they went from policy to project
An Interactive Design Process
Educated in landscape architecture, Program Coordinator Eric Rosewall has built a career on transforming sterile urban landscapes into verdant habitats. The former executive director of the nonprofit organization Depave, Rosewall oversaw more than 60 urban greening projects that replaced unnecessary pavement with beautiful landscapes. Today, Rosewall oversees the creation of "nature patches" for Portland Parks and Recreation. "Nature patches improve underutilized, challenging or worn-down park landscapes by converting them to inviting public spaces, which require less maintenance," says Rosewall. "They transform spaces that had been ignored into ones that are appealing and beneficial to people, wildlife and nature."
The process is straightforward but highly interactive. First, a site in an existing park is identified as a good candidate for transformation. Then, bureau staff, such as park technicians, horticulturists, recreation planners and landscape architects, gather to discuss the physical site characteristics, the current use patterns of park visitors, the problems with existing vegetation and the likely successful mix of species that could be applied at the site. This interdisciplinary approach has been one of the unforeseen benefits of the program. "The process of designing and building nature patches has been kept in-house, with our staff leading the way. That's proven to be a great tool for building teamwork with a shared vision and great camaraderie," says Rosewall.
Next, a plan is developed. "When we are in the design phase," says Rosewall, "our team is often comparing the project to the previous ones — pulling the best elements and features from each patch to create the next one." Often the design includes not just native plants, but also other features that will enhance the park-user experience, such as trails, seating opportunities and interpretive signs explaining the project. Undesirable trees are identified for removal, and others are marked for pruning to allow adequate light for the new plantings. Low-key, split-rail fencing often is used to help people (and dogs) stay out of areas that are being revegetated.
Community Construction
Next, plants are ordered, and the construction effort is choreographed. Again, Portland Parks and Recreation staff lead the way, receiving assistance from neighborhood volunteers. "Many parkies from different divisions across Portland Parks and Recreation get to play a part in creating something really cool from scratch," says Rosewall. "Turning a degraded area into a lovely space for community is something we all take a lot of pride in." This results in a huge morale boost and sense of teamwork for staff and volunteers alike.
The work is carefully staged over a two to three-month construction period. Heavy equipment operators, arborists, horticulturists, park technicians, irrigation technicians and many other park staff team up with volunteering neighbors to implement the plan. Before each work effort, safety precautions are reviewed, and appropriate personal protective equipment is distributed to the volunteers who don't bring their own. Then, the work begins.
Arborists are assembled to do the pruning and tree removals necessary. Grading is next: compacted soils are ripped and boulders stockpiled for reuse. The soil is worked to incorporate organic compost to help the plants grow. The ground is leveled and graded to meet the plan. Compacted crushed rock or bark dust pathways are then laid out and constructed. Fencing is installed and boulders and "nurse logs" are placed.
Then comes the activity many love the most — planting the new plants. Rosewall schedules a "Parkie Planting Day" that brings out field and office staff to place new large shrubs and trees in their places. Utilizing native species, plants are first laid out on the site and adjusted, and then holes are dug and vegetation is planted.
Once that task is completed, the neighborhood and other community members can then take part. These individuals get so excited to plant the many small native plants that make this patch a real garden.
Following this eight- to 12-week construction process, the transformation is complete. The crew of staff and volunteers apply bark mulch in the planting areas and stand back and appreciate their work. Unfortunately, landscape projects often look their weakest at installation — they need time to grow and fill in. According to Portland Parks and Recreation Horticulturist Johnny Fain, "Nature patches are an exercise in patience. In the landscape industry, great importance is placed on an installation or a project being 'finished' or looking 'done.' With nature patches, the process has a longer timeline. Once the plants are in the ground, we have to let time and natural processes take over."
Public Support
Many people and critters love the transformed landscapes immediately. Wildlife arrives to investigate, forage and pollinate. Many park neighbors inquire about what is happening in "their park." When the project is explained, staff consistently get comments, such as "Thanks so much for your work on this area. It has added so much to the park!" Park-goers often ask how they can volunteer on the next project. As the program continues (15 projects have been completed as of fall 2020), Portland Parks and Recreation hears increasingly from neighbors requesting a nature patch project in their local parks.
The ESLI and Nature Patch programs have now moved from a "pilot project" of Portland Parks and Recreation to an ongoing program. Projects are funded through annual capital funding from System Development Charge revenue. The program budget is currently about $350,000 each year, which is sufficient to implement two large and several smaller nature patch projects a year.
The Portland effort is one that easily can be replicated in park systems around the country. When we look around at our own parks, we see that the need for transformations is great, the advantages of increasing nature are many, the costs can be relatively low, and the process of transformation can unite staff and the communities we serve, as well as improve the ecological function of the park. Try installing a patch of nature today!
Mike Abbaté, FASLA, is a Landscape Architect, Park Designer, former Director of Portland Parks and Recreation, NRPA Board Member and a member of the Parks & Recreation Editorial Advisory Board.