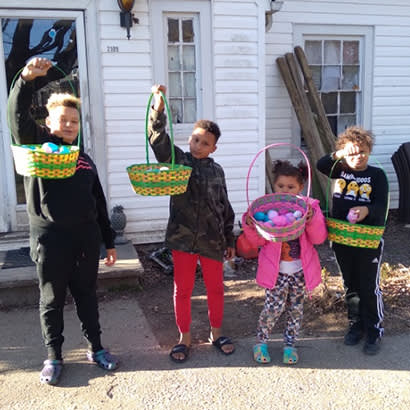 For an enhanced digital experience, read this story in the ezine.
Mount Airy (North Carolina) Parks and Recreation is excited to be one of five NRPA Youth Mentorship Program grantees. The coronavirus (COVID-19) pandemic has created unique programming challenges and opportunities for our mentorship program. In January 2021, after months of not being able to offer most programs, the Mount Airy Parks and Recreation motto became "How can we offer this program and offer it safely?" Following the lead of other NRPA Youth Mentorship grantees, Youth Mentorship Coordinator Jaimi Scott and Family Services Supervisor Kim Wilson took on the task of creating and implementing virtual group mentoring activities. Before each activity, a Zoom meeting was created and kits with any supplies that were needed were delivered to the homes of participants. The first virtual activity consisted of making pony bead bracelets. Scott and Wilson had mentors, mentees, siblings, parents and even one grandmother laughing, engaging and making bracelets. Since this inaugural virtual activity, program staff have led an activity every two weeks. These virtual activities have included facemask decorating, a Valentine's Day craft and game night, as well as a virtual fort night where everyone created forts out of blankets and mats. This past February, mentees celebrated Black History Month by coming up with 10 facts about a famous historical or influential Black leader and presenting their findings during a Zoom meeting. Although they were nervous, they did an amazing job honoring their assigned person. A similar virtual event was held for Women's History Month, whereby each mentee got to pick an influential female in history or one who had personally impacted their life.
As COVID-19 restrictions are being eased by North Carolina Governor Roy Cooper, face-to-face mentoring is now occurring along with virtual activities. Schools have allowed mentors back in person to have lunch with their mentees, and matches have been able to meet at the local community center for physically distanced activities, such as tie dying shirts, playing pingpong or basketball, taking swim lessons and homework tutoring in our computer lab.
The agency's most successful group mentoring activity has been "egging" the yards of our mentees and their siblings for Easter. Program staff and mentors, when possible, went to the home of each mentee and hid Easter eggs for all the children in the household. Easter baskets were then placed on the porch for the children to hunt eggs with. More than 1,000 eggs were hidden in mentees' yards during the week preceding Easter. Each individual egg contained candy and an anti-drug or anti-bullying slogan. More than 30 different slogans were used, including: "Be all you can be, go drug free" and "Stop bullying now, take a stand, lend a hand."
The staff are excited for the future of the youth mentorship program and will continue to program it meaningfully and creatively. On behalf of the children served in this program, Mount Airy Parks and Recreation thanks NRPA for this grant opportunity and the difference that it has made in the community.
Cathy Cloukey, Assistant Director for Mount Airy Parks and Recreation