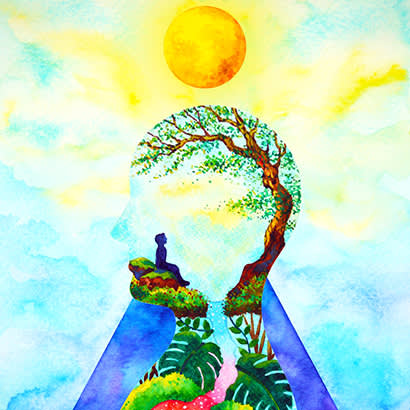 For an enhanced digital experience, read this story in the ezine.
NRPA Board Member Philip Wu, M.D., speaks one-on-one with this seasoned health and wellness expert
During the 2020 NRPA Annual Conference: A Virtual Experience this past October, Dr. Philip Wu, a retired pediatrician from Kaiser Permanente and a current NRPA Board member, moderated the general session, "Mental Health: From My Community to Me." This virtual session featured an engaging presentation by Tyler Norris, MDiv, chief executive of Well Being Trust, a national foundation focused on the advancement of mental, social and spiritual health. Norris offered his insights on a range of health topics, including the importance of park and recreation professionals sustaining their personal mental health during the coronavirus (COVID-19) pandemic.
This session was among the most well-attended events throughout the three-day conference and received a plethora of positive feedback from those in attendance. In fact, nearly a month after the conference, Parks & Recreation magazine invited Dr. Wu and Norris to continue this important health and wellness and equity conversation. The following are highlights from their one-on-one discussion, which took place not long after the 2020 election, about a month before the Food and Drug Administration had authorized the first COVID-19 vaccine and two months prior to the presidential inauguration.
Dr. Philip Wu: Tyler, at the very beginning of your presentation in October, it was remarkable how you were able to set this framework of the environment in which we currently are living — such as public health, economics, social justice, climate change — and then you did a poignant job of describing depths of despair. The other thing was the optimistic tone that came through when you talked about all of this. What is out there that actually gives you that sense of hope and supports the idea that we should be hopeful?
Tyler Norris: I think there's so much in the question that's very relevant to the topic of parks and recreation, open space and nature…but it's a much broader question for our country. It's as if we have to hold two concurrent experiences. One is that these layered crises — COVID, the economic and social fallout, climate change, this moment of racial reckoning, this sense of our political polarization — are both deeply vexing fundamental issues and are really generating a tremendous amount of suffering. We've seen that because we all are experiencing it ourselves. We're experiencing it from our loved ones, friends and family, and the data is showing that these higher rates of anxiety and depression are causing some people to fall back into their addictive patterns. And, we're all not at our best. And, I think that the milieu around this is so much a full-court press…that it's easy to fall victim to the experience of "the sky is falling." It's just anxiety producing. And at the same time, there's this innovative, pragmatic, thoughtful work happening on the ground by local leaders doing what they do in their various walks of life as part of a large health delivery system. Providence [Health], which spans from Anchorage to Los Angeles to Philadelphia, is providing care and increasing access to care at a very difficult time — both for COVID patients and caregivers responding in this time to their own challenges and doing the good work on care delivery.
We also see that work in local economic development, housing and food system strategies. And, we certainly have seen it in the way that city government, mayors, and park and recreation agencies have opened streets for walking and physical activity that have helped people understand…physical distancing while having social connection. And below the radar is a nation of Americans of all walks of life doing good work. We both respond to these layered crises and build a pathway to a more resilient future. And it's not making the news. For those of us who are fortunate to see the examples of what's happening on the ground in communities across America, it is racial healing. It is the redevelopment of our economy. It is thinking about engaging young people in the workforce of the future, and it is getting people in nature to find a place of repose and reconnection, and remembering who we are in our bodies while in nature. Every place I see, people are rising to the occasion and I am buoyed by that.
Dr. Wu: This on-the-ground work also supports the idea that at least through human history, out of adversity has always come opportunity. And, we've always seen through history the human spirit being very resilient and flexible, and essentially, as you say, "rising to the occasion." And, maybe, it's just that right now we fail to be able to identify and focus on what's happening at the micro level. So, I can see where there's good reason to be hopeful; you just have to recognize it.
Norris: Right. One small piece that I mentioned in the keynote talk is that together with the Centers for Disease Control and Prevention (CDC) and the CDC Foundation, Well Being Trust crowdsourced more than 100 organizations and communities for a document, called "Thriving Together," that is a springboard for equitable recovery and resilience in communities across America. In that document are more than 100 multisolver solutions, such as economic renewal, civic renewal and the renewal of our own mental, emotional and social well-being. In addition, there are examples of what is happening on the ground in America's communities and how these solutions can be scaled and spread. To me, it is just a cornucopia of great things that are happening that can be built on for the future. This is Americans of all walks of life — regardless of their political point of view or who they might have voted for — coming together to do real things on the ground that transcend politics. That gives me hope.
Dr. Wu: That gives me tremendous hope, especially right now. I think focusing on centering justice and equity is so important, and every organization across the country is starting to dive deeply into this arena. From your perspective, especially around how we support mental health and how we promote well-being, what does centering justice and equity actually look like?
Norris: It means de-centering whiteness. And as a white person who's privileged in every way as a male, educated individual, I believe that the centering of whiteness as the norm for how to do work is not something to be blamed; it just needs to move. We could go back and discuss all the problems with it and that's fair enough, but we need to de-center that point of view. And having invested most of my adult life trying to improve community health and well-being and talking about racial disparities and social justice along the way, we have failed as a nation to move the needle. Whether we're talking about infant mortality, child well-being, education outcomes, the living wage, and wealth building in Black, brown and immigrant communities — for the most part, there's a truth telling here. Not that there hasn't been good effort, but…what we have done has produced the results we have. We cannot truly move the needle until we create a nation where Black and brown people — those who are often excluded or othered in our society — are seen as part of our diverse nation; until we acknowledge that half of the children born today are Black and brown and that their well-being is the well-being of the country; and until we center a BIPOC [Black, Indigenous, people of color] agenda. Until then, we're just going to tinker at the edges.
I was very moved early on by the work of Angela Glover Blackwell, [founder and CEO] of PolicyLink, and the idea of a curb cut. This goes right to the heart of design for walking, biking, strolling, etc. When you do curb cuts that allow wheelchairs to go off the curb and cross the street in an easy way, that also allows someone with a walker to be able to do that; it allows someone with a baby stroller to be able to use that; it allows someone who doesn't see well to have a nice step down to be able to have routine walking across there. We did that for the ADA [Americans with Disabilities Act]. When you take the most vulnerable person and you accommodate that person, we all win. When we center Black, brown and Indigenous populations, we all win. White people who struggle will do better when we have an equity agenda. This isn't about Black and brown people alone, it's for all Americans. All Americans will do better when we have a BIPOC-centered strategy. And to me, that's not only a moral issue, but it's also a pragmatic issue. It's an economic issue for the future of our country.
Dr. Wu: How does this translate into the work that park and recreation professionals do to bring this all down to a pragmatic level in the park and recreation domain? What would this awakening look like?
Norris: I think that many of our leaders working in our parks and active areas have been on the front line of asking this question in city government. And, I want to acknowledge the leadership of many professionals in parks, recreation and open space across the different types of land uses that have been involved in the conversation. Particularly during COVID, we've seen a lot of innovations. Referring back to the curb-cut scenario, the first place to begin is: We've created a resource, how does the most vulnerable access this? Vulnerable may not be the right word here. We might want to look through more of a disability lens or age lens. I love the language of the 8 80 movement and Gil Penalosa, [founder of 8 80 Cities], from Canada. Does the resource work for an 8-year-old and an 80-year-old? Because if it works for the 8-year-old and 80-year-old, it's going to work for most of us that are in between. How do we ensure that we are creating environments in these places of play, recreation, renewal and family gathering, in which all people feel welcome?
Dr. Wu: In your presentation, you had two maps that demonstrated the disparity where open space was located. It probably wasn't anyone's specific intent, but it happened on the systemic level. How does that get changed? What must we do about systemic decisions that result in these kinds of disparities, which then lead to differences in access, especially for the communities that are at risk?
Norris: I'll use the food system as an example, because it's sort of a sister issue. We've been working to create a full-service grocery store in West Oakland, California, an area that has been a food desert combined with a food swamp of outlets with cheap food full of empty calories, high sugars, fats, oils, etc.
The conversation at one point was: Do we really need a full-service grocery store, because there's an occasional farmers market that's not that far from the other? To me, that question was so revealing. In my neighborhood, I am 10 minutes from a farmers market and five minutes from a full-
service grocery store. I have access to a cornucopia of food options to be able to access healthy, fresh foods. And when we get into a conversation with the city of West Oakland asking, "Oh, should we do a full-service grocery store or farmers markets?" it's as if one or two of those options are okay. You need routine accommodation and access to all modes of fresh, healthy, affordable foods.
The same thing is true when we talk about access to nature, parks or places of recreation. A pocket park, a green zone, a set of trees are important, but we need the build out. If we have areas that do not have tree cover, where we know that people [are not] within five to 10 minutes of a safe place to play, then that needs to be built out.
For park and recreation leaders, city planning officials, mayors, city councils and county commissioners, we need to make sure that the mindset of what a fully built-out routine accommodation for play in nature looks like — not just one-offs. And, we need to disproportionately invest in communities of color to ensure that those environments are fully accessible.
Dr. Wu: I think it's fantastic that Providence is invested in the mental health arena through an entity like Well Being Trust. How can park and recreation professionals build similar, but different, relationships with the other healthcare entities that maybe are not quite as visionary?
Norris: I think as the healthcare sector, we can do better in actually making ourselves available to parks and recreation and nature leaders to more effectively partner. We can open that door a bit more. I want to acknowledge the work of a lot of organizations, including NRPA, the Children and Nature Network and so many others, in really helping to build that conversation. I would encourage park and recreation professionals to reach out and help get a healthcare person out of their building for 45 minutes to go walk around the park while physical distancing and have a conversation about how we could partner. I would start with caregivers. Right now, I will tell you, as part of a health system, I'm out there looking at the mental health of the country. But every day, I have internal calls with my Providence colleagues about how we are taking care of the well-being of our own employees. We'll start with the healthcare employees having better access — and their families having better access — to nature.
Dr. Wu: And, park professionals could step into that role, and really just say, "We are here, let us help, let us be of service to these front-line caregivers."
Norris: Yes, and they can focus on the first responders, EMT [Emergency Medical Technician] professionals and health professionals on the front lines, as well as those people in our federally qualified health centers and care settings. Let's just start with them and then with their families. And, we could have that conversation, not just on a Zoom call, but also on a masked, physical distanced walk where we actually can think about it and model the benefit right there because we know what happens during a physical distanced walk — we all feel better at the end of it.
Vitisia Paynich is NRPA's Executive Editor, print and online content.