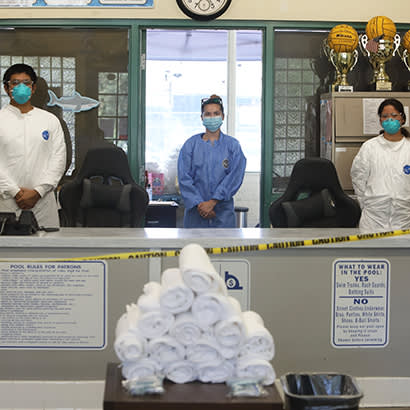 For an enhanced digital experience, read this story in the ezine.
The events of the past year have taken a toll on many people's mental health, bringing discussions about mental wellness to the forefront in a world where the personal and professional are becoming increasingly mixed. Together, we experienced numerous challenges, including a global pandemic, a national racial reckoning, record-setting natural disasters, and increased political division and unrest, to name a few. The coronavirus (COVID-19) pandemic, in particular, has exacerbated other pre-existing challenges in communities, such as homelessness, the opioid epidemic and more.
As the first line of contact for community members, park and recreation professionals have played an essential role in response to each of these circumstances while simultaneously living and experiencing the effects of these events themselves. As a result, many in the profession have expressed a common feeling — empathy fatigue.
Empathy fatigue "results from a state of psychological, emotional, mental, physical, spiritual and occupational exhaustion that occurs as the [individuals'] own wounds are continually revisited by their clients' life stories…" according to Counseling Today. This can reveal itself in many ways — as feelings of guilt, sadness, apathy, exhaustion and anxiety, or as physical symptoms, such as loss of sleep, difficulty concentrating, isolation, fatigue or headaches. While empathy fatigue is most commonly thought to occur among counselors, first responders and mental health professionals, those in other fields — such as parks and recreation — have become increasingly prone to its effects as they are asked to take on greater roles in response to our communities' myriad challenges.
As with any mental health matter, there is no one single cure for empathy fatigue — rather, it takes a commitment by individuals to engage in regular self-care and to seek help from outside resources. However, park and recreation agencies can take steps to support their staff's mental health, as they are on the front lines every day serving the needs of communities during COVID-19.
Parks and Recreation Responds to a Pandemic
In West Allis, Wisconsin, Recreation and Community Services staff serving on the West Allis Mental Health and Substance Abuse Task Force recognized growing mental health concerns within the community. "We started to see that a lot of the challenges that were there before were really amplified by COVID-19," contends Shelly Strasser, director of recreation and community services for the West Allis-West Milwaukee School District.
In response, staff members are partnering with a heroin/opiate community task force to provide character education in their after-school programs. In addition, park and recreation professionals take part in a trauma-informed care task force that also consists of school psychologists and student services staff. Strasser says, "We had a great partnership with them pre-COVID-19, but it really strengthened when they saw all that we were doing for the students that were here in person with us [during COVID-19]," including providing programming for children experiencing homelessness or from families struggling with mental health or substance use.
In Jersey City, New Jersey, when parks reopened during the pandemic on April 27, 2020, Recreation and Youth Development staff were stationed at every park to hand out masks and sanitizer to patrons. "We also had employees covering the phone bank to schedule COVID-19 testing early on and at testing sites, and helping out with Meals on Wheels," says Lucinda McLaughlin, director of the Jersey City Department of Recreation and Youth Development.
Similar to West Allis, Jersey City Recreation and Youth Development staff noticed that challenges that existed prior to COVID-19 were being exacerbated by the pandemic. "We have youth in our community who are facing trauma all the time; and being prepared to deal with that is a responsibility for everyone here who works with youth…. [This occurred] before COVID-19, and will be there after COVID-19, and then COVID-19 is a whole separate layer that has been added on," says McLaughlin.
For this reason, staff are trained to recognize warning signs of mental health issues. "There was also a required training about suicide signs and awareness — when it's time to alert somebody else or when it's time to refer someone somewhere," says McLaughlin.
In Los Angeles, the Department of Recreation and Parks is the sheltering and welfare arm for the city, "so there were expectations, right from the get-go, that we were going to be there for what was needed," says Mike Shull, general manager of City of Los Angeles Department of Recreation and Parks.
The department opened and operated 24 homeless shelters within its recreation centers, as well as an additional 500 camping trailers used as housing for people experiencing homelessness. "Almost 100 percent of our staff was working on emergency response. We had staff on-site at those shelters 24 hours a day," says Shull.
Department staff also opened 60 alternative learning centers — 50 of which were free — for families that needed a place to bring their children during the day while schools were operating virtually. "[During] the first week, they filled to capacity," says Shull.
Partnering to Provide Mental Health Training
In West Allis, as Recreation and Community Services staff were taking on increasingly demanding roles, the department began partnering with the school district's lead psychologist to provide mental health training for staff. "The first session she did was just general mindfulness and talked about ways to reduce anxiety and how a lot of what [staff] were feeling was normal," says Strasser. "Then it gained popularity and people wanted more, so then she started doing targeted meetings." Other topics included the importance of sleep, proper eating, and breathing techniques for combating stress and anxiety.
Strasser also says that some staff have received mental health training to assist with youth and older adult programs, and that the training is two-fold, in that the staff also can apply the lessons to themselves. "We had one of our school psychologists come in and do mindfulness training with our preschool teachers [that] provided them with tools to use in the classroom," says Strasser. "They're focused on the kids, but, at the same time, we're also focusing on them and giving them those tools and strategies to use [on themselves]."
Similarly, the Recreation and Youth Development Department in Jersey City partnered with the New Jersey Department of Human Services Division of Mental Health and Addiction Services to provide mandatory, paid, mental health trainings on such topics as coping with COVID-19 stress. McLaughlin says they will continue to require similar trainings even as COVID-19 stress begins to dissipate. "We are working with the health department here to identify appropriate staff and create the opportunity for what's called mental health first aid," she says.
In Los Angeles, mental health sessions for Recreation and Parks staff were provided via Zoom through the county Department of Public Health. "They talked through…how you may be feeling, or if you're feeling these things, what [they] recommend," says Shull. "And, if you need more assistance, how to get it. We talked about our employee assistance program, which is free to all the employees, and just reminded them of the resources that are out there."
Communication Is Key
April Chambers, president of the Florida National Alliance on Mental Illness (NAMI), says that keeping an open line of communication is key to ensuring that park and recreation staff are receiving the mental health support they need. "It really comes down to checking in regularly and letting people talk about things that aren't related to work," she says. "Another thing is to freely say, 'what are you feeling?' and to listen, not provide solutions."
Shull discovered early on that this tactic was critical in connecting to his staff, especially during times of such uncertainty. "Things would change daily — I mean, you'd shift gears from one thing to the other…[and that's] hard on people. You come to work and you want to know what your expectations are, and when you don't know, it's not good for your mental health," he says. "So I did a few sessions online and said anybody could come [to] these phone calls and ask me questions. Information was really powerful for staff to have." Shull also says it has been especially important for staff to have access to upper management to have their questions answered directly.
At the West Allis-West Milwaukee Recreation and Community Services Department, leadership used existing communication channels to share information by incorporating a mental health and wellness section into the monthly staff newsletter. "A lot of what we do works around serving others, so [this] was more of an introspective look at yourself, and [an acknowledgement] that you're not immune to those traumas and different things within life, and…in order to bring out our best selves, we have to care for ourselves," says Strasser.
Recognition Makes a Difference
Park and recreation leadership at agencies across the country also found that recognizing their staff was important in strengthening their sense of purpose at work, which in turn benefitted their overall mental health. "We celebrated [NRPA's Park and Recreation Professionals Day] here…and we acknowledged parks and recreation professionals," says McLaughlin. "I think in this profession, people aren't told that [they're professionals] often enough, and they should be…. I think it goes a long way to make sure that people understand that what they're doing is really important to everybody around them."
In addition, McLaughlin purchased sweatshirts for her staff, many of whom were spending long days outside. She says, "It seems simple, but…I think it's empowering as a workforce out in the community to have a uniform. It's small potatoes, but it's really not in the big picture."
Shull agrees that recognizing the important work of his staff has helped keep spirits up across the department. "I tried to visit sites and just get out and say thank you. A lot of it was just making sure that they know we know how important the work is that they're doing, and how difficult it is and how grateful we are for it," he says. "That stuff goes a long way."
In West Allis, recognition came in the form of job security and workload support that reassured staff that they were an essential part of the team. "We as a department made a commitment that if there were any closures or people had to be quarantined…they would continue to get paid, and I think that has really helped alleviate a lot of stress for a lot of staff," says Strasser. "Part of that, too, is that we wanted to encourage people, 'If you're not feeling good, you need to stay home.' And I think for a lot of our staff, work is their social connection, their family. When you're away from that, I do think there is some validity to the fear of missing out or [feeling] like they've let the team down. So, I think by providing some of that support, [we] helped alleviate some of those stressors."
Ensuring Equity in Outreach
According to Chambers, one positive outcome of the pandemic is that the transition to a more virtual world has made mental health services more accessible. "Telemedicine shot off like a rocket," she says. "We always thought, 'When you have mental health issues…getting help has to be in person.'" Now, Chambers says, mental health providers have quickly transitioned to providing services virtually. "Telepsychiatry and teletherapy are making a tremendous difference. They allow individuals to get treatment for the first time or continue treatment plans they've had for years."
Chambers also explains that virtual mental health services have given some individuals, who may not have previously reached out due to privacy concerns or fear of stigma, the confidence to seek help. For example, with NAMI, "If you had individuals who were hesitant to be seen, they now could join a class in a location other than where they live," she says. "It broke down the barrier."
To this end, park and recreation agencies can consider beginning or continuing virtual mental health offerings to make these benefits accessible and appealing to their staff.
Alternatively, park and recreation leadership can actively cultivate an environment where employees are free to speak up about any issues they are experiencing without fear of negative consequences or retribution. This is the approach Shull has taken with his staff during the past year. "I started holding small working groups with individuals in the field and allowing the field people to organize them," he says. These working groups have addressed topics like racial equity within the community and throughout the department, in addition to the challenges of COVID-19 and the compounding effects these challenges have had on staff morale. "I've learned a ton," says Shull. "It's really important that as managers, we're talking at all levels, to all employees…. It's been good for me to create those relationships, because people need to have some freedom to be able to communicate and feel like they're going to be heard."
Supporting Staff Supporting Communities
The individuals highlighted above share a resounding message about how park and recreation professionals have adapted to the challenges of the past year: they take great pride in their work, they have immense care for their communities, and they are willing to tackle any challenge that comes their way.
"It's sort of the mantra of people in our profession: 'What is it you need us to do, and we'll do it and we'll do it together,'" says Strasser.
"I hope the biggest takeaway is that professionals in the recreation realm…are doing it because they love their community," says McLaughlin. "I call [my staff] five-tool players [because] they can pivot, and they don't panic in situations. They look at what it is and say, 'Okay, what do we need to do?' That level-headedness is probably something that many professionals in this area share, but we don't give credit to. But, it's absolutely what carried our department forward."
Shull expresses a similar sentiment: "I keep saying to everybody that I think recreation and parks professionals are so adept and so able to turn a switch and say, 'Okay, this is my role.' They're used to working with people, and it was just amazing to see the pride and the stories that came out of the staff…. [This] gave them the worth and [reminded them] why we're here to do this."
While park and recreation professionals remain dedicated to serving their communities through challenging times, they also are not immune to the stress and anxiety brought on by these circumstances. These individuals provide essential community services. In return, we can ensure that they are afforded the mental health support they need to experience the same quality of life they work every day to make possible for their community members.
To hear Strasser and Shull talk more about their agency's COVID-19 response and how they are supporting staff and community mental health during the pandemic, tune in to the June bonus episode of Open Space Radio at nrpa.org/June2021BonusEpisode.
Lindsay Hogeboom is Associate Editor of Parks & Recreation magazine.