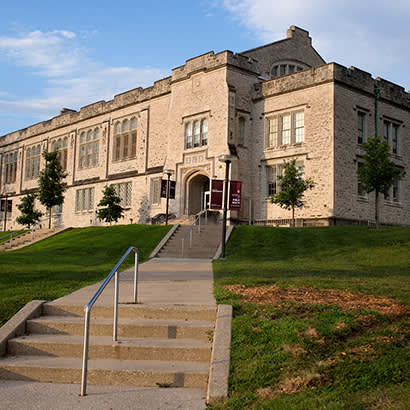 For an enhanced digital experience, read this story in the ezine.
Park and recreation agencies, as essential parts of their communities, are uniquely positioned to address health equity issues — especially those that include access to nutritious food and opportunities to be physically active. Equity issues can be tackled most effectively through quality partnerships that allow agencies to diversify offerings to reach underserved areas. Regardless of a community's size or resources, an agency that provides recreation services to the community can build powerful partnerships to accomplish health and wellness goals. The City of Bloomington Parks and Recreation Department did just that through its unique partnership with the Indiana University (IU) School of Public Health and its newly created Department of Health and Wellness Design.
Located in south-central Indiana, Bloomington is home to IU and its Department of Recreation, Park and Tourism Studies. "[The department] was founded in 1946 and has been a distinct academic department since its inception," says Dr. Sarah Young, professor and interim chair of the IU Department of Health and Wellness Design. "The department was faced not only with fitting into an accredited school of public health, but was also tasked with how to develop future scholars who could conduct research at the intersection of health, wellness and traditional recreation programming. The department underwent a critical self-study, identifying research and curricular connections between recreation, park, tourism and public health."
The faculty of the reimagined department is committed to studying various innovative approaches, methods and strategies to enable optimal health for all people with equity, dignity and impact.
The department will rely on academic programs within recreation, outdoor and tourism to set the stage for the concept of health and wellness design. As this change takes root and grows, it will expand to encompass additional areas of study into its conceptual framework. We envision graduates from the department will go on to work in applying a health and wellness lens to management in diverse sites, such as tourism and hospitality venues, parks and protected areas, community recreation facilities, government public health agencies, nonprofit organizations, universities, private industries, hospital and healthcare systems, and research centers. Central to their work will be the knowledge, skills and abilities to create a positive impact on health through systems. As health needs and challenges evolve, the power of designing and promoting healthy experiences to enhance human well-being has never been more relevant as in the 21st century.
Although earlier partnerships were more informal handshake agreements among park and recreation staff and IU, the partnership has been annually formalized, reviewed and approved by the Bloomington Parks and Recreation Board of Park Commissioners since 2008.
While the details of the collaboration have evolved over time, the guiding principles remain the same:
Bloomington Parks and Recreation provides staff as guest speakers, adjunct faculty, members of boards and committees, and as student mentors.
IU Department of Health and Wellness Design students have opportunities for internships, service learning, field experience and seasonal employment with Bloomington Parks and Recreation.
Bloomington Parks and Recreation and the IU School of Public Health collaborate on the development of organizational plans and research efforts.
IU Department of Health and Wellness Design offers reduced tuition for two Bloomington Parks and Recreation staff members for the annual Indiana University Executive Development Program for Parks and Recreation Professionals.
By sharing professional experience and research information, the IU School of Public Health can observe and study applications in the field and provide Bloomington Parks and Recreation with evolving methodologies to shape how the agency can provide programs that positively impact the health and wellness of residents. This mutually beneficial partnership is a blueprint for how park and recreation agencies and academic institutions can learn from community resources to accomplish strategic goals. Paula McDevitt, director of the Bloomington Parks and Recreation Department, says, "Sharing experiences from the field with researchers provides IU faculty with valuable knowledge, and [offering] opportunities for students to gain experience outside the classroom completes their educational experience and [prepares] them for their future careers."
In 2020, Bloomington Parks and Recreation was awarded funding through the NRPA Parks as Community Nutrition Hubs grant. The grant leverages the fieldwork of parks and recreation to help expand access to healthy foods and nutrition education. As a result, the partnership with the IU School of Public Health has evolved to include the Department of Applied Health Science, which focuses on promoting wellness in families, organizations and society through research, health education, policymaking and therapeutic intervention.
Bloomington Parks and Recreation recognized the importance of conducting a community health needs assessment to identify geographic and socioeconomic areas where access to healthy, nutritious food is most at risk. This relied on IU School of Public Health expertise. "Community-academic partnerships are essential in creating participatory approaches to ensure that the [voices] of local residents are heard and represented in the development and sustainability of health programming and policies," says Associate Professor Dr. Priscilla Barnes.
From health departments to hospitals, experts in every community can provide insight into the roles a local park and recreation agency can play in improving the health and well-being of its residents.
The success of any partnership relies on the ability to build quality, lasting relationships — not just between staff and residents, but also among all community stakeholders. Agencies often create short-term or program-specific agreements, but strategic partnerships for broader agency development are just as important.
In the ever-changing field of health and wellness, park and recreation agencies must creatively use every tool available to do what parks and recreation does best: improve the quality of life for all residents.
Erik Pearson is Program/Facility Coordinator for City of Bloomington (Indiana) Parks and Recreation.