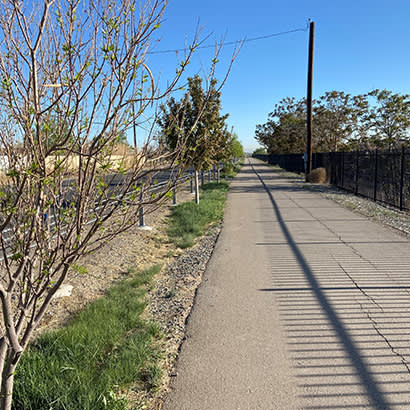 For an enhanced digital experience, read this story in the ezine.
In 2018, Bernalillo County, New Mexico, which includes Albuquerque, was awarded one of 10 NRPA Great Urban Parks Campaign (GUPC) grants. The grant-funded project, Second Street Landscaping Project (Second Street Trail), enabled vegetation and green stormwater infrastructure (GSI) to be installed along this pre-existing trail. The trail is located in the Mountain View community, which is an environmentally over-burdened and economically distressed neighborhood with mixed-use zoning.
The mixed zoning within this community results in residents living adjacent to industrial areas, such as bulk-fuel terminals; Environmental Protection Agency-regulated sites; Atchison, Topeka and Santa Fe Railway Superfund site; auto recyclers; former agricultural facilities; current and former dairies; as well as the Southside Water Reclamation Plant. The Rio Grande, bordering this community to the west, is a major river flowing through the city, and is impaired for Escherichia coli (E. coli), with an established total maximum daily load for E. coli.
The geographic setting of the south valley amplifies heat and results in thermal inversion, trapping air pollutants into low-lying areas. Studies indicate that cities in arid climates are more vulnerable to heat island effects due to lack of permeable surfaces and limitations in water.
A Link to Nature
The Mountain View neighborhood is a predominantly Hispanic and Spanish-speaking community, and the poorest census tract in Bernalillo County, according to a 2016 American Community Survey. Joy Junction, a family homeless shelter located in the neighborhood that houses 300 men, women and children experiencing homelessness, is located south of the Albuquerque Southside Water Reclamation Plant.
The Second Street Trail was installed to connect the Mountain View community, as well as the larger Albuquerque community, to the U.S. Fish and Wildlife Service Valle de Oro Urban Wildlife Refuge. Located seven miles south of downtown Albuquerque, the Valle de Oro refuge is the first urban wildlife refuge in the southwest. Many community partners, including Bernalillo County, recognized the value of having a wildlife refuge in our urban area and advocated, partnered, funded and supported its establishment.
To connect the Mountain View community to the Valle de Oro refuge, the Second Street Trail, located between Second Street and the Atchison, Topeka and Santa Fe Railway, was installed — but the trail was exposed and lacked any kind of cover or vegetation. Tree canopy in the project area is less than 2 percent. This made consistent use of the trail, especially in the warm summer months, unappealing to residents.
With support from NRPA in the form of the GUPC grant, Bernalillo County installed vegetation and other amenities, which provide green spaces and green stormwater infrastructure landscaping along the trail to mitigate existing air quality impacts, heat island effects, and contaminant and sediment transport into the Rio Grande — improving water quality and wildlife habitat. Although this neighborhood is adjacent to one of the largest green spaces in Albuquerque, the bosque (the riparian forest along the Rio Grande), just a few hundred feet from the river has heavy industrial uses mixed with residential areas and minimal tree canopy. This project connects the community to the Valle de Oro refuge and the bosque by making the trail more accessible by providing shade from native vegetation, as well as helping mitigate inequity in parks, trails and green spaces available to this underserved community.
The Mountain View community came together in its request for improvements for the neighborhood due to lack of sidewalks, trails and crossings, limiting safe access to schools and park facilities. Walking for pedestrians and children is hazardous along Second Street. Thanks to this project, a vegetative barrier has been created between the trail and Second Street, improving pedestrian safety for all trail users.
Economic and environmental justice issues disproportionately impact the Mountain View neighborhood. This project promotes green job opportunities through our partnership with the Rocky Mountain Youth Corps. Youth conservation crews will build and improve the Second Street corridor with vegetation and landscape maintenance, as well as conduct community education and outreach.
Overcoming the Challenges
Green stormwater infrastructure (GSI)/low impact development (LID) facilities require specific maintenance practices with which many maintenance staff and practitioners may not be familiar. This, among other reasons, such as perceived increased costs, have been identified as impediments in the use of GSI in our communities. This may be due to lack of training in the use of GSI/LID by project engineers and developers. This project has allowed the county to install a GSI facility and use it as an example of how and where to use and maintain GSI.
Maintaining GSI features is essential to ensure its continued intended function, so features remain attractive and are viewed positively by the public. NRPA has promoted and supported the National Green Infrastructure Certification Program (NGICP) (previously through the Water Environment Federation, but now housed under EnviroCert International) to enhance the knowledge of GSI for park professionals. This program can be used for workforce development, to train staff and contractors, and to provide professional development opportunities.
Although 2020 had its challenges, I was fortunate to apply for and receive a scholarship for the NGICP training program. This program improved my growing knowledge and understanding of GSI installation, functionality and maintenance. We needed this capacity within Bernalillo County as we push to include more GSI in public and private projects. As we incorporate more GSI features into our own projects, I am using this knowledge to ensure proper selection and installation, and to inform planning for GSI maintenance capacity as we work toward creating a more sustainable future in our watershed.
Kali Bronson is Stormwater Program Compliance Manager for Bernalillo County Natural Resource Services.