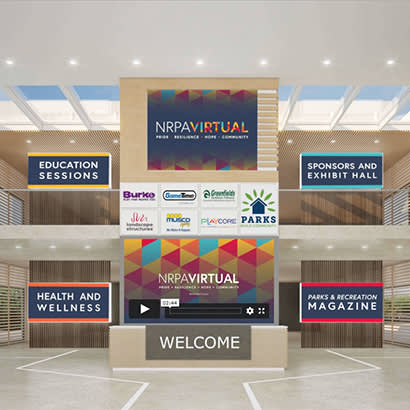 For an enhanced digital experience, read this story in the ezine.
Park and recreation professionals come together for an online event
On October 27–29, 2020, 3,000 attendees logged in from their desktops, laptops and other mobile devices for the 2020 NRPA Annual Conference: A Virtual Experience (NRPA Virtual). This first-ever event comprised three full days of general sessions, education programming, coffee talk discussions, special events — such as award ceremonies and a virtual 5K run, walk and roll — along with an exhibit hall featuring the latest products and service offerings from 80 exhibiting companies. Following are some of the many highlights of this year's much-anticipated NRPA event.
Opening General Session: Advancing Racial Equity
The first day of NRPA Virtual kicked off on Tuesday, October 27, with NRPA Board Chair Mike Kelly, general superintendent and CEO of Chicago (Illinois) Park District, welcoming conference attendees. Kelly spoke about how the coronavirus (COVID-19) pandemic has made park and recreation professionals' jobs monumentally more difficult, but also pointed out that it wasn't surprising that the profession has been ready to step up to the challenge. "Parks have always played a pivotal role through national crises and through times of war," he says. "Parks are truly essential for the health and well-being of society."
After delivering his remarks, our new chair introduced the next speaker, NRPA President and CEO Kristine Stratton, who echoed Kelly's sentiments. "In the face of all these challenges, we appear to make a difference," notes Stratton. "We are parks and recreation. You give me hope; you give our communities hope."
She then shared NRPA's three-year strategic plan (nrpa.org/About) before introducing the keynote speaker, Glenn Harris, president of Race Forward and publisher of Colorlines. Harris presented a thought-provoking opening general session, "Advancing Racial Equity." With an engaging conversational-like tone, Harris told the audience he wanted to begin a discussion about "the complexity of race and racism."
"Why are we having this conversation, and…what steps can we take to address the moment?" he asks. "We find ourselves at a deep inflection point as a country facing a trifecta of crisis: COVID-19, an economic collapse and the ongoing realities of police and vigilante violence and brutality against Black and Brown people."
Harris also spoke about how the COVID-19 pandemic revealed the racial disparities that exist in the United States, including the level of healthcare and the impact these inequities have had among Black people and other people of color in the United States. For example, 1 in 1,000 Black people have died from COVID-19. "If you are Black, Indigenous or Latinx, you are most likely to contract the virus," he notes.
The field of parks and recreation, according to Harris, has a role to play when it comes to advancing racial equity through transformative change. He explains that parks and recreation is centered around this radical idea that people in a place together results in something transformative. Are we only comfortable maintaining the status quo, or are we committed to taking necessary action? It's incumbent upon park and recreation professionals to take a hard, honest look at the communities and the people they serve and identify what actions can be taken to ensure equity for all. He adds that we must ask ourselves: "What is actually relevant in people's lives that gets them to participate? Everyone loves nature. Everyone loves recreation. If you don't see the people in your community [who] represent your community, you are failing in actually connecting to who they are and what their interests are…."
Although Harris acknowledged that much work must be done in advancing racial equity, he concluded his keynote presentation with great optimism about the future and about the impact that parks and recreation can have in creating transformative change for the betterment of our nation and of humanity.
Day Two General Session: Mental Health
On Wednesday, October 28, the second day of NRPA Virtual opened with a general session, titled "Mental Health: From My Community to Me." The session was moderated by Dr. Philip Wu, a retired pediatrician and current NRPA Board member, and featured panelists Tyler Norris, chief executive of Well Being Trust, and Laura Van Dernoot Lipsky, founder and director of The Trauma Stewardship Institute. Throughout the session, the panelists spoke on subjects such as the role parks and recreation plays in maintaining the health and well-being of individuals in their communities, as well as the importance of park and recreation professionals maintaining their own mental health.
During Norris' portion of the talk, he shared key insights. "Over the last two decades, rates of deaths of despair (meaning those from alcohol and suicide) have doubled every year, and they are slated to double again in the next decade," Norris says. When posed with the question about what is causing this increase, he responds, "it's about hopelessness and loneliness and isolation." Norris elaborated on how parks and recreation is an essential service in combatting the underlying causes of these deaths, citing a quote from one of his mentors: "Healthy communities are a garden to grow people in."
As Lipsky spoke to the audience about how we are being affected by the events of 2020, the live chat box filled with comments, indicating that the thoughts and feelings of emotional trauma and being overwhelmed she described were "hitting close to home." Lipsky went on to provide strategies for "finding a sustainable way through," including sharing the Trauma Stewardship Institute's Tiny Survival Guide (tinyurl.com/y35njb3o). One such strategy that park and recreation professionals are familiar with, Lipsky says, is going outside. "Throughout your day, if you can punctuate your day with making sure you are, if possible, outside as much as possible," she says, "it can be immensely helpful — even for a couple minutes here and there."
Day Three General Session: Upstream Solutions
On Thursday, October 29, general session keynote speaker Dan Heath shared a vision for "moving upstream" and addressing the root of a problem, instead of only reacting to it.
"We should be moving upstream, devoting more of our time, more of our resources to preventing problems before they happen," says Heath, co-author of the book, Made to Stick, and senior fellow at Duke University's Center for the Advancement of Social Entrepreneurship. He discussed the true value of parks and recreation, revealed by the upstream solutions those in the field provide for many problems.
"Parks and rec departments, they are the ultimate producer of positive externalities," Heath says. "Because of the work you do, you're preventing downstream problems, and I believe that you deserve to get more investment because you're producing positive benefits that are outside the narrow scope of your work."
Investing in parks and recreation helps reduce crime, improve health, create community connections and boost the economy. The community benefits generated by parks and recreation means that professionals in the field are "upstream heroes," the individuals who "keep the day from needing to be saved," he says.
Heath's presentation was followed by the panel discussion, "Parks and Recreation: Agents for Climate Resilience," with some of these upstream heroes. During this discussion, moderator Kristin Baja, programs director for Climate Resilience at the Urban Sustainability Directors Network, defined resilience hubs as the "spaces to enhance and support community cohesiveness and then strengthen those communities' ability to work together."
Panel speakers then discussed the role their spaces and organizations play in providing "upstream solutions" to climate change. Speakers were Norma García, director of the County of Los Angeles Department of Parks and Recreation and the Los Angeles County Regional Parks and Open Space District; Kelli Ondracek, natural resources manager for the Houston Parks and Recreation Department; Alyssa Cobb Konon, deputy commissioner for the Planning and Development Division of New York City Parks; and G uillermo (Gil) Penalosa, founder and chair of 8 80 Cities.
Education Sessions and Coffee Talks
Maintaining Mental and Physical Health
Health and wellness was a theme that was woven throughout the conference, from a coffee talk discussion with NRPA Director of Health Allison Colman and Los Angeles County Parks and Recreation Deputy Director Mercedes Santoro about parks and recreation's role in community healing in the wake of trauma, to the guided meditation and wellness breaks that were offered each day. One education session, titled "Why Parks and Recreation Are Key Factors in the Support of Mental Health Initiatives," featured speakers April Chambers, vice president of the National Alliance for Mental Illness, and Barbara Heller, manager and practice lead at Berry Dunn. In the session, Chambers and Heller discussed best practices for park and recreation professionals to consider when working in partnership or offering their own programs to improve the emotional health of individuals in their communities. In the live chat, Heller shared her own experience losing a brother as a result of serious mental health issues and stated that "he appreciated all the amenities his local park and recreation offered, and the exercise and being outside was so helpful to him."
During the session, "Let's Talk About Loneliness: Identifying and Addressing Loneliness in Our Communities," speaker Stacey Halvorsen, director of health education and community outreach at Westminster Medical Clinic, stated that many of the preconceived notions people have about how loneliness appears are false, and that "the more we can understand and dive deep to debunk some of these myths, the better we can actually address this problem in our community." Other sessions focused on the topic of health and wellness included "Supporting Older Adults Throughout COVID-19," "Simple Tools to Support Children's Mental and Physical Health," "A Comprehensive Response to the Substance Use Crisis" and more.
Talking Resilience
During NRPA Virtual, the discussion about conservation covered many topics, but they all can be tied to one resounding theme: resilience. Parks and recreation plays a vital role in ensuring the resilience of all communities around the world.
"Parks are key to enhancing community resiliency, improving the local quality of life, providing access to recreation and supporting public health," says Jai Cole, chief of the Park Planning and Stewardship Division of Montgomery (Maryland) Parks. Cole joined Chris Matthews, division director for Mecklenburg County (North Carolina) Parks and Recreation, as a speaker during the session, "There's an Octopus in the Parking Garage?!: 'Futureproof' Your Parks for Resiliency to Climate Change." Together, they explained how climate change is affecting parks, shared case studies outlining steps that park and recreation professionals can take to make their spaces more resilient and showcased ways to make plans for handling extreme weather events.
During the coffee talk discussion, "Natural Disaster Preparedness," Kenny Weigandt, community engagment manager for the Willamalane Park and Recreation District in Oregon, shared how the district jumped in to quickly respond to recent wildfires in the state. The district's management gathered to determine the community needs; worked with community partners to offer members of the public with resources — such as water, restrooms and parking — and offered a park space as a staging area for firefighters to use. John DiSpaldo also spoke during the coffee talk to give his perspective as regional preparedness liaison with the Individual and Community Preparedness Division of the Federal Emergency Management Agency.
Equity at the Center
Content exploring equity could be found in all areas of NRPA Virtual. Sessions centered on equity examined such topics as data-
driven strategies for equitable urban park investment, public accessibility for transgender populations, and supporting inclusive health through parks and recreation.
Celebrating Park and Recreation Professionals
On Tuesday, October 27, The National Gold Medal Award Program, produced by the American Academy for Park & Recreation Administration (AAPRA), presented the Finalist Awards and announced the Grand Plaque recipients at a virtual presentation held in conjunction with NRPA Virtual.
From a pool of 24 finalists, AAPRA announced the following agencies received the coveted Grand Plaque Award:
Class 1 (population 400,001 and over) – Metroparks Toledo, Ohio
Class II (population 150,001 to 400,000) – Greensboro Parks and Recreation, North Carolina
Class III (population 75,001 to 150,000) – Carmel Clay Parks and Recreation, Indiana
Class IV (population 30,001 to 75,000) – Decatur Park District, Illinois
Class V (population less than 30,000) – Green River Parks and Recreation, Wyoming
Armed Forces Recreation – Fort Riley Directorate of Family and Morale, Welfare and Recreation, Community Recreation Division, Kansas
The National Gold Medal Award Program is administered by AAPRA in partnership with NRPA and is sponsored by Musco Lighting, LLC. The virtual National Gold Medal Award Program presentation can be viewed at ws.onehub.com/files/n1lqc2h8.
On Wednesday, October 28, Best of the Best took place. While this year's ceremony looked a bit different than in years past, the park and recreation professionals we honored were as inspiring as ever. Emcees Neelay Bhatt, former NRPA board member, and John Stutzman, chair of the NRPA Awards committee, led us in recognizing the following individuals and agencies for the innovative and essential services and programs they've provided over the past year:
Spotlight Awards
Robert M. Artz Advocacy Award – Greg Cox, chairman, County of San Diego Board of Supervisors (San Diego, California)
Robert W. Crawford Young Profesional Award – Anthony Iracki, recreation supervisor, Whitefish Bay (Milwaukee, Wisconsin)
RWJF–NRPA Award for Health Equity – Carol Zernial, senior vice president social responsibility and foundation executive director,
WellMed Medical Management Inc. (San Antonio, Texas); and Daryl Quarles, manager, Senior Programs, Dallas Park and Recreation Department (Dallas, Texas)
National Distinguished Professional Award – James Worsely, director, Chesterfield County Parks and Recreation (Chester, Virginia)
Innovation Awards
Innovation in Health Award – City of Golden Valley, HomeRECed: A Navigational Guide to Everyday Recreation (City of Golden Valley, Minnesota)
Innovation in Conservation Award – The Woodlands Township: Three Pillars of Sustainability (Woodlands, Texas)
Innovation in Social Equity Award – The Pittsburgh Parks Conservancy, Restoring Pittsburgh Parks: The Parks Plan (Pittsburgh, Pennsylvania)
Innovation in Park Design Award and overall Best in Innovation Award – City of Spokane Parks and Recreation, U.S. Pavilion and Howard St. Promenade, Riverfront Spokane (Spokane, Washington)
Attendees of Best of the Best also celebrated the newly accredited and reaccredited park and recreation agencies.
This year's exhibitors got creative with their virtual exhibit hall booths, crafting eye-catching videos, helpful resources and more for attendees to explore. Attendees also were able to chat with exhibitors in real-time by utilizing the booth chat box feature or entering exhibitors' live Zoom rooms.
In addition to a virtual 5K, other virtual activities that kept attendees engaged throughout the conference included a virtual photo booth and health and wellness breaks, such as guided meditation via Zoom between education sessions.
NRPA's first-ever virtual conference was a great success thanks to the countless speakers, exhibitors and attendees who made this event possible. Despite the challenges presented by the COVID-19 pandemic, park and recreation professionals and advocates came together to share the stories of the essential work being performed by those in the field. Thank you for all that you do for your communities and for the park and recreation community — we look forward to seeing you in Nashville, Tennessee, for the 2021 NRPA Annual Conference!
Vitisia Paynich is Executive Editor, Print and Online Content at NRPA (vpaynich@nrpa.org). Jennifer Fulcher-Nguyen is Web Editor at NRPA (jnguyen@nrpa.org). Lindsay Hogeboom is Associate Editor of Parks & Recreation magazine at NRPA (lhogeboom@nrpa.org).