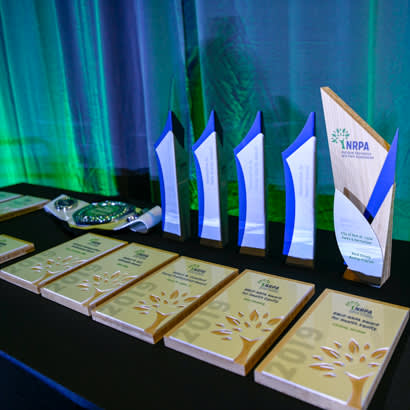 For an enhanced digital experience, read this story in the ezine.
Applications open this month for the NRPA Awards. The Innovation Awards showcase the inspiring work P&R agencies do to improve their communities through innovative practices in park design, health and wellness, conservation, and equity. The Spotlight Awards are presented to P&R professionals, volunteers and advocates to honor their efforts in the field of P&R. Scholarships and Fellowships provide recipients with the opportunity to attend and explore the operation of the field at the NRPA Annual Conference.
Want to learn more about writing an engaging application? Watch the webinar, Taking the Mystery Out of the Innovation and Individual Awards Process (tinyurl.com/y65x9n85). Visit the awards webpage to get started at nrpa.org/Awards. The deadline to apply is March 26, 2021.